Accordingly, the content exchanged on Zalo will automatically disappear within 1 day, 7 days or 30 days, depending on the needs of the user. This feature will help users protect their privacy.
Recently, Zalo has updated the self-deleting message feature (disappearing message) for all Zalo users. When this feature is set up, the exchanges on this application will automatically delete after a certain period of time without any further manual action. Currently, Zalo users on computers and phones can use this feature for personal conversations. Zalo is also planning to integrate into the group chat this year.
In life, there is no shortage of situations where users for some reason only want to store messages for a certain period of time. Therefore, Zalo's new update will help users feel more secure when exchanging personal or work stories through this platform.
Zalo has just updated to add the self-deleting message feature (disappearing message) for all users
Zalo users can set the self-delete time to 1, 7 or 30 days by default of the feature. With a fairly long self-delete time, users do not have to worry about the work content disappearing before the recipient can read the message.
Mr. Nguyen Anh Khoa (District 7, Ho Chi Minh City) commented: "The feature of automatically deleting messages makes me more confident when sharing important business information with partners. When this feature is turned on, people implicitly understand that the information shared is very important and not disclosed. After a period of time, the message will automatically delete, very convenient, no need to recall each message line.
Users can easily set up Self-deleting messages on their phones
To use, on the phone application, users click on "options" in the top right corner, then select self-deleting messages and set time. On the computer, users select "conversation information" and find self-deleting messages to install. Another simpler way, users can right-click on the chat and choose the auto-delete feature to set the time easily.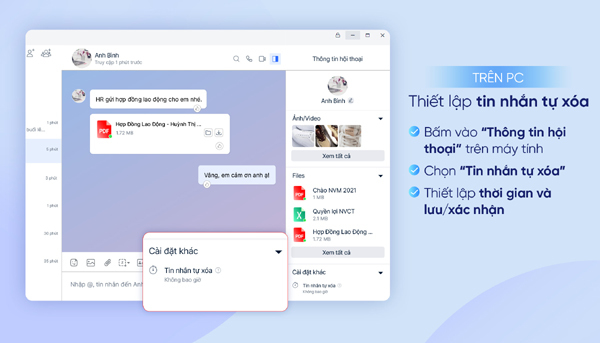 On the computer version, click on "Conversation information" to set up self-deleting messages
When self-deleting messages is set up, a notification will pop up in the chat window of the sender and receiver; A small dot is the countdown timer of each message then also displayed. Users can enable/disable the auto-delete feature at any time. Zalo representative said, the feature is currently enabled with 100% of Zalo users and has received positive feedback.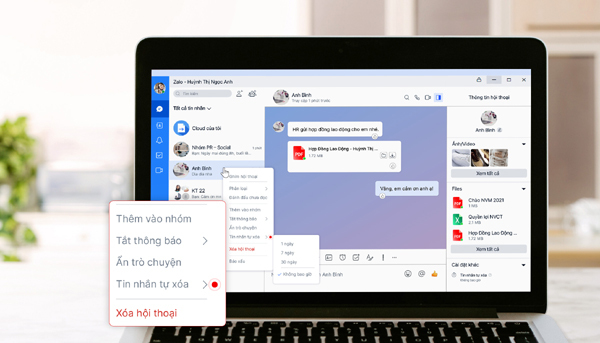 You can set the time to automatically delete messages after 1, 7 or 30 days on Zalo
Zalo is highly appreciated for focusing on the personal experience of users, when developing many features aimed at privacy and security. Zalo users are familiar with privacy features such as: recall messages, hide activity status, block strangers, only share logs for friends list, do not let strangers see and comment on activities. on the diary, set a password for each individual conversation… Zalo adding the self-deleting message feature promises to help users feel more secure when working and exchanging personally through this platform.
Ms. Ngo Thien Huong (Marketing Development Officer, Cau Giay, Hanoi) shared: "I always spend a lot of time deleting messages related to customer and partner information… that I don't want to be revealed inside. outside. Now using the self-deleting feature on Zalo, I save a lot of time and feel more secure when working."
Le Thanh
.