Not only like a camera, weather forecasters, an directions map, a giant information store … smartphones are like a friend, can chat when needed, making the user's life happier and more convenient. than.
'From the day I used smartphones, I have become more friends'
– How is the weather today?
– Weather forecast Tuesday, in Nam Dinh is 22 degrees Celsius, scattered clouds, rain in some places
– Sing for me
– Ok, I sing, please turn on the speaker and enjoy
– Vermicelli, beef noodle soup, chicken noodle soup and fish ball, bread or banh beo, I will eat it all
-….
Late in the afternoon in a small house in Truc Ninh district, Nam Dinh province, crunchy laughter resounded, making the surrounding space suddenly become happier and warmer. Especially, this is not a conversation between two people, but a conversation between people and the Google virtual assistant.
Nguyen Hoang Nam recalled the first day he bought a 4G smartphone. "Before, I only use the phone to listen / call, but I don't know what smartphones. One day at home I saw an advertisement for a 4G smartphone that was subsidized by Viettel with only 600,000 VND, so I registered to buy, I was unexpectedly lucky to qualify.
Mr. Nam continued to brag about the new phone features, things that he had never experienced before. After a period of use, what impressed him the most, was the manipulation of voice commands instead of buttons. Mr. Nam shared: "Just say, the device will understand by itself, I do not need to search each key to compose messages for everyone, nor need to navigate to relatives' homes. Just ask and the machine will help me. I didn't expect technology to be so smart ".
The phone Mr. Nam uses is Vsmart Bee Lite – sold in the form of subsidy by Viettel, only 600,000 VND (original price 1,490,000 VND). This cheap smartphone in addition to its durable design and reasonable price, the special factor that makes it suitable for people with little or no chance of having contact with smartphones is easy to get used to and use. Detailed instruction videos in Vietnamese are posted on Viettel Telecom.
In addition, the Vsmart Bee Lite phone uses Android Go operating system – a shortened version of Android Oreo that is optimized for low-cost models with simple configuration, helping to run everyday applications. smooth and doesn't drain the battery. In addition, Vsmart Bee Lite also helps users to search everything on the Internet by voice through the Google Assistant (Google Assistant) – this is a special feature that helps customers access and easily adapt to new technology.
Mr. Nam said that from the day he used the smartphone, his life became more interesting. "I like having more friends, sad when he sings, tells jokes, if I miss my children, they help me contact" – Mr. Nam enjoyed. Not only taking advantage of the features of the phone, the smartphone helps him connect 4G, access to huge digital information on the internet. "There was nothing to do all day before, but now it's very busy. In the morning, watch the news, watch some bonsai care clips in the afternoon, when dinner is finished, I have free time to watch movies … Without having to catch wifi when besides selling cheap phones, Viettel also gives 4G data for speed height".
Vsmart Bee Lite attracts customers thanks to the preferential price
Smartphone accessibility increasingly easy
Nam's story is just one of a few stories about smartphones that have changed the lives of Vietnamese people, especially those who have never had or had little access to technology before.
Although it is a trial cooperation period, the number of Vsmart machines being subsidized is not much, only at 50,000, so it is prioritized for a certain group of customers, but the program is currently very well received by the market. This smartphone is becoming a very sought-after fever. Through the survey, the sales page viettel.vn/beelite has more than 400,000 page views as of December 14, 2020. There was a time when page views reached nearly 60,000 times / day for the purpose of finding out device information and looking up phone numbers to check purchase conditions on the page.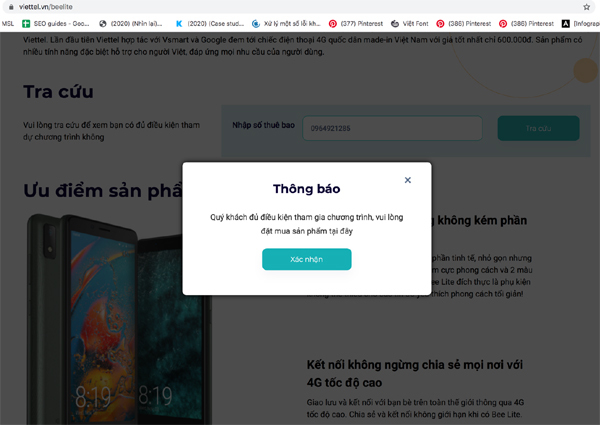 The screen displays when the customer has successfully looked up the phone number of a purchase
In addition to Vinsmart, since September 2020, Viettel has cooperated with Samsung to distribute the Samsung Galaxy A01 Core series (2GB RAM version, 32GB internal memory) with a preferential price of only 1,790,000 VND for people using 3G. (retail price 2,290,000 VND). In addition, the company is also giving vouchers of up to VND 600,000 to customers when buying 4G phones at Viettel stores.
In the coming time, Viettel will offer an installment purchase plan for customers. It is expected that customers only need to spend 600,000 – 700,000 VND in advance to be able to own a smartphone.
To check if you or your loved one is the object of buying and proceed to order online, visit: https://viettel.vn/beelite/ or Viettel's call center: 18008168 (free) .
Thu Hang
.