As long as Tho Nguyen's channel is still video, claiming to quit making content doesn't make too much sense.
YouTuber Tho Nguyen (Nguyen Hong Tho, SN 1992) is the focus of criticism from netizens. All stem from a haunting clip posted by Tho Nguyen on TikTok on February 25.
At that time, Tho Nguyen did not face too much backlash from viewers. Until March 9, the incident was discovered and reflected by the media, immediately creating a wave of strong criticism from parents.
Despite trying to explain, Tho Nguyen still could not stop the anger coming from the public, that this YouTuber was spreading superstitions and toxic profanity. Poetry Nguyen then posted a new clip pleading for people not to boycott because she said she would quit making the content herself.
Poetry Nguyen blamed TikTok's under-60s clip mechanism for misleading her video.
In fact, Tho Nguyen still keeps controversial videos on TikTok channel with nearly 940,000 followers and 5.8 million likes. Until the morning of March 11, all new clips were hidden, but the number of followers of Tho Nguyen account increased by nearly 4,000 people.
On YouTube, statistics from SocialBlade show that Tho Nguyen channel is still growing well and there is no sign of deleting or hiding videos. This is the basis for Tho Nguyen to confidently announce his retirement from work and still live well with other jobs. Because Google will still pay for the YouTube channel as long as the content does not violate the policy and is enabled for monetization.
Featuring a channel for children who can watch old content over and over without getting bored, Tho Nguyen can make money without having to do anything more. Two typical examples that are still increasing views steadily over the years are Bong Bong Bang Bang (492 million views) and Baby Shark Dance (8.1 billion views), both towards this gold mine.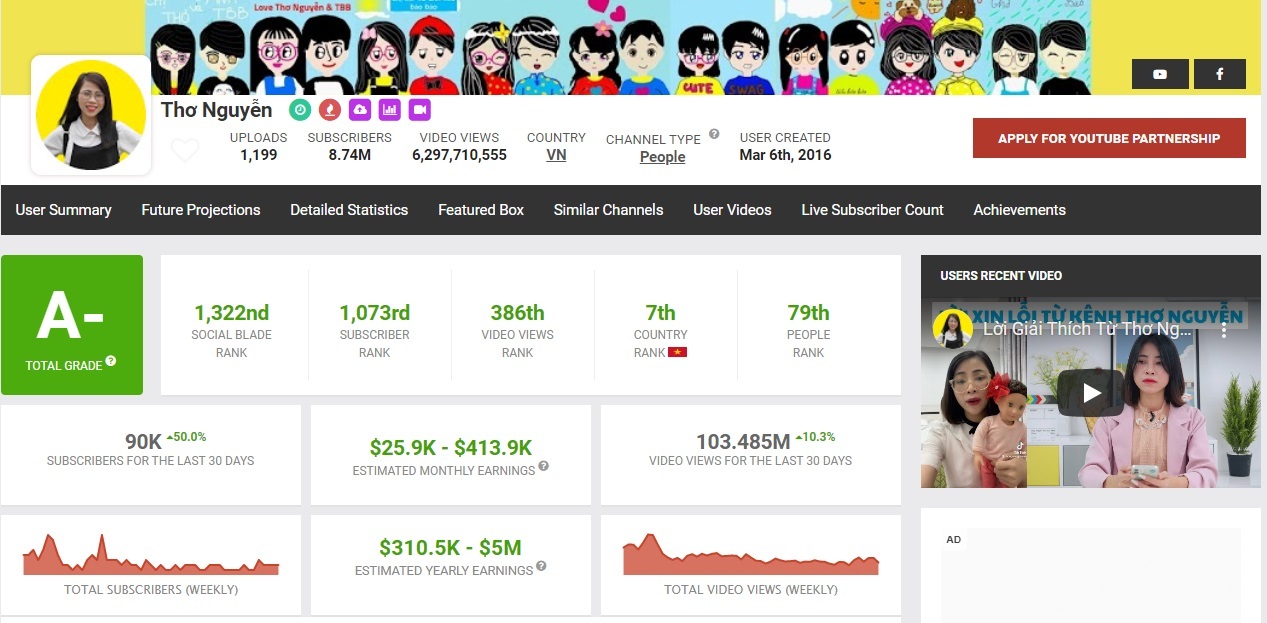 TikTok locked, but Tho Nguyen's YouTube channel is still growing well, according to SocialBlade statistics.
Therefore, if only parents urge a boycott without technical measures such as blocking channels and reporting bad content … Tho Nguyen or any YouTuber in Vietnam can live well. no matter how big a boycott is.
Agreeing with this point of view, Mr. Nguyen Hai (Rikaki Gaming, 1.62 million subs) said "With YouTuber in general, the more popular the newspaper, the more popular, the easier it is to reach new audiences. Old audiences can boycott but have a new audience make up for them. Therefore, YouTube employees only really take a break when no one is interested and mention them, but few people quit because of scandals or being criticized online.
"Actually, with established YouTubers, what they fear is not not making money, but fear that no one will care about you. It is an out-of-date fear, "Mr. Hai admitted and admitted that he also has this fear.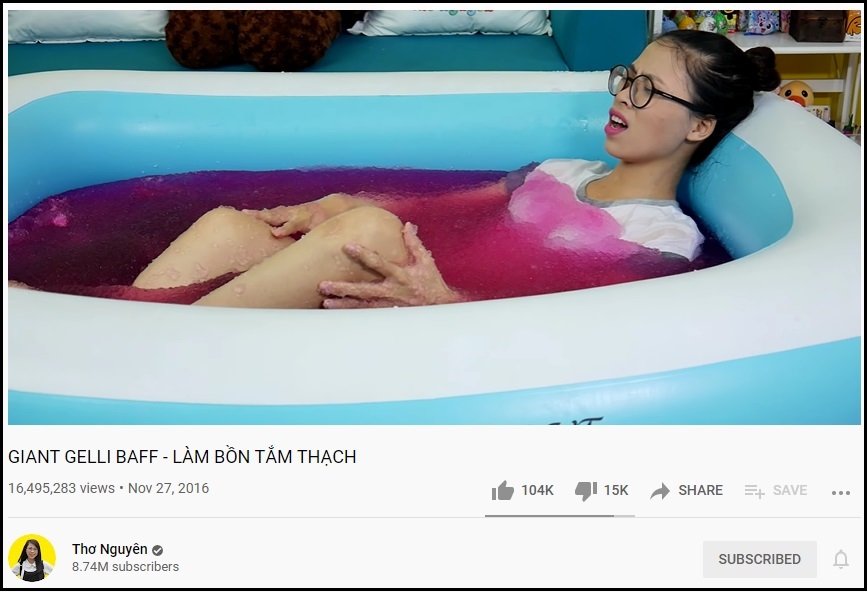 Nguyen poetry also created waves of criticism because of the sensitive bath clip.
Poetry Nguyen is a YouTuber that began to be known in Vietnam around 2017, after her clip of bathing in a giant jelly bath was spread and grafted on social networks. After that, this YouTuber continued to make other anti-scientific videos such as boiling cans of carbonated soft drinks, putting dry ice in water bottles … causing mixed reactions.
From here, the number of viewers and followers of Tho Nguyen has increased dramatically, reaching 6.2 billion views and 8.74 million subs, the 7th most in Vietnam. Tho Nguyen also received many advertising contracts with big brands and brands for children and became a KOLs (influential person) in children's toys. The Tho Nguyen channel is currently under the management of the Canadian BBTV multichannel network.
Phuong Nguyen

Vietnam's most famous female YouTubers
They are YouTubers who stand out in the fields they pursue through inspiring life, spreading positive energy to viewers. On the occasion of the International Women's Day (March 8), with ICTnews, we will look at the names of these YouTubers.
.