Japan Shizo Abe Murder: Shinzo Abe, the former Prime Minister of Japan, was shot dead. This incident was very sad. Simultaneously, a question arose that the person who had been the Prime Minister of the safest country was shot dead. It can be estimated from this that how strong the forces doing violence on the world level will be that they attack as soon as they get the chance. Shinzo Abe was shot while he was addressing a public meeting. This shows that the killer was successful in his plans because Abe's security arrangements were negligent and there was no vigilance about his security.
The killing of Shinzo Abe is also shocking globally because Japan is considered one of the safest and peace-loving countries. A special kind of endurance is seen in the citizens here even in the atmosphere of fighting and tension. Apart from this, even after developing as the biggest center of modern technology, the people here believe in living a very simple life. This kind of life is associated with the culture here. The law regarding keeping guns here is very strict. Let us know how strict is the law regarding keeping guns here-
According to media reports, Shinzo Abe has been murdered with a handmade gun. Getting a gun license here is a very difficult task. It is illegal to own a handmade gun under Japan's fire arms law.
Only air rifles and shotguns are allowed for sale in Japan.

To get their license also they have to pass the written examination and this examination has to be given every three years even after getting the license.

One has to pass the shooting test with 95 percent accuracy in the shooting range.

Along with all these things, the mental state of the person taking the license, drugs test and criminal background are also known.

Police verification is done every year.

To get the license renewed, a written exam has to be given.

The number of private guns in Japan is very small.

strict law on crime

15 years in prison for using a gun in organized crime.

It is also illegal to have more than one gun. He can also be imprisoned for 15 years.

Punishment up to life imprisonment for waving a gun in a public place.
This is the reason why the world was shocked when Shinzo Abe was killed with a gun. On the one hand, shooting becomes common in other countries, while in Japan such incidents are rarely seen.
What do the figures say?
In Japan, one person gets a gun license for every 400 people. In the year 2018, 9 people died in the firing in Tapan. Whereas if these figures are seen in America, then 39740 people died in firing here. On the other hand, if we talk about getting licenses, 480 gun licenses have been given to 400 people in America, that is, more licenses have been distributed than the population.
When was the last time a leader was killed
Shooting and killing someone is not common in Japan. This can be gauged from the fact that where there would have been no incidents of shooting in other countries of the world, but the last time a leader was shot dead in Japan was in the year 2007 when Nagasaki Mayor Ito Icho was killed. A gunman had killed him.

Earlier, the then Commissioner General of the National Police Agency, Kunimatsu Takaji, was shot and seriously injured in 1995 in front of his residence in Tokyo.

In 1994, former prime minister Hosokawa Morihiro was shot at a hotel in Tokyo by a former member of a right-wing group. Morihiro was not harmed in the accident.

In 1992, a right-wing gunman opened fire on the then Liberal Democratic Party vice-president Kanemaru Shin in the country's Kochigi Prefecture. Kanemaru, however, was not injured in the attack.

In 1990, the mayor of the city of Nagasaki, Motoshima Hitoshi, was seriously injured after being shot by a right wing.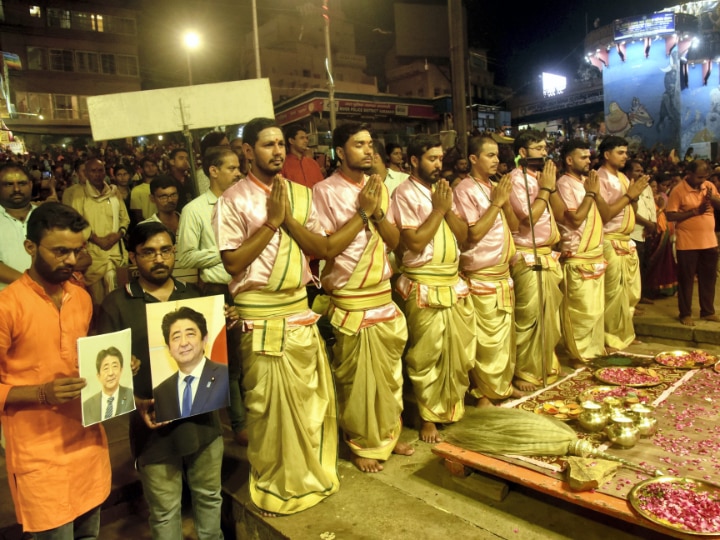 Trying to disturb the peace of Japan
It is not unreasonable that after the assassination of Shinzo Abe, the world should be alert because apart from the angle of terrorism and crime in the analysis of Abe's murder, it is also being discussed that Is an attempt being made to disturb the peace in the peaceful country of Japan? Looking at the way terrorism is increasing all over the world, its fear cannot be denied. This incident is very sad considering Japan's relationship with India and especially with Shinzo Abe.
Also read: Shinzo Abe Death: On the death of former Japan PM Shinzo Abe, these veterans expressed grief in UP, said this by tweeting
Also read: Shinzo Abe Death: National mourning was announced in India for these foreign leaders before Shinzo Abe
,