Only launched a few hours ago, but Apple's MacBook Air M2 models already have an expected price and opening time in the Vietnamese market.
Last night, at the WWDC 2022 event, the MacBook Air 2022 was launched by Apple. This is Apple's latest MacBook model, equipped with an M2 chipset and a notch screen.
Compared to previous models, Macbook Air M2 has a more beautiful, square and modern appearance with 4 basic colors: gray, silver, dark blue and starlight.
Macbook Air M2 has a 13.6-inch screen, the same size as in the M1 version but with thinner screen borders. The weight of the machine weighs 1.22 kg, very compact to carry on the go.
The new Macbook Air of 2022 does not have an HDMI port. The device has connection ports including MagSafe 3 charging port, 2 USB Type C Thunderbolt ports and a 3.5mm headphone jack.
In terms of hardware power, the performance of the Macbook Air M2 is 40% stronger than the previous generation. This is thanks to the new M2 chip with 8 CPU cores and 10 GPU cores.
In the international market, the Macbook Air M2 costs 1,199 USD for the basic configuration version.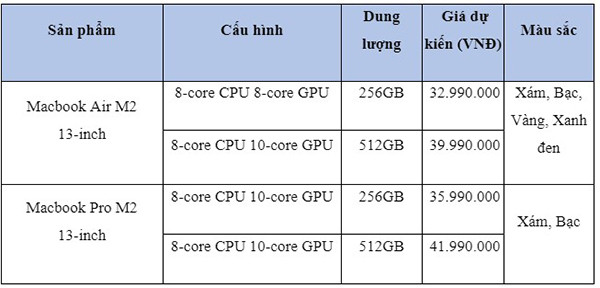 According to information recently received by VietNamNet, genuine MacBook M2s will begin to be sold in Vietnam from July 2022.
The lowest price of genuine Macbook M2 in Vietnam will be 32.99 million VND with 8-core CPU, 8-core GPU version. In the more advanced version, the Macbook M2 will have a genuine price of 39.99 million VND.
With the Macbook Pro M2, the machine will also be on sale in Vietnam starting from July this year with 2 prices of 35.99 and 41.99 million dong, respectively.
Trong Dat
.