Mobile World officially became a multi-industry retailer when opening 5 new business chains of fashion, sportswear, mother and baby, jewelry, and bicycles. What's inside these stores?
Open 5 chains at the same time
Mobile World has just suddenly opened 5 more retail chains in the opposite industry right in the shopping season before the Lunar New Year. Pictures and information about these stores will begin to be revealed before the upcoming opening date on January 10.
As ICTnews has reported, besides the bicycle store chain, this retailer jumps into very new segments such as sports, fashion, mother and baby, jewelry.
Thus, within only about two months since it was revealed that it would join the retail segment of the opposite industry, The Gioi Di Dong has very quickly built the stores of these 5 chains in the Ho Chi Minh City area.
The opening of 5 different retail chains at the same time, all in these new fields, is unprecedented in Vietnam and rare globally. Obviously, this is Mobile World's determination to fill the market gaps as soon as Vietnam enters the new normal.
While many businesses are struggling to reopen and many businesses have had to leave the market, Mobile World has used great resources to expand its pie.
In 5 new business lines, the retailer opened 3 completely new chains. The remaining two chains are built according to the "shop-in-shop" model – that is, the stores are located inside the Gioi Di Dong or Dien May Xanh.
Ecosystem of clothing and sportswear for the whole family
The Gioi Di Dong has simultaneously jumped into 3 fields that are contrary to the industry but very potential today, including sportswear, fashion clothing of all ages, mother and baby products. These stores form an ecosystem serving all the daily shopping needs of the whole family.
The AVASport stores of The Gioi Di Dong were clearly opened to meet the increasing sports demand of people after the pandemic. According to information, AVASport store will have a large area of ​​200-300 square meters, selling a variety of products for training such as clothes, shoes, bicycles, accessories, sports watches… Products from famous brands such as: Adidas, Nike, Puma, Reebok, Skechers,…
Meanwhile, the AVAFashion chain targets fashion for the whole family, for almost any occasion, at affordable prices. Mobile World's sub-chain will sell men's and women's clothing including: T-shirts, Polo shirts, jeans, khakis, dresses, … and accessories such as socks, masks, belts, hats… and children's fashion. It also sells a variety of clothes to wear at home, go out, go to work…
The Mobile World side said that the products at AVAFashion are sewn at large garment factories that specialize in processing for famous brands present in Vietnam today, as well as exported to Europe.
After sports and fashion, it is not surprising that Mobile World jumps into the field of mother and baby. The company opened 4 AVAKids stores at the same time in Ho Chi Minh City, including a few large stores located in Thu Duc city.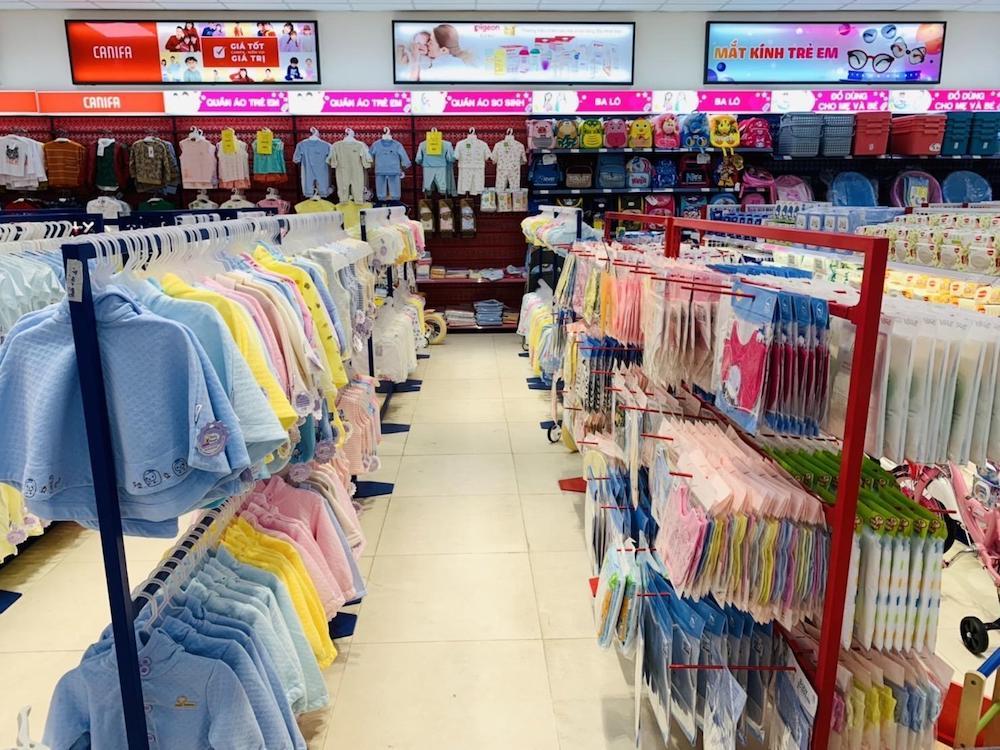 AVAKids.
Mobile World's mom and baby stores serve children aged 0-9 and female customers who are and are about to become mothers. Products for babies and young children can be mentioned such as milk, diapers, foods, foods of clear origin, safe cosmetics, daily necessities, toys, bicycles for babies. … The store will also sell school supplies and children's clothing.
In addition, items ranging from cosmetics to take care of pregnant women to tools to support the process of raising children are also sold at AVAKids.
Chain "shop-in-shop" selling bicycles and jewelry
In addition to completely opening 3 new store chains mentioned above, Gioi Di Dong also upgraded the existing business segments into two "shop-in-shop" models. Accordingly, this retailer splits the current bicycle business to establish AVACycle stores, and adds the jewelry business to open the AVAJi chain that sells jewelry combined with eyeglasses.
AVACycle currently has about 150 stores, taking advantage of the space in front of Dien May Xanh stores to display bicycles. Here, all kinds of street bikes, mountain bikes, racing bikes, children's bikes,… many models are on sale. Along with that, the shop also sells accompanying accessories such as helmets, gloves, lights, saddle covers, bags, … at prices suitable for the majority.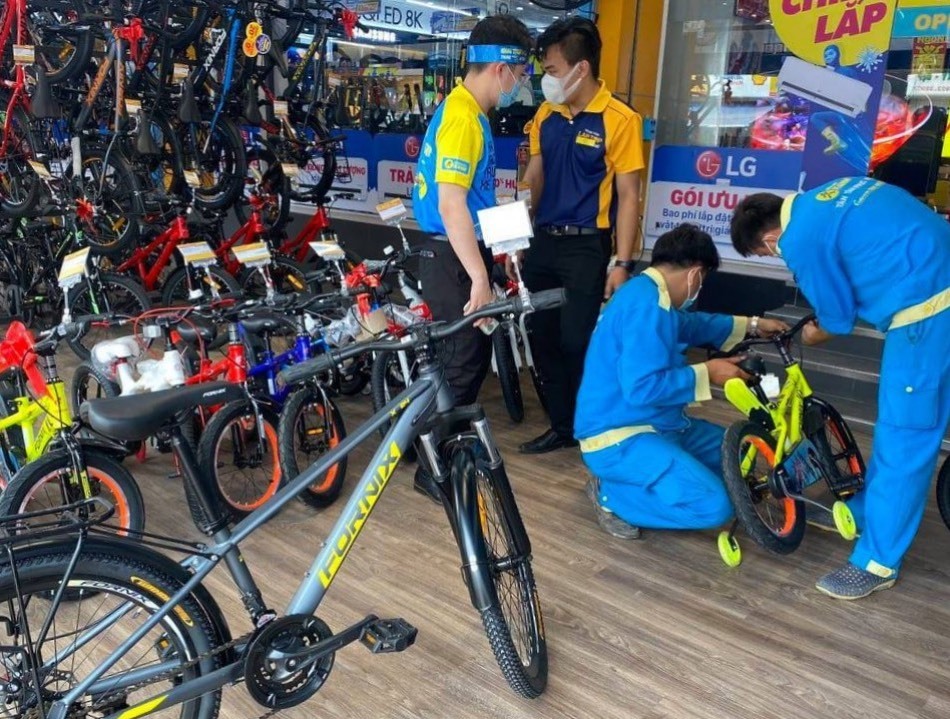 AVACycle is located in front of Dien May Xanh stores.
At the same time, from the successful stepping stone of the watch segment, The Gioi Di Dong also upgraded this business to open AVAJi stores specializing in selling jewelry and sunglasses.
Jewelry items at the store serve both adults and children, with prices ranging from 100,000 VND to several million VND. The products will be modeled and processed separately named AVAJi.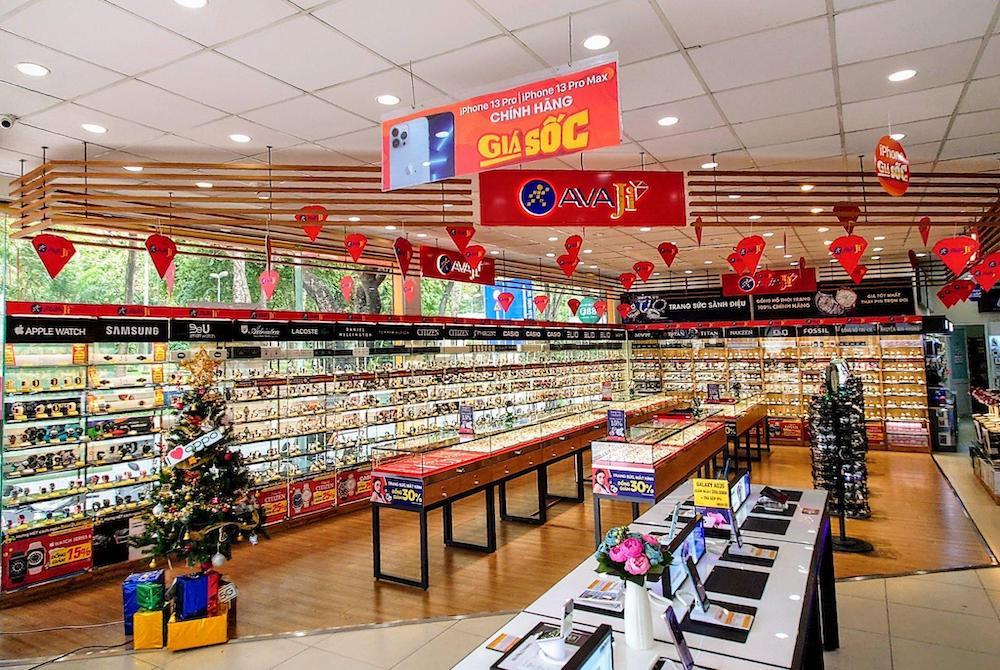 AVAJi inside Mobile World store.
The materials for the earrings, necklaces and rings at this chain come from a variety of materials, from 10K/18K Italian gold to 925 silver, or even alloys to keep up with trends.
According to the plan, AVAJi may sell more jewelry products of big brands. In addition to the jewelry segment, AVAJi also trades in eyeglasses, which were previously available at some Mobile World stores. Famous sunglasses brands are present here including Nike, Puma, Klein, Guess…
The two "shop-in-shop" models as above are a wise approach of Mobile World, saving costs in the testing phase and diversifying products in one destination. For example, visitors to Mobile World can both shop for technology and buy jewelry, watches, glasses, and bicycles. In contrast, the group of customers who buy AVACycle's bicycles or AVAJi's jewelry is also more convenient when they need to refer to technology products.
All 5 new business chains will definitely help The Gioi Di Dong realize its ambition to become a multi-industry retailer in Vietnam in the future. In the short term, these chains will contribute significantly to the group's revenue target of VND 140,000 billion in 2022.
Lighthouse

What do you see after Mobile World's decision to jump into multi-industry retail?
In the context of saturated technology goods, Mobile World is forced to jump into other areas in search of growth.
.