The Ingenuity helicopter of the US Aerospace Agency (NASA) will probably make the first flight on Mars today, April 19, around 17:15 (Vietnam time).
Ingenuity is expected to fly at an altitude of 3m from the surface of Mars in about 30 seconds. It takes about 6 seconds for Ingenuity to reach maximum height on the first flight.
The camera on NASA's Perseverance self-propelled robot will record this historic flight.
NASA helicopters take off on Mars
NASA used Ingenuity to test the ability of a flying object in the environment of the red planet, where gravity and atmosphere are different from that of Earth.
The information gathered from Ingenuity will be used to develop better drones for future Mars exploration missions.
Ingenuity helicopters weighing about 1.8kg are mounted in the belly of NASA's latest expedition – Perseverance, which landed on Mars on February 18.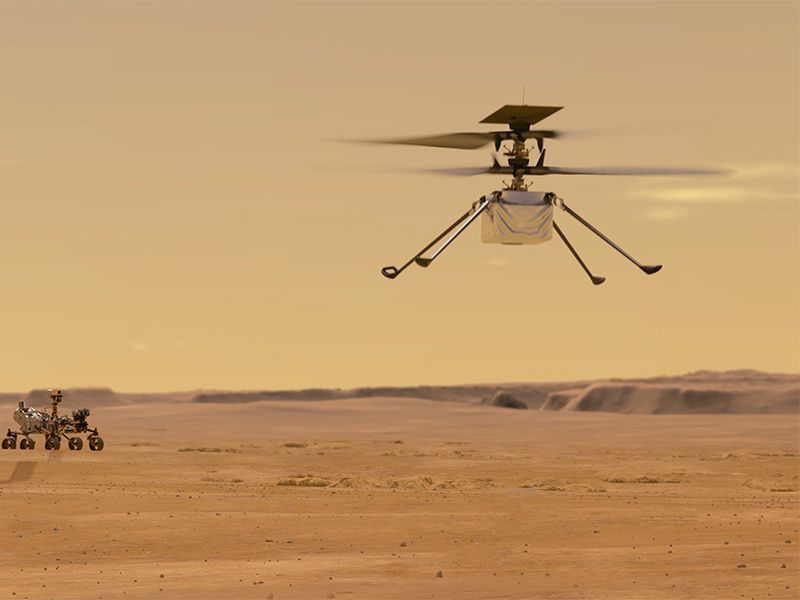 Ingenuity helicopters on Mars
If everything goes according to plan, NASA will live broadcast the time when the Ingenuity helicopter will take off at about 6:15 am on April 19, ET time (ie 17:15 on the same day, Vietnam time).
Interested readers can watch this event live on YouTube here or on NASA website here or on Facebook here.
browser not support iframe.
After the first flight, Ingenuity will take a day off to recharge with the solar cell before taking other flights in the future.
HN(According to Independent)

NASA published impressive images on Mars
The image of blue sand dunes on Mars was announced by the US Aerospace Agency (NASA) on the 20th anniversary of the Odyssey orbiter.
.