Lots of users were waiting in line to buy the iPhone 12 from night to dawn the next day.
The section of Tran Quang Khai Street (District 1, Ho Chi Minh City) late at night on November 26 is quite bustling with at least 3 brightly lit phone shops. Many people sat outside, spilled onto the sidewalk waiting to buy iPhone 12. The stores all prepare chairs and drinks for customers to wait until 12pm to pick up the phone.
A lot of people are waiting in line for iPhone 12 on the phone store in District 1, Ho Chi Minh City.
Also in District 1, at the Petrosetco building, customers line up from about 21 o'clock. Hundreds of people wearing bracelets stood in a circle in front of the building for the earliest iPhone 12.
Guests wait from around 21:00 on November 26 outside the Petrosetco building.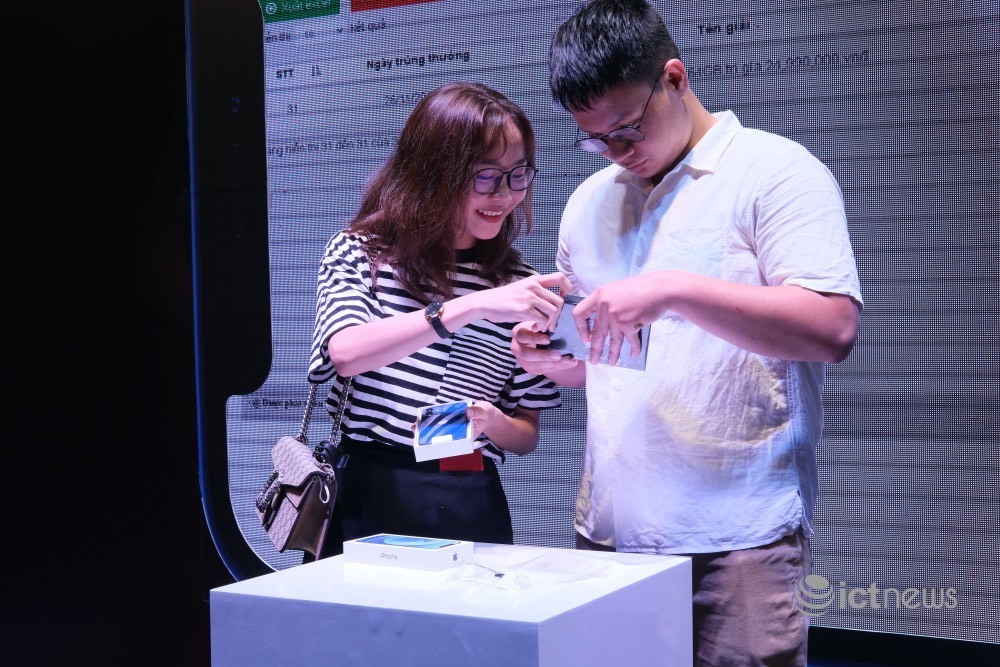 First customers with an iPhone 12.
Apple officially opened for sale 4 models iPhone 12, iPhone 12 Mini, iPhone 12 Pro, iPhone 12 Pro Max on November 27 in Vietnam. For the earliest delivery to buyers, retailers have to queue up from November 26, wait until 0 o'clock the next day to deliver.
It can be said that in the past 6 years, there has not been any phone launch event conducted at the same time by many retailers, especially at night with a large number of people lining up.
Talking to ICTnews, a distributor said to open sales in many different locations in Ho Chi Minh City to meet the needs of customers, not to mention locations in Hanoi.
In order to attract customers in line at night, some places run sweepstakes programs. However, some places only send messages to invite customers to wait and buy, with almost no valuable gifts.
Mr. Phuc (Go Vap, Ho Chi Minh City) lined up at the Petrosetco building, said he waited from about 9 pm. He is on an iPhone 7 and wants to change to an iPhone 12 Pro. Due to impatience to pick up the new phone, he chose to pick it up from the middle of the night instead of the next morning.
Sharing with ICTnews, Mr. Tran Manh Hiep, co-founder of a technology forum expressed his optimism because it has not been a long time since users lined up like that in many locations to buy genuine phones.
Not only ordinary users, many artists also join the queue for new iPhones. Rap Viet champion Di Cho Cho, DJ Mie, actor Huy Khanh, … and many other artists were present at a store for each person to own an iPhone 12.
Di Cho Cho held an iPhone 12 after waiting in line.
With such a large number of buyers, supplies in some places began to be scarce. Mr. Nguyen Dat, manager of a chain of distribution stores, said the iPhone 12 Pro and iPhone 12 Pro Max are likely not enough to ship to customers who pre-order.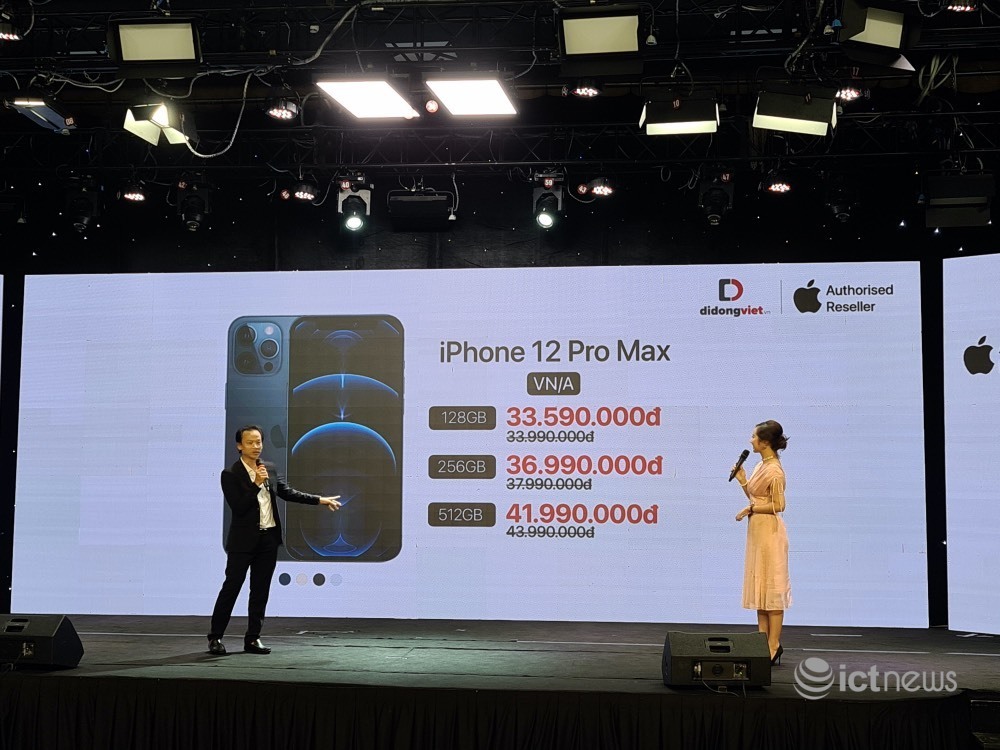 iPhone 12 Pro, iPhone 12 Pro Max are at risk of not having enough customer delivery.
"This year, the supply of portable goods is not much, the main reason why users are buying genuine products," Mr. Viet Anh, a representative of a distribution system, told ICTnews. Not to mention, the iPhone 12 returned to the country earlier than expected, the price of some models even cheaper than portable products also made the number of buyers increase.
Four iPhone 12 models launched on November 27 have a starting price of VND19.99 million. The most advanced model, iPhone 12 Pro Max 512GB, is priced at 43.99 million VND. Due to stocky nature, some places have run out of iPhone 12 Pro, iPhone 12 Pro Max.
Posts, photos: Lighthouse

All 4 iPhone 12 models will officially open for sale in Vietnam from November 27
Apple will launch all 4 units including iPhone 12, iPhone 12 Mini, iPhone 12 Pro, iPhone 12 Pro Max in Vietnam 1 week earlier than expected.
.