On January 8, 2021, VinSmart Research and Production Joint Stock Company (under the Vingroup Group) received the title of Best Vietnamese Phone Brand Tech Awards 2020.
Phone products Vsmart Aris Pro and Vsmart Live 4 won "hat-trick" when respectively recognized in 3 categories: Phone leading the technology trend; Best Popular Phone and Innovative Technology Product 2020.
Tech Awards 2020 is the leading prestigious technology award in Vietnam, held annually since 2012. With the participation of more than 30 million readers and the evaluation of experts through 2 rounds throughout 2 The Tech Awards event honors the best products and technologies of 2020 and 2021 technology trends.
Vsmart was honored as the best Vietnamese phone brand at Tech Awards 2020
Outperforming a series of long-established competitors, Vsmart phone brand with more than 2 years of age has established a rare "poker" in the history of technology with 4 awards at the first time. First join. Specifically, Vsmart brand was awarded "Best Vietnamese Phone"; Vsmart Aris Pro products were honored to receive the "double" award of "Phone to lead the technology trend" and "Innovative Technology Product in 2020"; The "Best feature phone" award was awarded to Vsmart Live 4.
To achieve these achievements, VinSmart has an impressive 2020 development year when continuously researching and applying breakthrough technologies into products.
In particular, Vsmart Aris Pro is a high-end phone model possessing many modern technologies such as Quantum QRNG Quantum Security chip, soft key FIDO2 for data security. In particular, Vsmart Aris Pro owns the pioneering technology of Camera Under Display (CUD) and VCam Kristal imaging technology developed by the VinAI Artificial Intelligence Research Institute (a unit of Vingroup). This is a photography technology using artificial intelligence that allows capturing images with the best quality without displaying the camera on the interface, bringing maximum edge-to-edge display and infinite beauty for the product. CUD is currently being applied and successfully commercialized in a few smart phones in the world.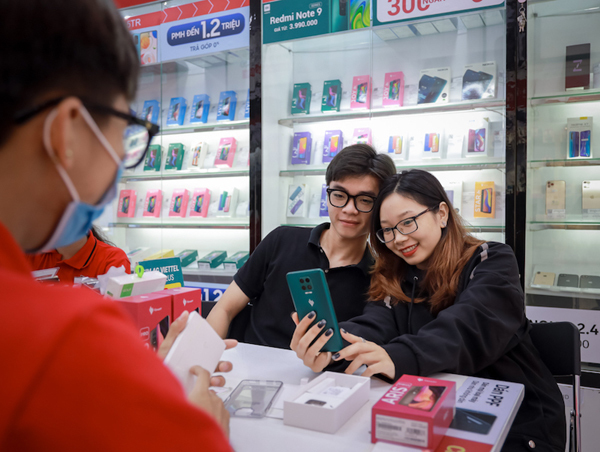 After only 2 years of launch, Vsmart's product lines were well received by consumers with their product quality and competitive prices.
The Vsmart Live 4 phone with the title "Best Universal Phone" is the product that marks 100% autonomy in research and production, from hardware design, operating system and production by the team. engineer VinSmart.
Ms. Le Thi Thu Thuy, Vice Chairman of Vingroup cum General Director of VinSmart shared: "This impressive achievement not only shows the love of consumers but also the recognition of experts in results that VinSmart Company has made efforts for over 24 months. In its upcoming development strategy, VinSmart will build a comprehensive technology ecosystem with 3 core product segments, including: Smart city, Smart home and Smart Service ( Digital service). The year 2021 will be the year that VinSmart gradually completes the product puzzle pieces, applies technology to bring a comfortable and modern life to serve customers in Vietnam and the world market.
Since its launch in December 2018 up to now, VinSmart has introduced to the market 18 smartphone models and 5 smart TV models. According to data from GfK, sales of Vsmart phones have grown strongly since early 2020, reaching the top 3 market share of Vietnamese mobile phones. In 2020, VinSmart is the first Vietnamese company to successfully produce terminals supporting 5G technology, making Vietnam the 5th country in the world to own this technology.
During the peak period of Covid-19 translation in Vietnam, VinSmart also successfully researched and manufactured ventilators, thermometers as well as produced ventilator components for Medtronic firms exporting to the US and Ireland. In addition, in the fourth quarter of 2020, VinSmart has also successfully deployed a comprehensive SmartCity solution for 3 major urban areas of Vinhomes including Vinhomes Grand Park (Ho Chi Minh City), Vinhomes Ocean Park and Vinhomes Smart City (Hanoi).
The successes recorded in 2020 not only recognize a strong effort in mastering the most advanced core technology but also a solid step for VinSmart to accelerate development in the new period of 2021 with a new strategy and plan "coverage" to the world.
Minh Tuan
.