Not only smartphones, smart TVs, … Vietnamese people can completely expect other high-tech products to serve human life researched and produced by VinSmart.
From chasing position to new trend-maker
In the closing night of Tech Awards 2020 on January 8 to honor the most outstanding technology products of the year, VinSmart excellently won the 4th prize: Best Vietnamese Telephone, Phone leading the technology trend, Telephone Best Popularity and Innovative Technology Products 2020.
Vsmart was honored as the best Vietnamese phone brand at Tech Awards 2020
Few people know that behind these awards is a journey to rise to admiration, from the follower, to become the leader, to conquer the market.
If these awards were put in the hands of VinSmart 2 years ago, when the young Vietnamese brand just came out, perhaps not many people would dare to believe it. Compared with stalwart competitors from the US, South Korea or China, VinSmart clearly entered the technology village much later.
However, right from the initial smartphone models, Vietnamese brands already know how to impress users, not only in price and quality but also in opening up a new trend, which is to focus on upgrading services. after-sales service and community building.
Before the appearance of Vsmart phones (a brand of VinSmart product), referring to smartphones with good configuration / selling price, consumers could only choose smartphones from China. Vsmart has broken that concept with a series of smartphones with very good prices but possesses many outstanding advantages in configuration, such as AMOLED screen, Snapdragon chip …
But the most notable is the after-sales service. Vsmart is the first brand to increase the warranty period up to 18 months (compared to 12 months for other brands), creating absolute confidence and peace of mind for buyers. This change has really had an impact on the market. Later, a few smartphone companies also have to extend the warranty period.
Vsmart consumers also receive special attention from the brand, when all suggestions are feedback and appreciated. According to the Vsmart fan community and some domestic technology groups, many users have been sent thank you letters by VinSmart and valuable gifts (Vsmart phone, VinID voucher) after sending closed comments. to contribute to VOS 3.0 Beta.
Mr. Tran Minh Trung, Deputy General Director of VinSmart, once shared on Facebook: "Many VFans sent" scolded "ideas to fall, read all their faces, but those were very valuable comments, helping VinSmart see. defects in order to perfect their products ".
Those comments have contributed to building a custom operating system that is considered to be excellent today: VOS. According to a survey from the Vsmart user community about the level of satisfaction with VOS 3.0, out of more than 3,000 votes, the majority expressed their satisfaction.
Confidently master the world's leading technology
Overcoming consumer stereotypes about a Vietnamese brand product and the difficulties of dealing with a wide range of products from foreign competitors, Vsmart gradually gained sweet fruits with a solid market share. Sure, the user community is large and has a huge support from domestic consumers …
Not stopping, solid steps also make VinSmart a leader in the technology trend. Smartphones called Vsmart Aris series convey a new message from Vsmart: not only compete with leading brands in the world by configuration / selling price, Vsmart smartphones will now also compete fairly with technology. . VinSmart has launched phone models with 3 technologies that are considered the current top: 5G network connection, camera technology hidden under the screen, and integrated with the most secure Quantum Security chip today.
Vsmart displayed the Vsmart Aris 5G smartphone at the Tech Awards 2020 event
Particularly with the technology that uses hidden cameras under the screen, VinSmart has solved the difficult problem of phone companies over the years. In order to create a quality image through the camera placed under the screen, the manufacturer must find a way to break all the physical rules, causing light to pass through the curtain without being scattered, leading to deterioration in quality. Picture.
VinSmart, with the great support from Vingroup's technology ecosystem, has successfully applied Artificial Intelligence to the product to solve this problem. Continuously the praise from the user then proved: the technology made by Vietnamese engineers can completely reach world class.
From the position of pursuers with the big guys, Vsmart can now confidently rise ahead and lead a new trend when owning the leading technology in the market.
Get ready for a big 2021 boom
In October 2020, according to sources of Bloomberg and Nikkei, Vietnamese technology group Vingroup signed a contract with an American company to manufacture and supply smartphones for this market. Accordingly, Vingroup is expected to produce up to 2 million devices with 4 4G smartphone versions for a US company. Currently, a few shipments have been shipped.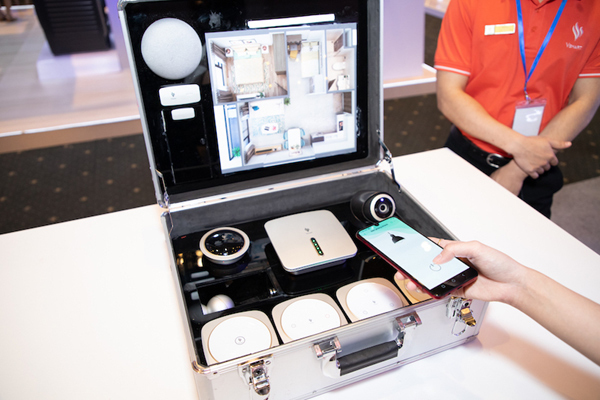 The smart home system developed by VinSmart includes a central controller and connected devices including cameras, door sensors, smart switches, alarms …
Besides smartphones, VinSmart does not hide its desire to set foot in the field of consumer electronics, fully serving the needs of Vietnamese users. The first Vsmart-branded TVs were on the market and recently, the first air purifiers were also revealed.
In the future, Vietnamese people can fully expect other high-tech products to serve human life researched and produced by VinSmart. Although the company has not had information about this, industry experts have said that there is a high possibility that VinSmart will participate in research, development and production of smart device ecosystems for life.
Leading new technology – quality after-sales service – the ability to supply international stature products, in just over 2 years, VinSmart has achieved all three of these achievements in a very convincing manner. It is worth mentioning that these achievements have appeared in the context of the global supply chain facing the accumulated difficulties caused by the Covid-19 epidemic. Therefore, once the world enters the recovery phase, it will not be surprising that we will be witnessing even stronger waves, capable of changing the market situation, creating things. new magic comes from the Vietnamese brand VinSmart.
Minh Tuan
.