On December 9, 2021, Vingroup Innovation Fund (VINIF) announced a grant of VND 92 billion for 20 Science – Technology projects with practical values ​​to the community, bringing the total value of funding in 3 years. last year to 445 billion.
This is a non-profit program of Vingroup, aiming to change the research environment and contribute to creating a launching pad to bring Vietnamese science to the world.
The destination is the actual application product
This year, the VINIF Foundation received a total of 211 proposed projects, outstanding in both quantity and quality. The Scientific Council also tripled with 180 domestic and foreign experts.
In order to receive funding, all projects must meet VINIF's five criteria, including: the degree of necessity of the topic; research capacity of the author, facilities of the implementing unit; creativity, scientific significance; socio-economic impacts; the persuasiveness of the target as well as the scientific – technological value of products and services. The program prioritizes project leaders who are scientists (with doctoral degrees) with extensive research experience and outstanding academic achievements.
After a rigorous and transparent appraisal process, the 20 most prominent projects in 2021 have been approved for funding with a total value of up to 92 billion VND. The above projects come from many fields from Biomedical – Medicine – Physics – Materials to Mathematics – Information Technology – Computer Science…
The common points of the projects are spearhead or application-oriented scientific research, the same approach and modern technology, as well as international influence. Some typical projects include: Manufacturing photoelectrochemical components for producing H2 fuel from water, in order to solve the problem of clean energy and sustainable development, or the Internet of Things system to monitor fetal heart rate. child with a non-contact sensor, supporting fetal and maternal health monitoring at home at low cost.
In addition to financial resources, VINIF will accompany the project implementation team to access scientific resources, connect to a network of consultants and access large databases. Research results will also be consulted by VINIF to register for patent protection and introduce investment sources to continue to apply applications to practical products and solutions. This is a way that is evaluated by scientists as comprehensive, effective and sustainable.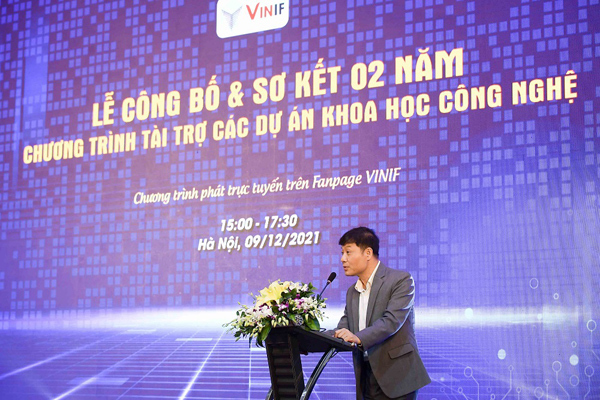 Speaking at the grant awarding event, Prof. Vu Ha Van, Scientific Director of VINIF and VinBigData Fund, Vingroup, emphasized: "The ultimate goal of scientific research must be to create scientists. have a healthy mindset and professional working style, practical applications and products that help improve the understanding and quality of life of Vietnamese people and affirm the stature of Vietnamese intelligence in the international arena. . To do so, scientists cannot stand alone, but need the cooperation of both the research community and private businesses. VINIF's long-term efforts in supporting resources for the development of science and technology projects are aimed at that goal."
Expectations to foster the research ecosystem
The VINIF Science – Technology Project Funding Program has been implemented since 2019 in order to create maximum conditions for scientists to promote their research and innovation capabilities, thereby building scientific works. learning and technology solutions bring practical benefits to the community.
Up to now, VINIF has sponsored 83 scientific projects with a total cost of over 445 billion VND. Among them, many projects have produced practical results, with 163 products in the form of systems and devices; 159 software and database products; as well as publishing 143 scientific publications in the world's leading Q1 journals and conferences. Especially, with the companion of VINIF, 34 studies have been granted with domestic and international intellectual property certificates.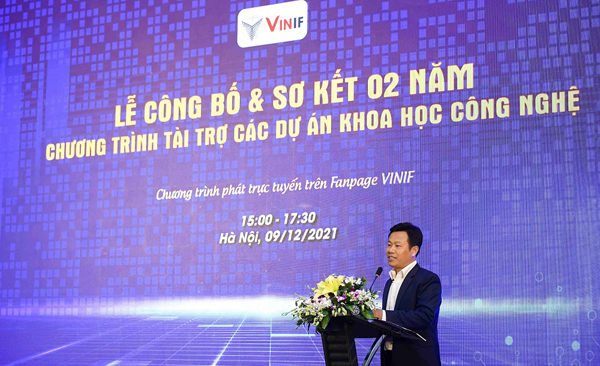 Prof. Dr. Le Quan, President of Vietnam National University, Hanoi, said: "In the context of university autonomy and the state budget for scientific and technological research along with administrative procedures is still limited. The participation of large enterprises and corporations in promoting national science and technology plays a very important role, demonstrating the strategic vision and social responsibility of these enterprises. I highly appreciate the establishment of the Vingroup Innovation Fund (VinIF) with the function of supporting organizations and individuals to carry out scientific, technological and innovation research, with the aim of creating changes positive and sustainable change for Vietnam".
With a breakthrough funding mindset, through promoting the research – application ecosystem, VINIF hopes to contribute to connecting the network of scientists – research institutes, universities and enterprises, towards each step. changing environment and research style in Vietnam.
Besides Science – Technology Project Sponsorship, VINIF also conducts 6 other annual programs, including Masters, Doctoral and Post-Doctoral scholarships; Cooperation, sponsoring scientific events; Sponsor short courses and visiting professors; Sponsor and cooperate in training Master of Data Science and Preserving Cultural and Historical Values.
Website: https://vinif.org/
Minh Tuan
.