According to experts, through a global network of scientific connections, the VinFuture Prize opens opportunities for Vietnamese scientists to participate more deeply in academic research, contributing to bringing a new position to the field of basic science. Vietnamese version.
Breakthrough motivation for Vietnamese researchers
During an exchange with the Award Council and the VinFuture Preliminary Council on the morning of January 18, Assoc. Dr. Nguyen Ai Viet (Dean of the Faculty of Information Technology, Dai Nam University), said that as a long-time researcher in the US, he realized that in Vietnam, because there is no supporting ecosystem like in other countries. In other countries, it is very difficult to connect and cooperate between scientists of mutual interest at home and abroad
Empathizing with this difficulty, Prof. Sir. Richard Henry Friend, Cambridge University (UK), winner of the 2010 Millennium Technology Prize, said that cooperation is an indispensable and very important element in science. The cooperation is not only limited to one university, but also global cooperation. Therefore, the birth of an annual award like VinFuture makes more sense when creating a global network of connections between scientists.
"We will do whatever it takes to encourage the smallest-scale collaboration among researchers around the globe," the President of the Awards Council emphasized on VinFuture's mission of connecting.
The Awards and Preliminary Panels bring together some of the world's most influential scientists
Sharing the same opinion, Assoc. Dr. Chu Hoang Ha, Vice President of Vietnam Academy of Science and Technology, believes that VinFuture will create multi-dimensional effects. Just past the first season, many world-class scientists have known about Vietnam. The domestic scientific community has also had the opportunity to access top-notch academic science by sharing research experiences with the most outstanding global minds.
VinFuture Science Week is an opportunity for Vietnamese to grasp future trends in the most topical and potential fields such as Energy, Artificial Intelligence, Health Science… and find opportunities to Immerse yourself in that flow of top science. In addition, the stories about the arduous but also glorious research journey of the prestigious international award holders themselves will create motivation for Vietnamese researchers to make a breakthrough.
According to experts, the annual VinFuture organization in Vietnam is a rare opportunity for Vietnamese science. This will be a special catalyst contributing to the promotion of Vietnam's academic science – a very important foundational field of any country in the world, but is quite fading in our country due to many reasons. core.
Vice President of the Vietnam Academy of Science and Technology assessed that Vietnam has no shortage of talented people, but due to many conditions such as investment resources, scientific development, social perception, lack of network, etc. international cooperation network…so there have not been many large-scale projects.
"I believe the VinFuture Prize will create a push to change awareness so that all can see how a scientist is deservedly honored and how science can contribute to the world. At the same time, VinFuture is also a place for Vietnamese scientists themselves to be inspired, to strive to really do worthy works", Assoc. Chu Hoang Ha confirmed.
Changing Vietnam's international position
From another perspective, economic expert Pham Chi Lan, former member of the Prime Minister's Advisory Group, said that Vietnam has long been accustomed to the position of a party specializing in receiving assistance, from the war to the present. when building and developing the country or during natural disasters, epidemics…
The birth of an award like VinFuture has contributed to changing Vietnam's international position. Instead of just accepting, now, Vietnam has increasingly actively participated in solving common global problems. That cooperation has not only created a driving force for Vietnam to rise more firmly, but also contributed to improving the image and increasing the national position.
"The idea of ​​forming the VinFuture Foundation and the VinFuture Prize to contribute to the world is a great idea. Although this is an award initiated by an individual, it will certainly change the way the world views Vietnam. VinFuture will be accepted by the world as a prize of Vietnam, showing the increased awareness and responsibility of Vietnamese people, ready to participate in solving common problems of mankind", said the veteran expert. recognize.
Although Vietnam has long supported countries during natural disasters and epidemics, it has only stopped at providing unexpected support in specific circumstances. On the contrary, VinFuture is a commitment to contribute long-term, especially, towards the future. Short-term, on-site support is something many people can get into. But being able to see far, dare to do big for the further future is difficult, beyond common sense and very few people can do it.
"VinFuture has pioneered to pave the way to become a new direction of Vietnam. After all, solving the world's problems is also solving the problems of Vietnam because today's world is a connected world," the female analyst said.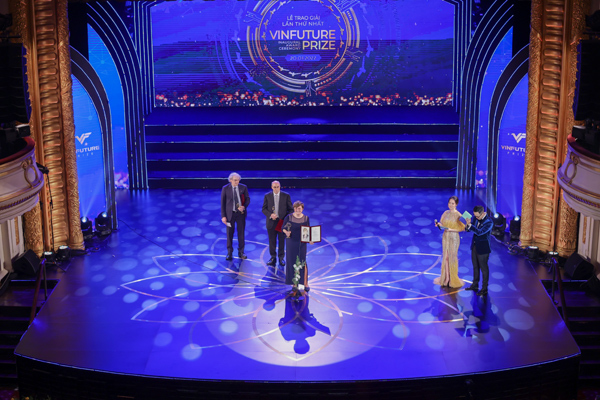 The 1st VinFuture Award ceremony has made a great impression both domestically and internationally with the well-deserved honor for outstanding scientists of the world.
Experts also believe that an annual international award like VinFuture will turn Vietnam into a new science and technology hub of the world, a gathering place of outstanding intellectuals and top-notch research of the time. Grand. As a result, from a "blur point", the name of Vietnam will be positioned more clearly and shine brighter on the global map of science and technology. Every year, the world looks to Vietnam to wait and honor the most outstanding works, contributing to changing human life. Not only that, but VinFuture also gives wings to research to find new solutions and new directions for a more stable, safer and better life for everyone.
"As 10 years ago, few people thought about AI, but now AI has become a field of leading concern in the world. There are always new things coming out, which need encouragement, like the VinFuture Awards, to grow. VinFuture is Vietnam's active and practical contribution to solving common problems of mankind," said expert Pham Chi Lan.
The Dinh
.