VinAI – the company that owns the research of artificial intelligence products ranked in the Top 25 in the world – has just launched a set of high-tech products at the Consumer Electronics Show CES 2022, from January 6 to 8, 2022 at CES. Las Vegas, USA.
Accordingly, VinAI introduces to the world a set of products including: Smart Mobility (Product line for smart cars), Smart Data (Product line for developing artificial intelligence technology) and Smart Edge. (Product line for image data analysis).
The event marked the transformation of VinAI, from a research institute to a company that researches and manufactures outstanding, highly applicable artificial intelligence products, anticipating new world trends.
Smart Mobility – Product line for smart cars
Smart Mobility includes 2 products: Driver monitoring system and 360-degree panoramic view system. The product suite was born with the mission: "Applying artificial intelligence to provide a safe and comfortable driving experience for vehicle drivers, thereby creating innovation for the automotive industry."
Before the aspiration of driverless cars becomes a reality, people will still control vehicles and technology will play a significant role in ensuring driver safety. Following the success of facial recognition technology ranked 6th in the world (WILD category – photos taken in real life), VinAI's driver monitoring system can identify dangerous states and behaviors of the driver such as drowsiness, fatigue, using the phone while participating in traffic… thereby giving timely warnings. The system is highly interoperable and can be easily integrated with multiple hardware platforms, helping automakers to optimize conversion costs.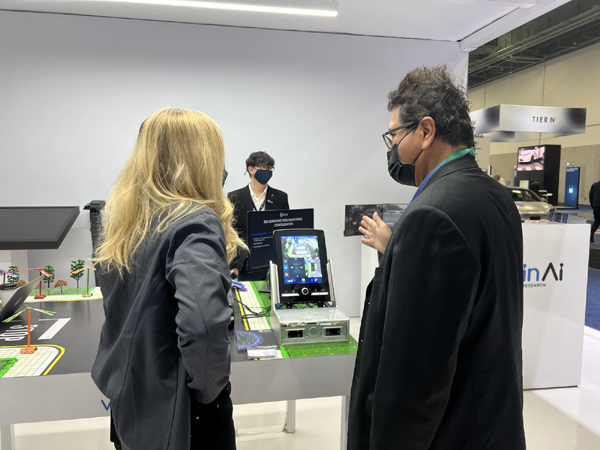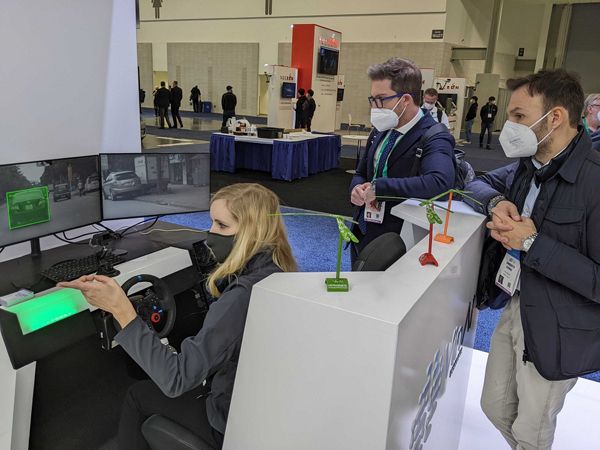 Meanwhile, the product 360-degree panoramic view system allows the driver to control the entire car's surroundings and automatically detect pedestrians, motorbikes, cars and obstacles in the blind spot. This feature is only present in luxury cars, however, with the competitive cost of Smart Mobility, this product can benefit all car segments, from low-end to high-end.
Smart Data – Product line for developing AI technology based on intelligent data
The Smart Data product line with the leading AI development platform based on intelligent data provides the complete set of features needed for AI product development: from selection and annotation data, model development, validation, deployment, and monitoring.
At CES 2022, VinAI brings Smart Data product line with the desire to accelerate the development of artificial intelligence products, VinAI will accompany businesses in developing and operating AI products in a timely manner. efficiency while still optimizing costs.
Smart Edge – Product line for image data analysis
With Smart Edge, VinAI applies artificial intelligence to upgrade "digital eyes". The Smart Edge product line is a multi-object video analytics solution that applies deep learning models to transform ordinary cameras and access control devices into intelligent systems. The product enables the transformation of images into useful insights to create business value for the business. In particular, applying a deep learning model, the product can detect faces stably, even when the user is using a mask. In addition to commercial purposes, with this product line, VinAI hopes to join hands to protect public health in the context of the complicated pandemic.
Dr. Bui Hai Hung – CEO of VinAI shared: "Our product lines are receiving positive reviews from customers and partners in terms of efficiency, cost as well as integration time. With a team of 200 seasoned researchers and engineers, we are doing our best to improve our products and develop new outstanding features so that we can apply our knowledge to solve current problems. possess in life. We expect VinAI to soon conquer the Vietnamese market and compete directly with companies around the world."
After nearly 3 years of establishment and development, VinAI has proven its capacity in completing research projects and commercializing international AI applications. VinAI's products, from face recognition, GuardPro to technologies for smart cars, have affirmed VinAI's competitiveness in offering highly applicable technologies, solving problems The most difficult and practical problems of life.
VinAI – A technology company under Vingroup – provides artificial intelligence products and services. VinAI is led by former leading technology expert of Google Deepmind – Dr. Bui Hai Hung and a team of 200 leading engineers and researchers. VinAI is taking steady steps on its journey to becoming a product company that solves practical problems in life. In addition to its headquarters in Hanoi, VinAI is also expanding its influence globally, with technology centers in the US and Australia.
Thu Loan
.