On December 18, Viettel AI received 3 Smart City Awards 2021 for Viettel Cyberbot virtual assistant solution and Viettel Cybervision computer vision platform.
Vietnam Smart City Award 2021 (Vietnam Smart City Award 2021) is an annual award organized by the Vietnam Software and IT Services Association (VINASA) from 2020 to recognize, honor and encourage businesses, organizations and units have been making contributions to helping cities become smarter, more livable, branded, competitive and sustainable.
During the awarding ceremony held on the morning of December 18, 2021, Viettel Cyberbot Virtual Assistant Platform and Viettel Cybervision Computer Vision Platform developed on the basis of Viettel AI artificial intelligence were named in 3 awards. important areas.
Viettel Cyberbot – 5 stars in the category of Solutions for Digital Government
Viettel Cyberbot virtual assistant platform, developed by Viettel Cyberspace Center, launched in 2020, applies the best current artificial intelligence, conversation processing, and Vietnamese voice technologies to help organizations build Callbot automatic switchboard system, Chatbot friendly and natural interaction to customers.
The application of AI in public administration in the past 2 years is no longer strange. Callbot and Chatbot are said to be one of the solutions that can be quickly deployed, improve work productivity and optimize costs for the Organization. In the past time, many provinces and cities have put into use Viettel's Public Administration Answer Switchboard such as Hau Giang, Thai Binh, Sam Son, etc., helping to serve tens of thousands of calls to answer questions from citizens every day. day. According to the latest report from the unit deploying Viettel Cyberbot in Thai Binh, at the same time, provincial officials only received 3 calls, but when deploying Callbot, the number of calls received simultaneously reached 600 calls.
Viettel is the pioneer in deploying virtual assistant solutions for Ministries/Departments/Government branches. In addition, in the past year, Viettel has also deployed Cyberbot to "accompany" people during the Covid-19 pandemic. In just a short time of 1-2 days, Viettel Cyberbot has made millions of reminder calls to people in epidemic hotspots to install the Bluezone application, creating a synchronous effect and responding to the urgency of the situation. form, something that cannot be done by using human labor.
Viettel Cyberbot virtual assistant platform excellently ranks 5 stars in the field of "Solutions for digital government"
With the values ​​brought to Government Agencies and Organizations, Viettel Cyberbot won the Smart City Award 2021, was "rated 5 stars" by the Council in the field of: "Solutions for Digital Government".
Viettel Cybervision won awards in 2 categories
Viettel Cybervision's computer vision platform is developed based on artificial intelligence technologies in the field of computer vision for analysis to automatically process the signals sent from the Camera to help solve traffic management problems. traffic, security and order in the city. The outstanding features of the platform can be mentioned: traffic measurement; control vehicles entering and leaving the city; detect traffic violations, issue cold fines with photos and videos of evidence of violations and monitor encroachment on sidewalks, illegal parking, improper dumping of garbage in prescribed places
Currently, the Cybervision computer vision platform of Viettel Cyber ​​Center has been integrated in 30 Intelligent Operation Centers (IOCs) in provinces and cities, initially bringing many positive values ​​to the Government and people. people.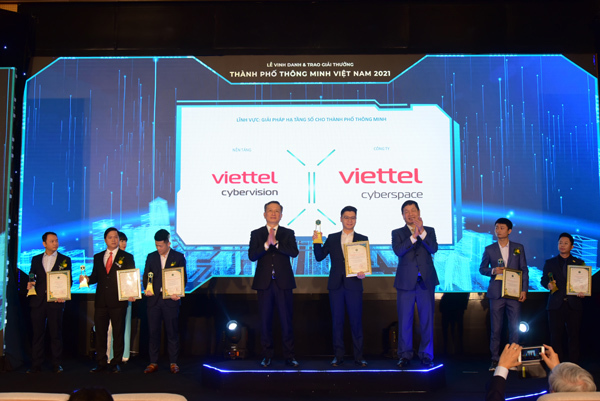 Viettel Cybervision won 2 awards at the Vietnam Smart City Awards 2021
The difference of Viettel's computer vision platform is the ability to identify accuracy up to 99% and the ability to customize each project according to the requirements of customers. Therefore, Viettel Cybervision has been honored in 2 categories: Digital traffic solutions and Digital infrastructure solutions.
Ha Trang
.