According to the statistics of the E-commerce Association, in 2020, Vietnam's e-commerce will achieve a growth rate of 15% with a scale of 13.2 billion USD and will grow steadily in 2021.
Mr. Nguyen Thanh Hung, Chairman of the Vietnam E-commerce Association, said growth in Vietnam will reach about 15% in 2020 (Photo: Duy Vu)
This is information shared by Mr. Nguyen Thanh Hung, President of Vietnam E-commerce Association (VECOM) at the event "Promoting online business for retail businesses (Retail University 2021) that was just held afternoon. now, March 30.
This series of events is among VECOM's activities to support small and medium enterprises and individual business households to promote online business.
Information at the event, Mr. Nguyen Thanh Hung, Chairman of VECOM said: According to VECOM statistics, Vietnam's e-commerce (e-commerce) growth reached over 15%, reaching a scale of $ 13.2 billion in the year. 2020 and will continue to grow steadily in 2021.
The Chairman of VECOM Association also forecasts that, from now to 2025, despite the impact of the epidemic, e-commerce and retail sales in Vietnam will continue to grow. "The irreversible trend is the parallel between e-commerce and traditional commerce, the two have become more connected than ever."
Mr. Nguyen Thanh Hung also said that the trend of e-commerce growth is only predictions. Therefore, for predictions to come true, it is necessary to work together to support retailers (both traditional and online) to link together, improve their skills to promote the advantages of IT and e-commerce.
Talking about the impact of digital tools on business activities, Ms. Tamy Phan, Marketing Director in charge of Google's Vietnam market, said: The digital revolution is developing fast. Digital outreach is the key to opening doors to drive growth, from reaching customers to shortening geographical distances or promoting brands. Therefore, Goolge has many programs to support small and medium digital conversion in Vietnam.
A Google review report conducted in Vietnam showed that the number of people moving to shopping and entertainment places decreased by 19% (as of September 2020). Especially in the period of March-March 2020, the number of people moving in moving to places such as cafes and entertainment venues … decreased by 52%. This shows that the epidemic has caused a significant impact on retail businesses' performance. Therefore, the conversion and diversification of operating forms is extremely necessary for businesses to maintain operations.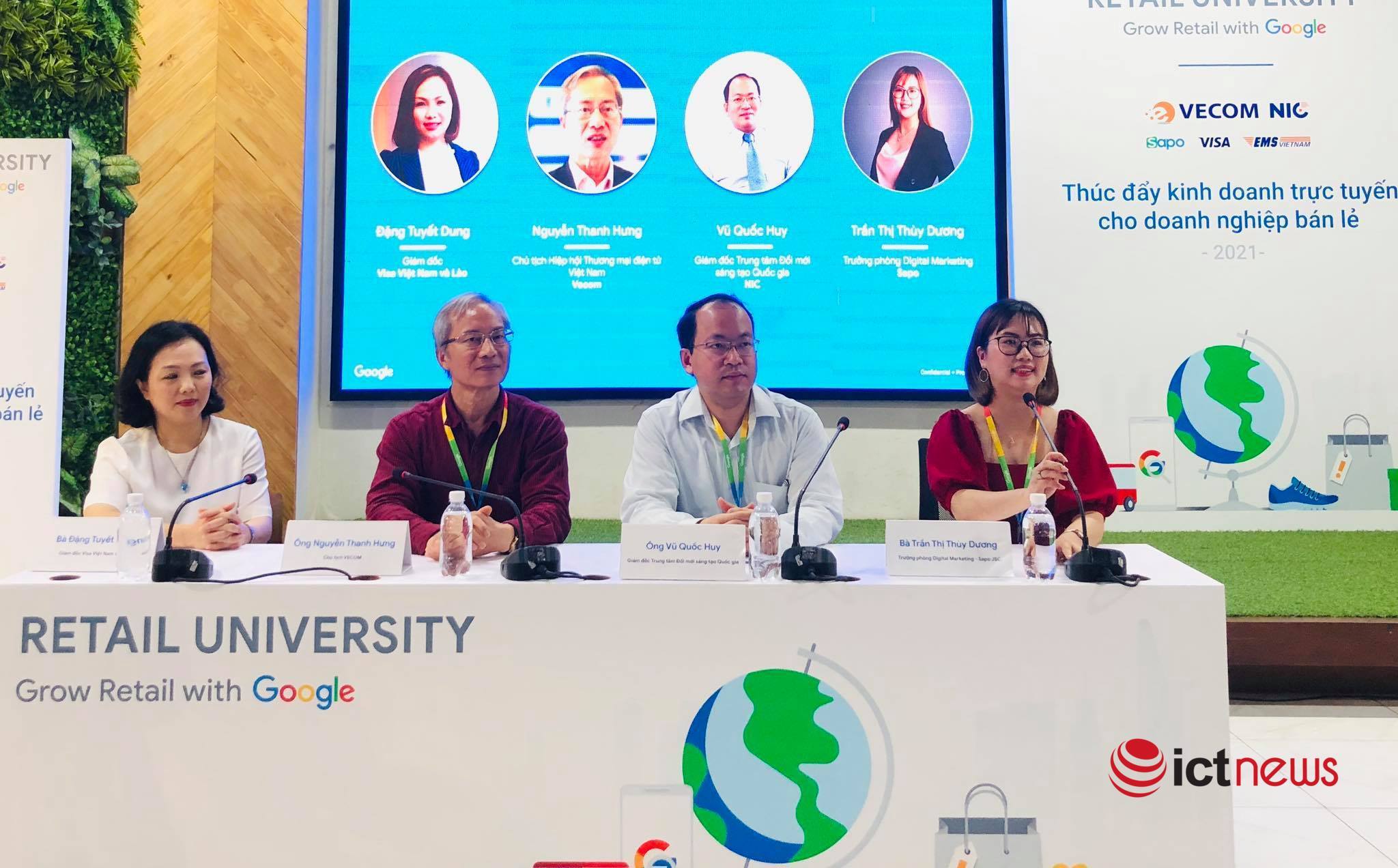 VECOM and its partners will support retail businesses (Photo: Duy Vu)
According to shares from VECOM Association, Retail University 2021 is a continuation program with activities from 2020 through cooperation with many partners to implement an advanced and specialized training program to equip businesses. Retail businesses the tools needed to do business online, help optimize platforms, digital tools to reach customers in the most effective way and to cope with fluctuations of market.
VECOM Chairman also said that: Online business story is not just about making website and application, but connecting many things together and there must be an ecosystem to do. "No business can be alone when doing business online. Therefore, we incorporate an ecosystem that can support entrepreneurs."Mr. Hung said.
Duy Vu

Farmers in 4 provinces are supported by the Seashell e-commerce platform to sell agricultural products online
In addition to Hai Duong, it is expected that from April 2021, the campaign of applying digital technology to help Vietnamese agricultural products escape the rescue scene will be deployed by ViettelPost's Seashell e-commerce platform in Quang Ninh, Bac Giang and Khanh Hoa. .
.