Vietnam needs to increase the ratio of cameras to people to promote automation and AI for simple, human-saving jobs to use for jobs that create a lot of value.
This is a remarkable sharing that has just been given at the Smart Cities Symposium under the Industry Summit 4.0 taking place on November 10, 2021.
In a smart city will include smart education, smart health, smart transportation,… Smart city will include billions of connections between IoT devices, which entails a huge amount of data. To process and exploit those data, we need to use artificial intelligence.
According to research by the McKensey Global Institute, AI applications will improve key indicators of quality of life by 10-30%. This shows that the value of AI to people is great.
Need to develop more security cameras Make in Vietnam
AI is at the heart of all areas surrounding smart cities. Increasing the percentage of cameras, especially smart cameras, is one of the ways to deploy smart cities and increase the application of AI technology to life.
Mr. Vu Thanh Thang – Director of AI Research Institute (Bkav Group). Photo: Trong Dat
Sharing about this issue, Mr. Vu Thanh Thang – Director of AI Research Institute (Bkav Group) said that in 2020 alone, the US government has invested 4.9 billion USD in AI. With other major powers in the world, China's investment in AI is 10 billion USD, UK 1.3 billion USD, Germany 3.3 billion USD.
Globally, large corporations are investing heavily in artificial intelligence development because AI technology delivers clear, sharp value and has an immediate impact on growth. economy.
According to Mr. Vu Thanh Thang, AI camera is one of the outstanding features of a smart city. AI cameras can provide face recognition, identify objects and objects, and can hear, understand, and speak thoughts like humans.

Statistics on the number of cameras deployed by the end of 2019 in some developed countries.
By the end of 2019, in terms of cameras per capita, the US is the country with the highest ratio with about 15.3 cameras per 100 people. In China, this ratio is 14.4 cameras per 100 people and could triple by 2023. This is also the country that owns the largest number of cameras with about 200 million cameras throughout the territory.
In Europe, Germany is the country that owns the most cameras with a ratio of 6.3 cameras/100 people, this rate is 7.5 cameras/100 people in the UK and 2.7 cameras/100 people in Japan. . It can be seen that developed countries in the world are actively applying cameras in monitoring and ensuring security.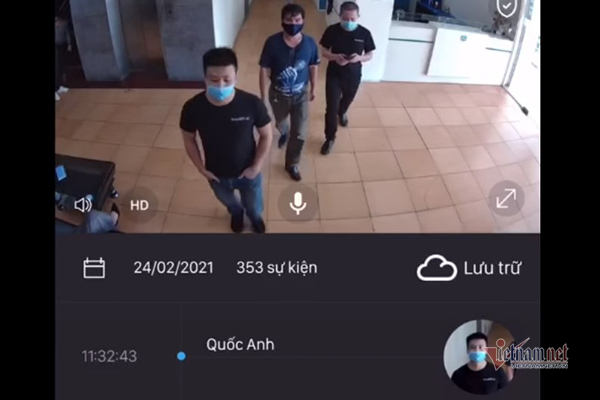 Camera applying AI will be the solution to the problems of smart cities.
As for Vietnam, the country currently has about 2.6 million security cameras. The camera ratio in our country is about 2.6 cameras per 100 people.
According to Mr. Thang, if we increase the camera rate to about 10 cameras per 100 people to serve surveillance, we can save a large amount of simple labor to use for other purposes to create high value. than.
This expert said that, in order to develop smart cities in Vietnam, the first condition is to standardize and build ICT infrastructure to apply AI to smart cities.
Because imported AI applications and solutions are very expensive, domestic enterprises need to actively develop IoT Make in Vietnam devices to solve the Vietnamese problem, while saving a lot of money. large foreign currency.
15% of security cameras in Vietnam are at risk of being sold data?
In addition to the benefits of security camera systems, it is also necessary to mention the downside of these devices when they can be taken advantage of if they fall under the control of hackers.
In fact, about 15% of security cameras in Vietnam are facing the risk of data leakage. To test this, you can go to shodan.io website.
If Google, Yahoo, Bing have the ability to search for text and image data, with Shodan, this website helps you find all devices online on the Internet.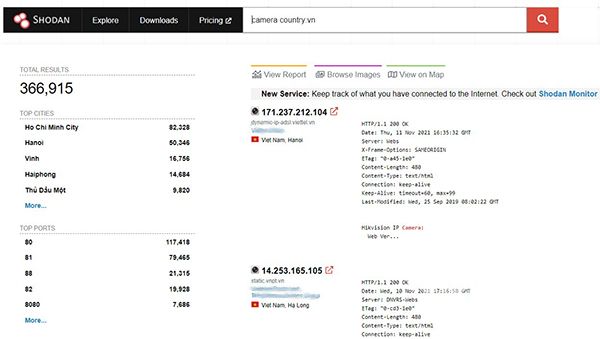 It is easy to find about 367,000 Vietnamese security cameras with complete information on the Internet. If not careful, this will be the key for hackers to break into every home.
Just type in the keyword "camera country:vn", you will see that in Vietnam, there are currently 367,000 surveillance cameras online. The majority (accounting for 98.9%) of these cameras originate from a Chinese manufacturer Hikvision.
There have been many security holes discovered on Hikision cameras. Therefore, it is possible to see the risk of money in the deployment of smart homes, smart cities, when we are most likely hand-empowering the hackers themselves.
With about 2.6 million active security cameras in Vietnam, one out of every seven Vietnamese surveillance cameras is "online". And that is most likely your home camera.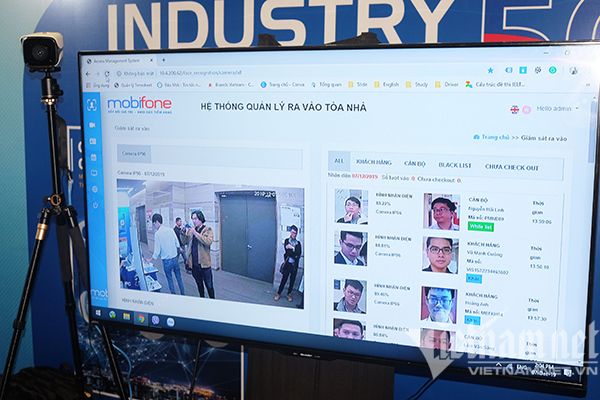 Trusting in domestic security camera solutions is the best way to solve the problem of Vietnam.
What if hackers get into the surveillance cameras that are online? In addition to security issues, your sensitive photos and videos can be shared outside.
This is what actually happened because in April this year, in Vietnam, there was a situation of buying and selling clips from camera accounts that bad actors stole. Depending on the quality of the content, groups selling 18+ clips will charge from 100,000 to 250,000 VND.
This is a problem that state management agencies need to solve first in the process of developing smart cities. Trusting in Vietnamese products, investing in Make in Vietnam products is probably the most appropriate way to solve that story.
Trong Dat

41/63 provinces and cities in Vietnam are building smart cities
This is the number of provinces and cities that are developing projects on smart cities, including projects for the whole province and projects for urban areas directly under the province.
.