Instead of only paid packages, Netflix suddenly launched a free package for Vietnamese users.
According to the announcement from Netflix, this is a package exclusively for Android users in Vietnam market. The condition to use this package is that you must be over 18 years old and have never set up a Netflix account.
Unlike regular packages, free Netflix users only need to register by phone by email. They do not need to provide payment information like in the paid version.
Vietnam is the first market in Asia and one of the rare markets in the world where Netflix has deployed a free package, a source from VietNamNet said.
Vietnamese users can start using a lot of free content on Netflix, instead of having to pay to use the service like before. Photo: Trong Dat
Compared to the paid plan, the free version will have some limitations on content, especially movies for which Netflix must purchase the rights from external partners. However, many famous movies produced by Netflix such as Million Dollar Mission (Money Heist), Kingdom of the Dead (Kingdom), … will still be provided on the free version.
It is known that, even though it is a free version, Netflix still does not sell ads displayed on it to ensure a seamless experience for users.
As for why there is only a free version on Android, a source from VietNamNet said, this is considered a test by Netflix to gather feedback from the market. This is to give non-members an opportunity to try out the content and features on Netflix.
It is a fact that since the beginning of the pandemic, the number of subscribers of digital content services, including Netflix, has grown quite well. After a year of launching the Vietnamese interface, the number of Netflix users in Vietnam is estimated at nearly 150,000 people.
Statistics from the Department of Broadcasting and Electronic Information (Ministry of Information and Communications) show that, as of September 2020, Vietnam has a total of 10 million cable TV subscribers and 200,000 face TV subscribers. land, 1 million satellite digital TV subscribers, 1 million Internet TV subscribers and about 480,000 mobile TV subscribers.
The total number of pay TV subscribers in Vietnam as of September 2020 is about 13.8 million subscribers. About 70% of the pay TV market share in Vietnam still belongs to cable TV subscribers.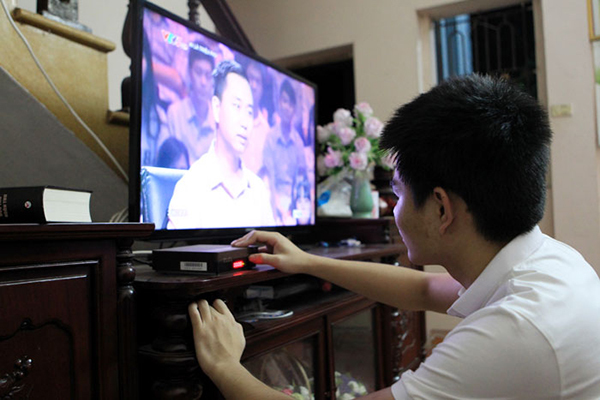 Vietnam's pay TV market is still largely in the hands of cable TV service providers.
Vietnam's pay TV market is currently a competition of many types of businesses, including a group of companies providing cable television services, digital satellite television and television service providers. on the Intenet.
It can be seen that, compared with cross-border streaming platforms, domestic enterprises can hardly match content with foreign elements such as movies and TV series.
However, foreign OTT television businesses like Netflix only account for a very small proportion of revenue (less than 500 billion VND/year), while the target audience is somewhat limited to young users.
The big piece of cake (worth nearly 8,500 billion VND) includes the common customer group, which are households, still in the hands of traditional pay TV businesses.
Trong Dat

Digital economy scale reaches 21 billion USD, "eagle" chooses Vietnam to hatch eggs
The total value of Vietnam's Internet economy is forecasted by Google to reach $57 billion by 2025.
.