Unlike conventional fund models, AI-powered investment funds apply technology to process data, thereby automatically recommending effective profitable investment strategies.
In recent years, Vietnam has always been one of the countries with strong economic growth, even before the impacts of the Covid-19 pandemic. In the first nine months of 2021, the total foreign investment capital (FDI) poured into Vietnam reached more than 22 billion USD, up 4.4% over the same period last year. Total capital mobilization for the financial economy in the first 9 months of 2021 also reached VND 292.1 trillion, up 12% over the same period.
The investment market in Vietnam is also becoming more and more exciting and attracts a lot of attention from domestic and international investors. However, the level of technology application in investment activities in Vietnam is still at a very primitive level. In that context, Novaon Capital – a new investment fund model applying technology has officially appeared in the domestic market.
Unlike conventional funds, AI investment funds apply technology to process data, thereby automatically suggesting effective profitable investment strategies. Photo: Trong Dat
Unlike traditional investment funds, the technology investment fund model will use AI to analyze financial statements, based on important indicators such as P/E, ROE, profit margin,… is the way that artificial intelligence is applied to predict the development trend of enterprises, point out the advantages and risks for financial investment.
According to Mr. Nguyen Minh Quy – Chairman of Novaon Capital, each financial statement of enterprises has about 10 important indicators. This also means that, with a large number of businesses listed on the stock exchange, there are thousands of important data that must be updated immediately. This is where artificial intelligence can play its role in information processing. Artificial intelligence will gather and analyze a large amount of data with greater accuracy than any expert.
This expert also said that AI can effectively support people in making investment decisions, even investing on behalf of people in some fast-changing market situations, on a very large scale. large with high precision. With the investment fund Novaon Capital, this unit has grown more than 87% in the past 12 months. This is a practical result that shows that using AI to replace humans in investment activities can bring good results.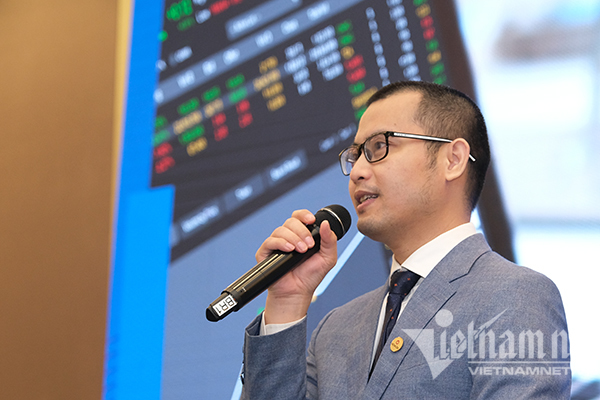 Nguyen Minh Quy shared about how AI technology is applied to risk analysis and assessment.
In the world, in developed countries such as the US, Japan, and Korea, many investment funds have applied technology to their activities. Enhancing the technology element in investment analysis is considered an inevitable trend in the context that the whole economy is turning to seek digital transformation. However, to pursue this trend, investment funds need to have a methodical approach, combined with certain technological capabilities.
Previously, in the process of consulting on digital transformation for Vietnam, Mr. Jacques Morisset – Chief Economist and Manager of the Macroeconomic, Trade and Investment Program of the World Bank in Vietnam once said that It is very important to enhance the innovation capacity of enterprises through the acquisition of new technologies.
In the process of digital transformation, Vietnam will need two groups of businesses: big pioneers and startups. Therefore, Vietnam needs to invest more, subsidize and create incentives for banks and financial markets to invest in startups and digital talent.
Trong Dat

Tripartite resonance contributes to promoting the digital transformation process in Vietnam
Emphasizing the incubator model of Viet Solutions with the participation and resonance of the state, large corporations and technology enterprises, Minister Nguyen Manh Hung said that this resonance will promote the digital transformation process. in Vietnam.
.