Tap to Phone is a technology that turns mobile phones into devices that accept card payments.
According to information of VietNamNet, VNPAY – the leading Fintech company in Vietnam in terms of market capitalization has just reached a strategic cooperation agreement with Visa, one of the world's leading enterprises in electronic payment technology.
With this agreement, VNPAY and Visa will cooperate to deploy many new digital payment services in the Vietnamese market. Specifically, these services include a solution to accept contactless payments via mobile phones (Tap to Phone), prepaid virtual cards, money transfer and receipt services…
In which, the most notable is the contactless payment solution via mobile phone (Tap to Phone). When a retailer deploys this solution, any Android smartphone or tablet can become a contactless payment acceptor.
In the near future, Tap to Phone technology will help turn Android phones into accepting card payments instead of cumbersome and costly POS machines. Photo: Trong Dat
Turning an Android device into a merchant is done with software and doesn't require hardware support. It doesn't even cost the solution user any fee to deploy the payment terminal.
Sharing with VietNamNet, Mr. Nguyen Huu Phuc – Deputy General Director of VNPAY said that current payment devices are all specialized devices. Tap to Phone technology will help shops and businesses use smartphones to accept card payments of Visa users domestically as well as globally.
In addition to turning the phone into a card payment device, this Fintech startup will deploy the attaching of payment cards to mobile devices. When needing to pay, users only need to open the e-wallet application, select the money source from the card and pay contactless.
Visa's research on consumer payment attitudes in 2021 shows that 80% of Vietnamese users are interested in using contactless payments by phone. The appearance of the service that integrates the card into the phone is expected to contribute to creating the habit of cashless payment for users.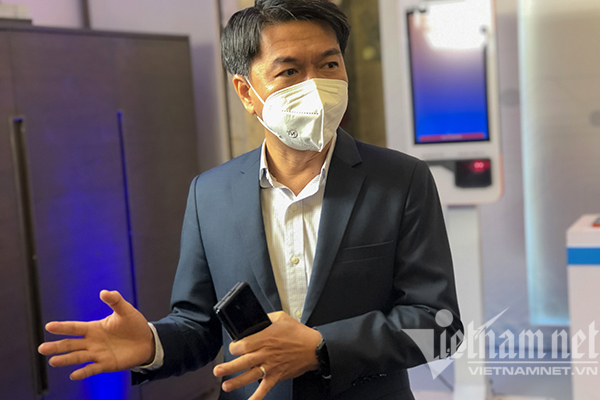 Mr. Nguyen Huu Phuc – Deputy General Director of VNPAY. Photo: Trong Dat
According to this expert, the technology to turn phones into payment cards and card-accepting devices is still quite new. Due to the application on mobile devices, in the not too distant future, this will be an explosive phenomenon and reach a large number of users.
The application of Tap to Phone technology promises to help cashless payments be deployed to many different audiences, even small businesses and stores. As a result, cashless payment will be more and more popular.
According to a recent survey by McKinsey & Company, finance and banking is one of the strongest digital transformation fields in Vietnam. In just 4 years (from 2017-2021), the percentage of Vietnamese users using services of Fintech companies has increased from 16% to 56%.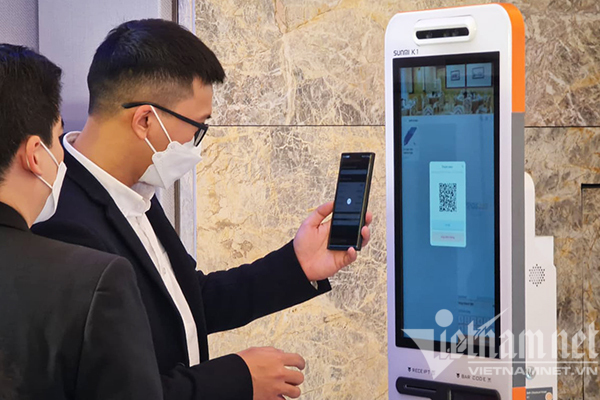 Cashless payment is becoming more and more popular with Vietnamese users. Photo: Trong Dat
McKinsey & Company's assessment shows that cash is still "king" in all payment segments in Vietnam. However, the level of openness of Vietnamese users to e-commerce is very high. Consumers are willing to spend digitally, even with complex financial products involving mortgages, investments, and insurance policies.
The assessment of McKinsey & Company also said that the scale of Vietnam's digital ecosystem is estimated at 50 billion USD and can increase to 100 billion USD by 2025.
Digital users start their digital journey from e-commerce platforms, then progress to payment and use of digital banking services. The biggest challenge to popularize cashless payments is to create a seamless, simple, convenient but still safe and secure experience for users.
Trong Dat

Vietnam lags behind in cryptocurrency movement in Asian countries?
Many countries in the Asian region have researched, piloted, and even deployed digital currencies using Blockchain technology. With Vietnam, these plans seem to have only been implemented on paper.
.