This is an e-commerce model of community interaction (social commerce) with the ability to create a new distribution channel and provide business opportunities for everyone.
Startup Selly – Vietnam's e-commerce model and community interaction application, has raised $2.6 million in a Pre-Series A funding round from investment funds CyberAgent Capital, Do Ventures, Genesia Ventures, JAFCO Asia and KVision.
In which, CyberAgent Capital (CyberAgent Group – Japan) is currently investing in more than 350 companies globally. 50 CyberAgent investment companies have been listed on the Tokyo Stock Exchange.
Some notable investments of CyberAgent fund include Kakao Talk (Korea), Tokopedia (Indonesia), Tiki (Vietnam), Foody (Vietnam), Batdongsan.com.vn (Vietnam) and many more. another company.
Do Ventures is also a notable venture capital fund with a capital size of about 50 million USD. This investment fund specializes in hunting potential startups in Vietnam and Southeast Asia.
Selly is an e-commerce model of community interaction application with the ability to provide online sales solutions without capital.
According to a report by Accenture, the value of shopping transactions through social networking platforms globally will reach $ 1.2 trillion by 2025, nearly 3 times higher than the current $ 492 billion.
Selly is one of the pioneering companies for the social commerce model in Vietnam when the trend of shopping on community platforms is growing.
After only 10 months of operation from April 2021, Selly has proven its potential with 300 times business growth. This startup is currently accompanying more than 300,000 sales partners, of which 80% are from small cities, most of which are housewives and people who have lost their jobs due to Covid-19.
Launched in the midst of a complicated epidemic, Selly touched the job search needs of many unemployed workers. Selly's social commerce model helps them to start a business, generate sustainable income with no capital, no storage requirements and absolutely no need to worry about operation.
Each seller only takes a few minutes to choose the products they want to trade from the rich and high-quality goods displayed on the Selly application, then share product information with the community of friends and acquaintances around them. . With each closed order, the goods will be shipped to the customer with a full range of professional after-sales services.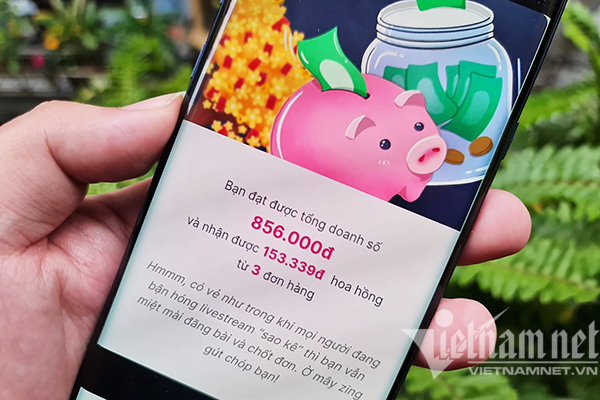 This e-commerce platform helps partners to control % of commission based on the quantity of goods they sell.
Less than a year after its launch, Selly has helped create jobs for hundreds of thousands of women and people who have lost their jobs to the effects of Covid-19. Sales partners of this startup can increase income up to 30 million VND/month.
Besides, Selly is also accompanying hundreds of suppliers who are traditional manufacturers and distributors, helping them transform themselves into e-commerce to catch up with the rapid development of online shopping trends. line.
This platform has become a distribution channel, helping suppliers to reach customers in all provinces and cities across the country, ensuring all sales operations and only charging costs when goods are sold successfully.
Before that, similar models to Selly in Vietnam can be mentioned e-commerce platform On (just invested 1.1 million USD) and sales collaborator platform Cuccu.vn which once resonated. on the TV show Shark Tank (Billion Dollar Deal).
Trong Dat

Remind registration deadline, pay bank debt, etc. by robot call
Not only answering questions and asking about people's health during the pandemic, AI calls will soon be applied in the fields of transportation, insurance or finance and banking.
.