Vietnam is currently highly appreciated by McKinsey & Company for the development of digital payments. The number of Vietnamese using Fintech services has increased 3.5 times in just 4 years.
According to Techinasia, Vietnam-based bank Timo has raised $20 million in an investment round led by Square Peg. This is a famous investment fund that has invested in tech unicorn projects such as Canva, FinAnce and Airwallex.
Besides Square Peg investment fund, Jungle Ventures, Granite Oak, Phoenix Holdings and a number of other angel investors also participated in this funding round.
Digital banking services are developing very quickly and strongly in Vietnam.
It is known that this is Timo's first funding round. Proceeds from investors will be used to develop the underlying technology, with a focus on products specific to the Vietnamese market.
Established in 2015, Timo is a provider of digital banking services that enables users to make payments and participate in other financial services without having to go directly to a bank branch. Timo users can even open a bank account without going to a registered bank.
Sharing on Techinasia, CEO Henry Nguyen of Timo said that the goal of this unit is to operate as an independent digital bank, bringing access to financial services for those who do not have a bank account.
Timo's successful funding round comes in the context of increasing digital banking products in Southeast Asia, especially in Vietnam.
According to recent data from McKinsey & Company Vietnam, the percentage of service users of Fintech (financial technology) companies in Vietnam has also increased from 16% (in 2017) to 56% (in 2021). .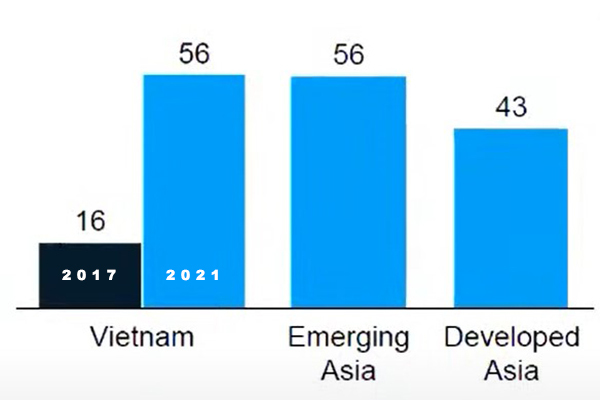 Percentage of users of Fintech services and e-wallets in Vietnam compared with developing and developed countries in Asia (Unit: %). Data: McKinsey & Company
The penetration of e-wallets and Fintech in Vietnam is higher than the average of emerging markets in the Asia-Pacific region and even higher than some developed countries.
Cash is still the "king" in all payment segments in Vietnam. However, the level of openness of Vietnamese users to e-commerce is very high. Consumers are willing to spend digitally, even with complex financial products involving mortgages, investments, and insurance policies.
The assessment of McKinsey & Company also said that the scale of Vietnam's digital ecosystem is estimated at 50 billion USD and can increase to 100 billion USD by 2025.
Before Timo, another startup in Vietnam's financial technology (Fintech) field, MoMo, announced the completion of the 5th round of funding (Series E) with a total investment of about 200 million USD. Notably, this deal also turns MoMo into a technology unicorn when it is valued at up to 2 billion USD.
The Covid-19 pandemic has contributed to promoting the development of digital payments in Vietnam as both people and businesses have formed awareness and understood the value of cashless payments. The habit of non-cash payment will not only maintain but also continue to be promoted in Vietnam in the post-pandemic context.
Trong Dat

Half of Cambodia's population has access to cryptocurrencies, how long will Vietnam wait?
Cambodia is one of the first countries in the world to launch a digital currency with the participation of a central bank. Following Cambodia, Laos is another country in the region that has ambitions to develop digital currency.
.