More than one trillion dong has been spent by brands in Vietnam on online video apps, social networking applications, online video game applications … operating illegally – according to preliminary estimates by Communication of information.
This fact shows the paradox: A not small part of Vietnamese businesses are nurturing illegal and anti-cultural activities in the country of Vietnam.
Vietnamese brands run ads on WeTV, IQIYI, HUNTER ASSASSIN …
Easily see promotional videos of famous brands such as Omo, Comfort, Clear, Sendo, Pumpkin Alpha … on cross-border applications IQIYI, WeTV, Egg Finder, Hunter Assassin … These are the applications. cross-border applications in the field of video and video game viewing have not been licensed by regulators, or in other words, applications operating outside the law of Vietnam.
Screenshot of advertising on the Chinese IQIYI app.
The Vietnamese authorities have full reasons when they have not or did not license these applications because of the nature of the content, the way the operation of these applications does not serve community values, does not comply. the provisions of Vietnamese law. Many of these applications even promote violence, incite or misrepresent Vietnamese territorial sovereignty that the press has reflected in the past.
However, it is a fact that applications outside of Vietnamese law still find ways to slip into Vietnam, silently reaching a large number of Vietnamese users. Preliminary statistics at application markets, each of these applications reach from a few tens of thousands to millions of users.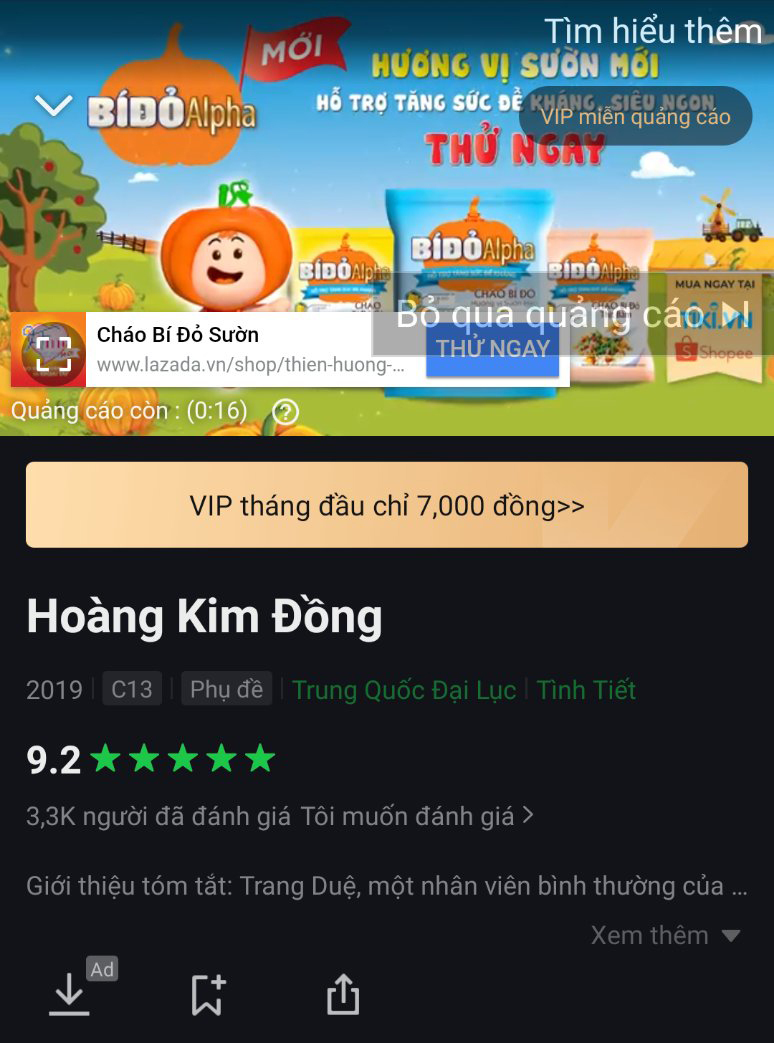 Screenshot of advertising on Chinese app.
There is no evidence that these illegal cross-border apps use price policies to entice Vietnamese brands to advertise through automated ad networks. However, due to illegal operation, these applications have had many cost advantages in not performing tax liabilities with the State of Vietnam, as well as the costs of securing other obligations such as the app works legally.
Vietnamese businesses spend billions of dollars fostering illegal activities
In recent years, the Ministry of Information and Communication has carried out many activities to make content healthy on cyberspace. Cross-border platforms, including Facebook and YouTube, contain a lot of content that distorts the policies of the Party, the laws of the State, and defames the image of Party and State leaders.
Vietnamese brand advertisements on video game applications have not been permitted to be traded in the Vietnamese market.
In addition, content on these cross-border platforms and applications outside the law also fosters and promotes obscene language, lewdness, infringes on personal life, calls for collective violence. , introducing behaviors such as children pouring fish sauce on the mother's head, eating raw fish … That is the encouragement for the anti-cultural, inhuman behavior, which goes against the good culture of the Vietnamese people.
In the mess of illegal, anti-cultural and inhuman things, unfortunately, there are more and more promotional videos of Vietnamese brands, including many big labels such as Unilever, Ford Vietnam, FWD Vietnam Insurance, Red Lotus …
Advertising of Unilever brand on unlicensed video game applications in Vietnam.
The cash flow earned by businesses operating in the Vietnamese market from Vietnamese consumers, poured onto cross-border platforms and applications outside the law of Vietnam, is showing a lack of major direct and irresponsible of these big brands to Vietnamese consumers.
Le Hoang

Minister of Information and Communications: "Buying advertisements on a bad basis is helping to harm your country"
ictnews Minister of Information and Communications Nguyen Manh Hung said that businesses must buy more advertisements on Vietnamese platforms, because advertising on Vietnamese platforms is safer. If you buy advertising on a malicious platform, you will invisible to help harm your country.
.