Blockchain is the most likely technology field where Vietnam can match or even surpass many developed countries in the world.
2021 can be considered a disaster year for many different economic sectors, but it is a boom year for the Blockchain field.
Blockchain emerges as a phenomenon in the overall picture of the world economy in 2021. In the past year, the world Blockchain indexes have grown strongly.
According to CB Insights, the amount of funding for this field also quadrupled in just one year, from $3.1 billion in the whole of 2020 to $15 billion in just the first nine months of 2021.
The amount of investment money poured into the Blockchain field in the world has increased dramatically in 2021. Figures: CB Insights
It is worth noting that Vietnam is a bright spot in the global Blockchain world. Many Vietnamese enterprises have been creating a foothold in the international market.
Previously, it was difficult for Vietnamese companies to compete with other technology enterprises in the world. This gap seems to have narrowed in the Blockchain world, where the starting point of countries is not much different.
According to Chainalysis, Vietnam is a perfect example of a country where the level of participation in cryptocurrency transactions far exceeds the ranking of the economy.
Although only ranked 53rd in GDP with about $262 billion and is ranked as a low-middle-income country, Vietnam still has a fairly high level of acceptance for cryptocurrency transactions.
Accordingly, Vietnam ranks 10th out of 154 countries in the Global Cryptocurrency Acceptance Index. This is one of the rare indexes where Vietnam has the same rank as developed countries such as the US, China or South Africa, even more than many other developed countries such as the UK, France, Germany, and Spain. , Japan, Korea,…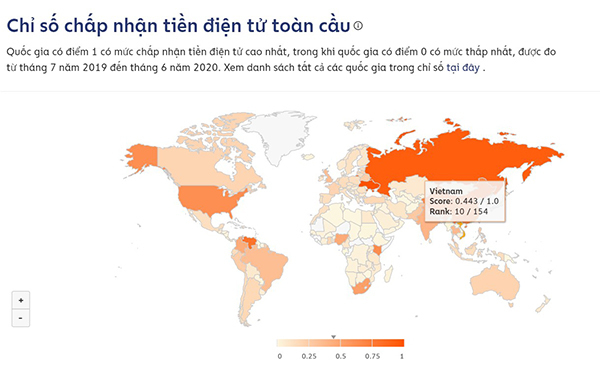 Vietnam currently ranks 10th on the Global Cryptocurrency Acceptance Index. This shows that Vietnamese people are very open to Blockchain technology.
Finder's survey conducted with 42,000 people across 27 countries also shows that Vietnam is the country with the highest rate of cryptocurrency adoption.
Specifically, 41% of Vietnamese respondents confirmed to have purchased cryptocurrency. 20% of Vietnamese respondents said they bought Bitcoin. This is the highest of all surveyed countries.
In fact, Blockchain can be applied in most of the economic and financial sectors, manufacturing industry, health care, education, environmental resources, trade, tourism, and services.
That is also the reason why over 80 countries have been researching and implementing Blockchain technology into the central digital currency segment (CBDC – Central Bank Digital Currency). Many major banks around the world also set up funds, processing networks and programs to support the operation of cryptocurrencies.
In a digital technology forum recently held, Mr. Tran Huyen Dinh – founder and CEO of AlphaTrue technology company said that Vietnam can apply Blockchain in digital transformation.
However, to do this, we need to pay attention to building more application "bridges" to connect with each other and develop together.
"For example, a website can build more platforms to expand and connect technology platforms together. That helps bridge the gap between traditional businesses and technology.", Mr. Dinh said.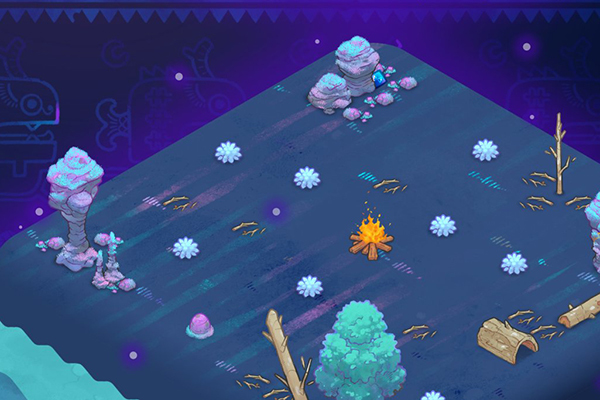 There used to be virtual lands of Vietnamese businesses that were successfully sold for $2.5 million.
When asked about the applicability of Blockchain, Mr. Nguyen Thanh Trung – founder of Sky Mavis said that, in theory, Blockchain technology has many applications. But at the present time, that is not necessarily true in reality.
Blockchain has just been put into application in life about 4 years ago. In a more distant future, Blockchain may be applied in financial management or the real estate market to create a public and transparent buying and selling market. We will probably see more Blockchain applications in the future.
The author of the billion-dollar game Axie Infinity once said that Vietnamese people are very good at jobs that require carefulness, meticulousness and great potential in the field of technology. We just lack a bit of problem perspective as well as product thinking.
With the Blockchain field, Vietnam has potential but currently does not have enough human resources to serve this industry. This will be the problem that our country needs to find a solution to to take higher steps in developing and creating a billion-dollar industry thanks to Blockchain technology.
Trong Dat

Half of Cambodia's population has access to cryptocurrencies, how long will Vietnam wait?
Cambodia is one of the first countries in the world to launch a digital currency with the participation of a central bank. Following Cambodia, Laos is another country in the region that has ambitions to develop digital currency.
.