YouTube has just announced the 2020 Highlights YouTube List with the special and meaningful participation of the Health Service Instruction Video from the Ministry of Health, alongside notable video creation and video trends.
The YouTube 2020 Highlights List includes 3 trend charts: Top 10 YouTube Top 10 Most Popular Videos 2020, Top 10 Most Featured YouTube Music Videos 2020, and Top 10 Most Popular YouTube Creators 2020.
YouTube has just announced the 2020 YouTube Featured List – # YouTubeNoiBat2020
These are the videos and YouTube creators that made the biggest follow-up trends in the past year.
Video of the Ministry of Health appeared in the Top 10 list
Most notably in the list of Top 10 most prominent YouTube videos in 2020 is the presence of a video guiding disease prevention principles from the official YouTube channel of the Ministry of Health of Vietnam.
The video was posted in April 2020, when the Covid-19 epidemic broke out in Vietnam. With more than 23.5 million views so far, the 5 POINTS TO DO GOOD TO PREVENT COVID-19 video has helped bring essential medical information to the public, effectively supporting the public. disease prevention in Vietnam.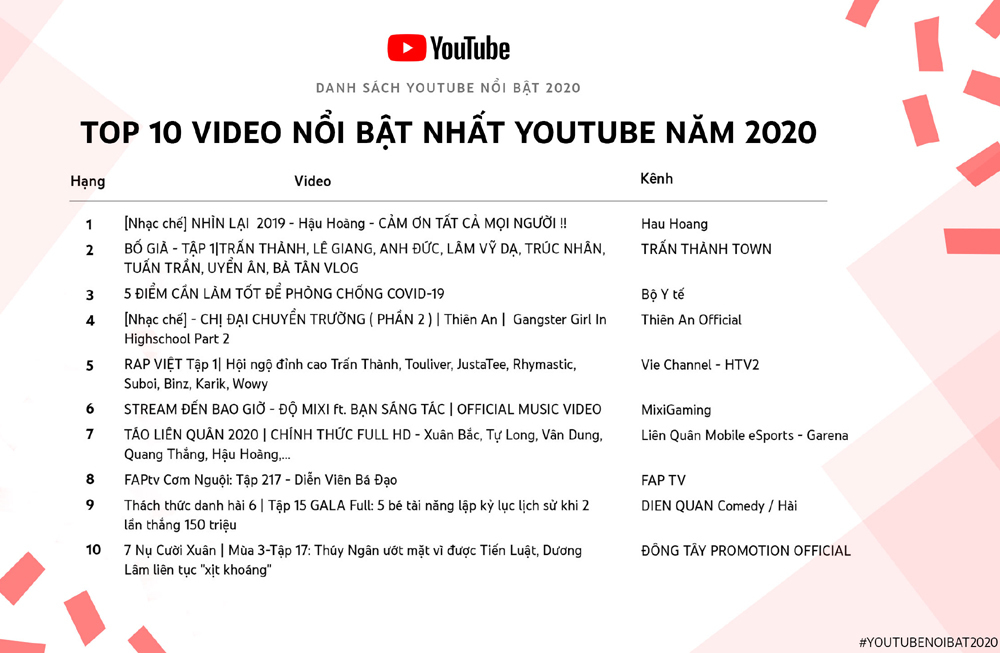 Top 10 most outstanding YouTube videos in 2020
The Ministry of Health's innovative social media approach to audiences has been strongly supported by the community, helping to spread a stronger message, contributing to victory in disease prevention in Vietnam. .
The champion of this year's Top 10 Most Featured Videos ranking continues to belong to Queen with the video [Nhạc chế] LOOK AT 2019.
Besides Queen, the trend of moderating music continues to attract audiences this year with the presence of a new name – Thien An Official.
Not only featured in the Top 10 outstanding YouTube Creator of the year, MV [Nhạc chế] – Her University Transfer (Part 2) is also ranked 4th in the Top 10 Outstanding Videos.
The success of the web-drama Bo Gia in the past year has helped YouTube channel TRAN THANH TOWN surpass 4 million subscribers, ranked second in the Top 10 outstanding YouTube channels last year with impressive growth.
FAPTV, after becoming the first YouTube Vietnam channel to win the Diamond Creator Award with 10 million subscribers, continues to maintain a stable performance when owning a video that reached the Top 10 outstanding videos.
TV shows also made a big presence in this year's chart, with shows like Rap Viet, Comedy Challenge, and 7 Spring Smile.
Although it just launched its first season in August 2020, the program Rap Viet has made a mark in the hearts of Vietnamese audiences with many notable achievements in YouTube views.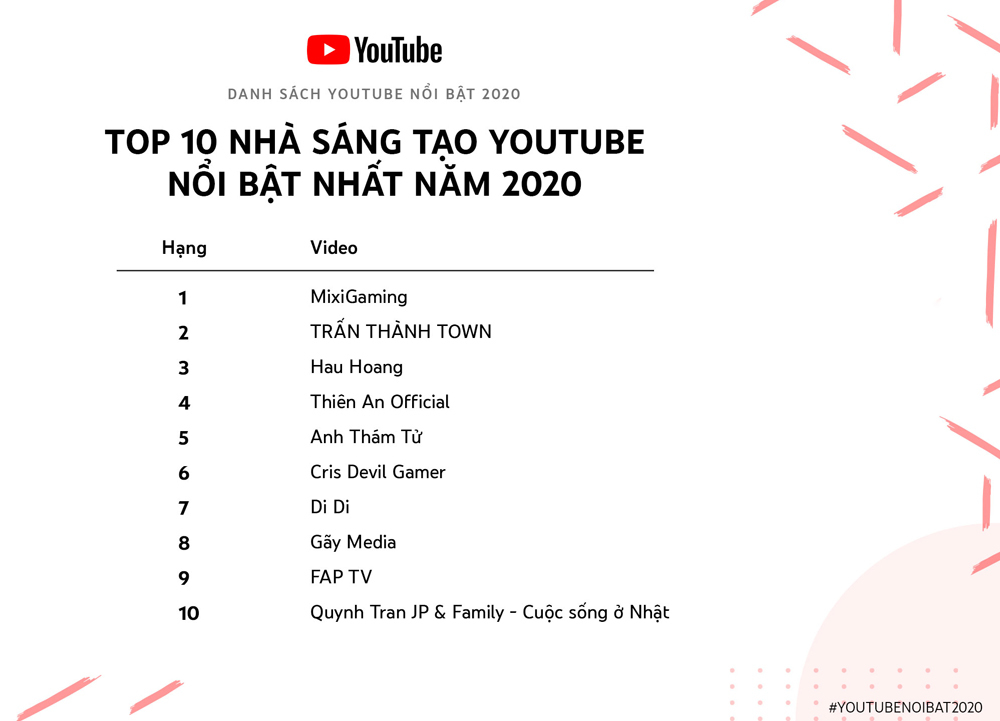 The Top 10 Most Featured YouTube Creators of 2020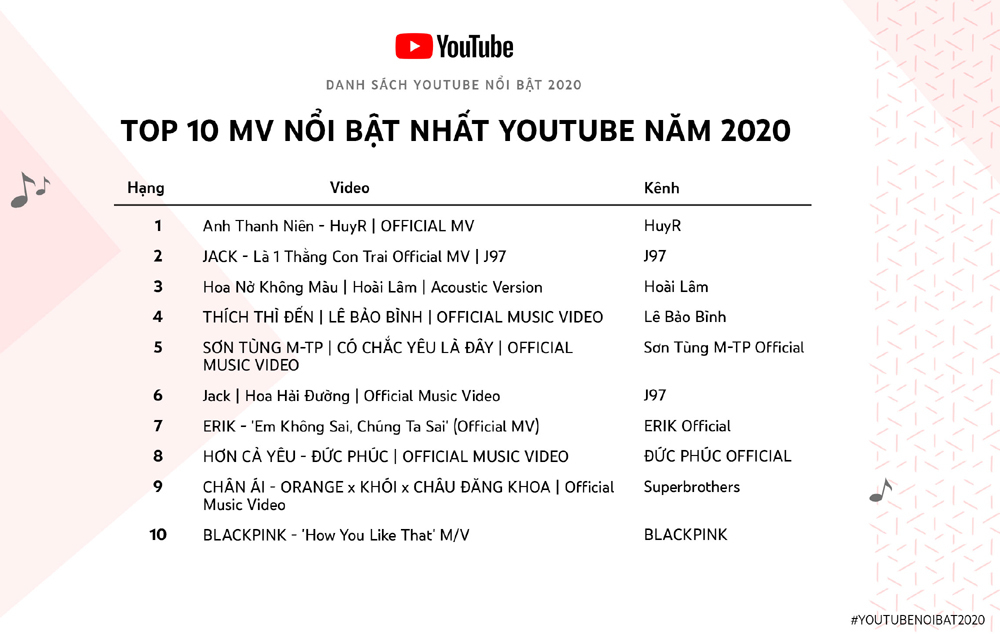 Top 10 most prominent music videos (MV) on YouTube in 2020
Hai Nguyen

Dozens of Vietnamese YouTube channels of millions of subs were appropriated by fraudsters
Since afternoon, dozens of YouTube channels over 1 million Vietnamese subscribers have been hijacked by hackers within a few hours.
.