Data is a valuable asset of businesses. Many experts say, without data, there is no digital conversion.
Businesses without digital conversions could face bankruptcy
Data – the "key" that converts numbers
According to a study on the digital readiness level of small and medium enterprises in Asia – Pacific region in 2020 released by Cisco shows, nearly 70% of businesses in the region are speeding up the digitization process. the impact of the Covid-19 pandemic. 86% of respondents believe that digitalization will help develop their resilience against crises like the Covid-19 pandemic.
Mr. Phi Anh Tuan, Vice Chairman of Ho Chi Minh City Informatics Association said: "Changing the number of businesses is an irreversible trend, in which data will become the biggest asset of the business because of useful data. business is increasingly diversified and the cost to collect useful data for businesses is reduced rapidly ".
Dr. Nguyen Nhat Quang – Director of VINASA VSTI Institute of Science and Technology said that in digital transformation, data (including recording, collecting, accumulating and exploiting) plays a central role. Without data there is no AI, without AI the system cannot be smart enough to compete in a new situation.
However, in fact, in current Vietnamese enterprises, the volume of digitalized data is only estimated at 30%, the rest up to 70% of important data has not been digitized, and most of the data This is still being shown on paper. These data are easily damaged or lost during use, causing great losses for businesses. At the same time, data is stored on a hard copy, which costs a lot of management costs and is difficult to exploit and use for businesses.
Digital solutions for total FSI data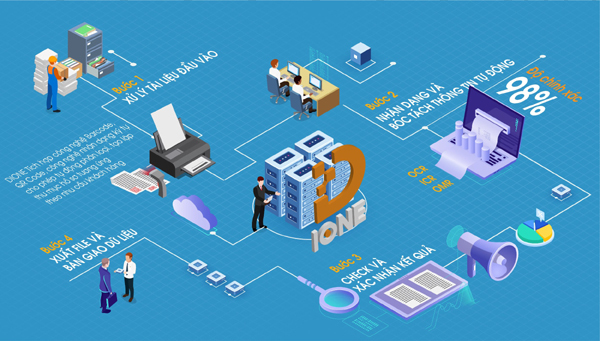 Digitalization solutions according to FSI's ISO / IEC 27001 information security standards help create, manage, and exploit data comprehensively
Digital solution to create database (database) FSI is a solution to convert data from the external system document into digital data format understood and stored by the computer. The digitalized documents called "digital documents" will be stored, managed and easily exploited in the enterprise through the internet or intranet.
FSI provides a total digitization solution including: equipment, personnel, machinery, digital software, digitalization technology, and a professional digitizing process, according to ISO / information security standards. IEC 27001: 2013 and ISO 9001: 2015 quality standard, help customers save 80% of time and costs compared to traditional digitizing methods, while ensuring accuracy and confidentiality for customers. .
The highlight in FSI digitalization solution is the application of digitalization 4.0 technologies researched and developed by FSI doctors and engineers from famous domestic and foreign universities. high prizes such as: D-IONE intelligent digitalization software (Third Prize for Vietnamese Talent), IONE automatic information extraction technology, file compression technology, handwriting recognition technology H-IONE , ….
These software and technologies allow to scan, identify and extract information automatically, without limitation of form and document types, such as text records, schemas, photos, identity cards, books. Red … At the same time, integrating 4.0 technologies such as machine learning, deep learning, AI, … to help create a large database quickly, accurately and more efficiently. save time and money.
FSI's digital solution has successfully deployed many key digitalization projects in the fields of civil status, land, environmental resources, auditing … with many large customers.
Exploiting and managing data with L-IONE digital conversion software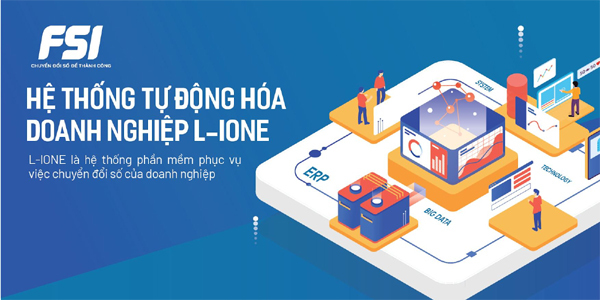 L-IONE integrates recognition technologies, natural language processing, large data processing with 98% accuracy to help optimize the time to find information and create databases.
The digitized data are managed and exploited on the digital conversion software L-IONE. L-IONE based on digital inputs will help units operate automatically, providing a comprehensive remote management and business solution from HR to workflow.
L-IONE digital conversion software has outstanding features: overall enterprise management, process management, work management, project management, single word management, document management, personnel manager The, … with tightly established – flexible processes to save maximum time and costs, cut 30% of consulting costs, are controlled in real time and the work is managed active 24/7.
Thanks to the built-in IONE automatic information identification and extraction technology, input document information will be classified, extracted automatically into digital data and managed synchronously in the system. Since then, it helps the units optimize and standardize business processes in the management, operation, and establishment of flexible workflows.
FSI Trading Investment and Technology Development JSC
FSI – One of the leading providers of digitalization and digital transformation solutions in Vietnam – Top 10 enterprises with typical 4.0 technology capabilities.
Contact to advise and experience FSI digital products and services at:
Website: https://sohoatailieu.com/dang-ky/index.html
Or: https://fsivietnam.com.vn/
Hotline: 0904 805 255
(Source: FSI)
.