In order to make it more convenient for residents and visitors to visit and experience Hue Festival Week 2022, the IOC Center coordinated with relevant units to deploy the Festival digital map feature on the Hue-S application.
Tonight (June 25), the opening ceremony of Hue Festival Week 2022 will take place at Ngo Mon Square of the Imperial Citadel of Hue.
Hue Festival Week 2022 will take place from June 25 to June 30, 2022. In particular, all programs and festivals during the week are open for free (except for the opening art show) to serve visitors…
According to the Festival Organizing Committee of TT-Hue Province, this is the first festival held in the direction of four seasons: Spring, Summer, Autumn and Winter with more than 50 cultural activities and festivals taking place all year round to honor and promote Promote the specific cultural features of the land, exploit the strengths of landscapes, architecture, spiritual tourism, attract tourists towards making Hue a typical festival city of Vietnam.
In the past few days, in addition to rushing to prepare all aspects to successfully organize events, the Hue Smart City Monitoring and Operation Center (IOC) has coordinated with related units to build and deploy Festival digital map feature on Hue-S application aims to make it more convenient for residents and visitors to visit and experience Festival Week.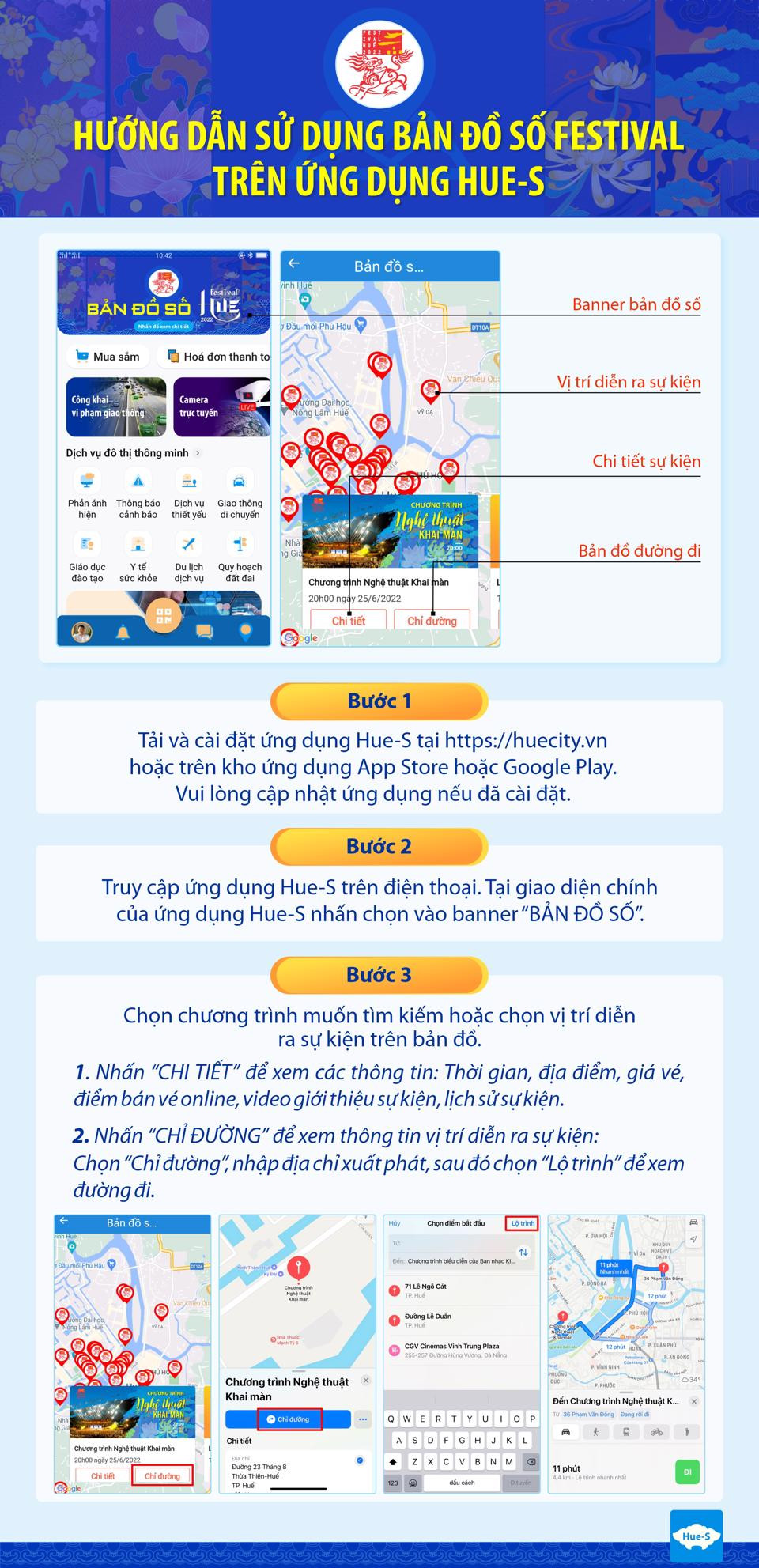 With a digital map, residents and visitors will easily locate and track the locations where programs and activities will take place at Hue Festival Week 2022 through the Festival logos displayed on the map.
At the same time, residents and visitors can see details of the main festival programs, response activities, and art performances.
Each program included in the digital map will have all specific information such as time, location, ticket price, event description, photos, videos… programs, activities, exhibitions you want to participate in, experience and enjoy.
Through the application, the map is automatically navigated on the phone, users can see directions and easily get to the location of the program. Currently, the Festival digital map has been synthesized and digitized 8 main programs; 30 companion and response programs and 21 art performances.
People and visitors attending Hue Festival 2022 can install Hue-S application on mobile phones by searching keyword "Hue-S" on app stores or from https://huecity.vn .
Quang Thanh
.