At the Consumer Electronics Show CES 2022, manufacturers have launched unique technology products for the food service (F&B) industry that many listeners will be surprised.
Spoon makes food taste better
Cameron Davidov and Ken Davidov – founders of SpoonTek
SpoonTek – "smart spoon" generates a slight electric current to stimulate the tongue, helping to increase flavor while eating and reduce unpleasant aftertaste. The product is suitable for those who follow a healthy diet because the manufacturer notes that the spoon will enhance the taste of healthy foods that are often considered "bland".
The spoon sells for $29. This is a product with an interesting idea to enhance the customer experience. However, with this price, it is difficult to use widely in restaurants.
Containers to keep food fresh for a long time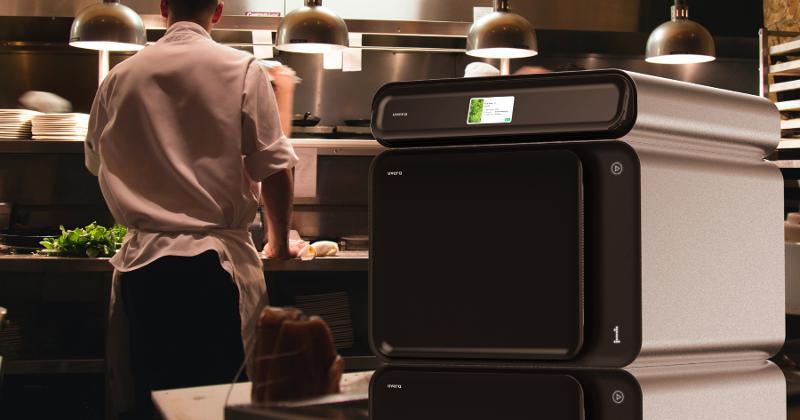 Aurora box version for restaurants coming soon
Uvera introduces a storage container that helps food stay fresher for longer. The box, called Aurora, uses UV-C ultraviolet light and vacuum seals food to create an oxygen-free sterilization environment. The cans extend the shelf life of meat by 33 percent on average, fruit by 123 percent and vegetables by 141%, the company said.
The US Department of Agriculture (USDA) estimates that restaurants lose $162 billion each year because of food waste. Many technology tools on the market have tried to solve this problem by automating inventory and preparation steps for restaurants to estimate the amount of food to buy before cooking, but Uvera has a other approach.
While the product is currently designed for households, the company says a restaurant version will be available in the future.
App to choose food that suits your mood
myAir launches an app that measures users' stress levels and then makes food recommendations that match that mood. Analyzing each customer's data allows myAir to customize the number of snack bars and ingredient mixes a customer needs in a month, and then deliver them.
Made with nuts and fruit, each bar is uniquely formulated based on its own research with extracts of bioactive plants, including sage, hops, oats, rosemary, Helps fight stress, increase concentration, reduce anxiety, improve sleep.
While there are still doubts about an app's ability to track moods or improve mood with just a snack bar, this is seen as an advertising strategy that has helped the company grow.
If restaurants can integrate with customers' myAir app and automatically serve a glass of milk when they're stressed or a coffee when they're tired, that would be a big plus. Even better if the app notifies the restaurant when someone is feeling hungry.
Huong Dung (According to Restaurant Business)

CES 2022: Google trying to catch up with Apple?
Google is trying to catch up with the Apple ecosystem when updating a series of new features for the Android operating system in 2022.
.