Next-generation Windows has officially set a release date and here's what users need to know about Windows 11.
7 most impressive new features
Windows 11 will have many new updates in the future, but when it launches on October 5, this operating system will have 7 most impressive updates including a new Mac-like interface, Android application market integration, Small utilities (widgets) are located right on the Taskbar, integrate Microsoft Team online meeting software, improve Xbox playing performance, support virtualization multitasking and support multitasking from screen to laptop.
The Windows 11 interface feels very close to the Mac with a fairly new arrangement.
Among these features, Microsoft says the Android app market (which uses Amazon's Appstore) will not be able to immediately have apps for download when Windows 11 launches. Microsoft said it is working with Intel and Amazon to provide a trial of this feature within the next few months at the earliest.
When can it be downloaded?
Microsoft said on October 5 compatible computers and new computers with enough configuration will be able to download, or more precisely, update to Windows 11 for free from Windows 10.
Of course, users can download the trial version a long time ago and use it normally until the official release date. To do this, users need to download the PC Health Check configuration check application available on the Microsoft homepage. After passing the test, users can sign up for the Windows Insider program to download the trial.
For those who want to wait for the correct date, at that time, users only need to perform a manual update check at Settings > Update & Security > Windows Update and click Check for Updates in the window that appears.
Is it possible to load when there is not enough configuration?
Computers that do not meet the minimum configuration can still download and install Windows 11, similar to how to install Windows 10 on the Microsoft homepage. However, users are still recommended to equip a computer with at least a 64-bit Intel 8th generation CPU, 4GB RAM, 64GB hard drive, UEFI security and TPM 2.0.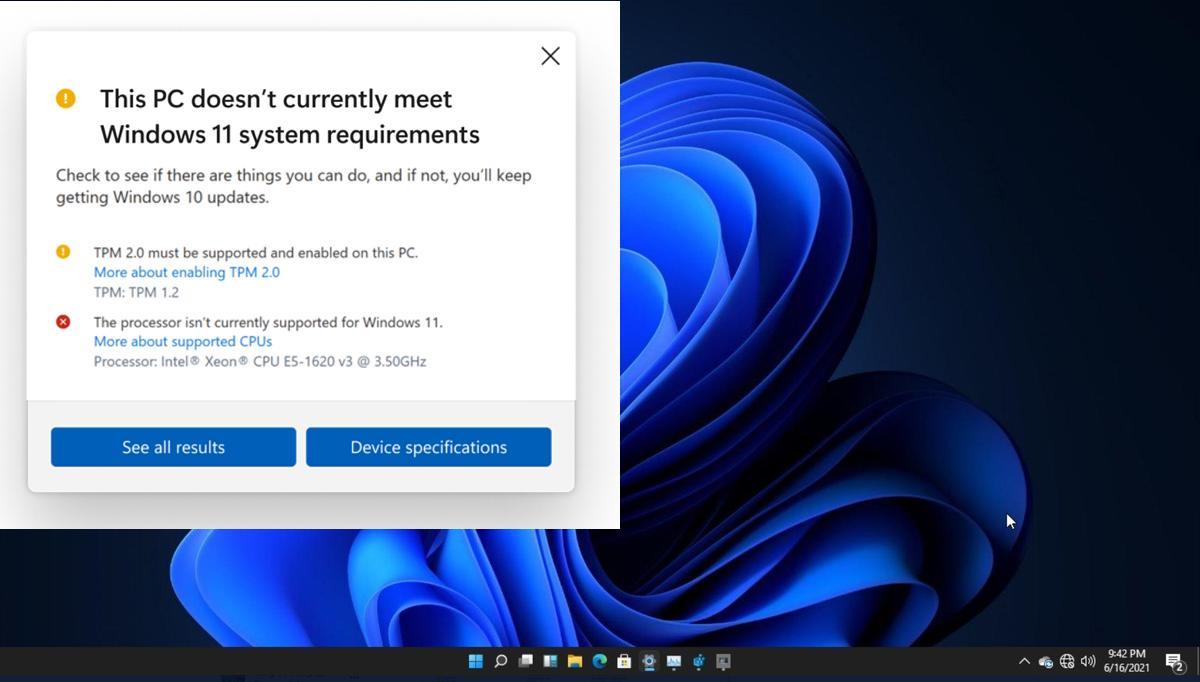 Minimal configuration is the headache of Windows 11.
If you still install without enough configuration, users will likely not be able to update to new versions to patch security holes and upgrade drivers in the future.
Laptop can install Windows 11?
Laptops, even tablets and smartphones, can be installed in many different ways. But basically, laptops with the required configuration can still be installed normally, even users who buy laptops after October 5 can be pre-installed.
Here is a list of laptops with Windows 11 pre-installed if purchased new, confirmed by Microsoft:
• Acer Swift 5
• Acer Swift X
• Asus Zenbook Flip 13″
• Asus Zenbook 14″
• Alienware x15
• Dell XPS 13″
• HP Specter x360
• Samsung Galaxy Book Pro
• Surface Pro 7
• Surface Laptop 4
Phuong Nguyen (According to Cnet)
iPhone 13 can call, text without cell signal?
According to the latest information, iPhone 13 will connect to low-range satellite signals to make calls and send messages in areas without 4G or 5G signal.
.