Time machines do not exist in reality, but users can completely go back in time on the Internet to find out about popular websites and forums in Vietnam.
Echip.com.vn is the home page of the Magazine specializing in Information Technology Echip was born around 2003. At its heyday, the magazine had three publications, namely, eChip Informatics at hand, eChip Read and read and eChip Mobile . On April 27, 2016, eChip Mobile edition published the final issue to switch to online form. Today, Echip.com.vn still maintains the online operation model to serve readers in the past.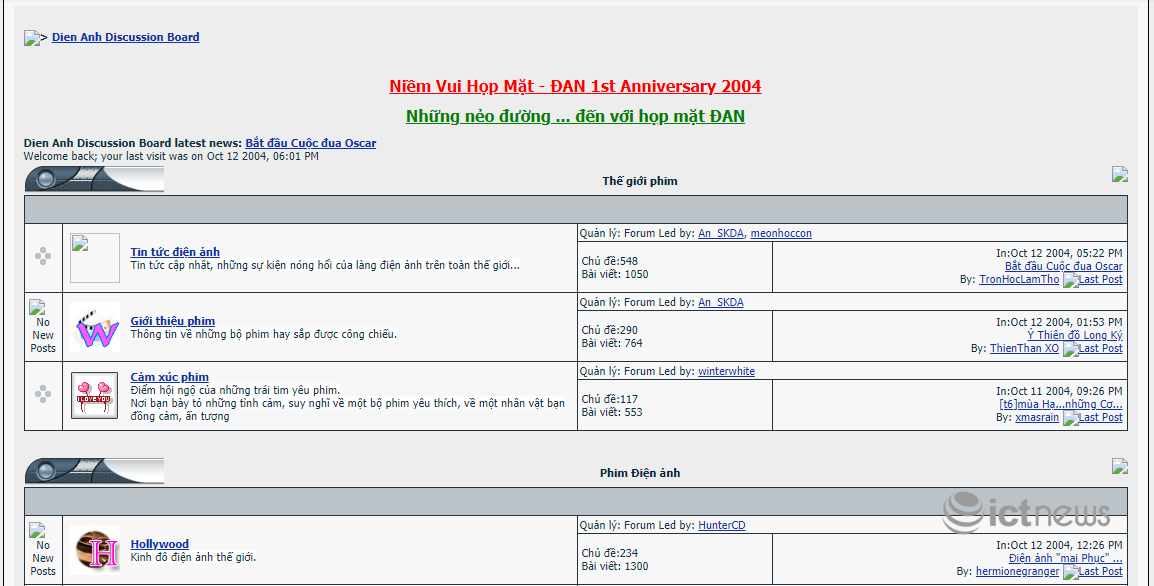 Dienanh.net is the first and largest film forum in Vietnam. Born around 2003, DAN (the short name of this forum) is the place to gather extremely lively discussions about Taiwanese and Korean romantic films at that time such as Meteor Garden, Winter Sonata. Fall heart to Vietnamese films like Kaleidoscope. Around 2015 – 2016, this forum officially collapsed and now acts as a news and entertainment aggregator site.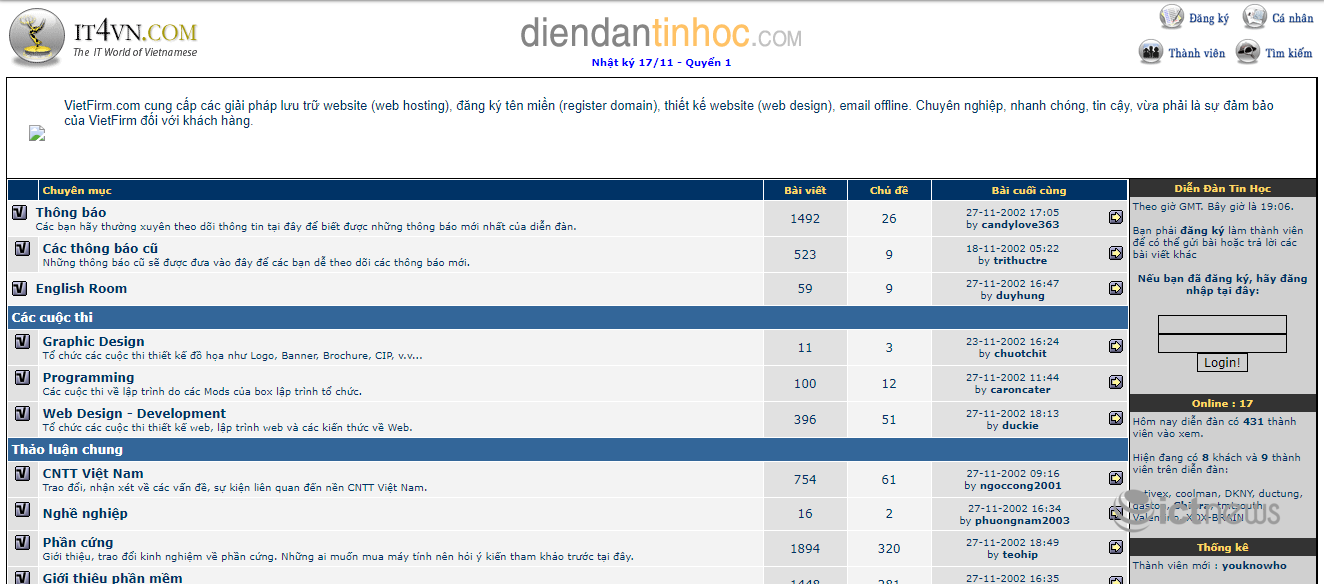 Ddth.com was formerly known as diendantinhoc.com, a gathering place for many computer lovers across the country since around 2001. By 2005, this domain name was hijacked and sold by hackers. price 9,000 euros. Since then, the domain name ddth.com has been used instead where members can continue to discuss and share IT knowledge.
GameVN.com is the largest gaming forum in Vietnam. Born around 2002, through many ups and downs events, GameVN still maintains its activities with a number of members sticking to a few hundred people.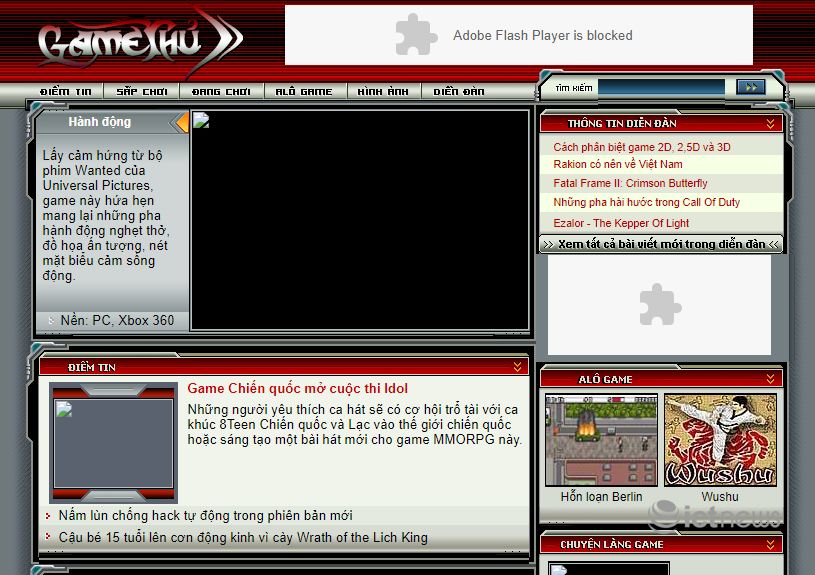 Gamethu.net is a forum cum specialized in games launched in 2005. This is also the place where many Vietnamese gamers from all over the world gather after the GameVN forum. On October 1, 2016, this website was officially closed, leaving sadness and sorrow for the first generation of 8x and 9x gamers.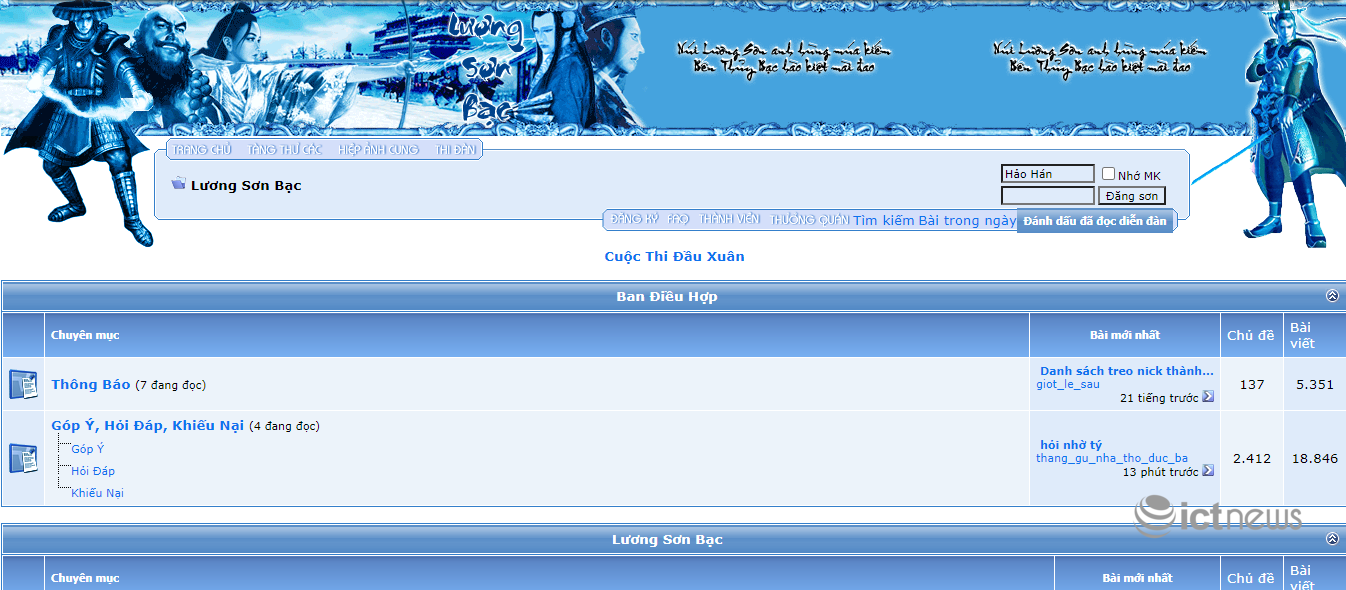 Luongsonbac.com is one of the first swordplay forums in our country. Born around 2002, luongsonbac.com has become a familiar destination for good heroes and masters who are passionate about chivalry. Although not keeping the old domain name, it is very interesting that this forum still keeps the database almost intact since its inception.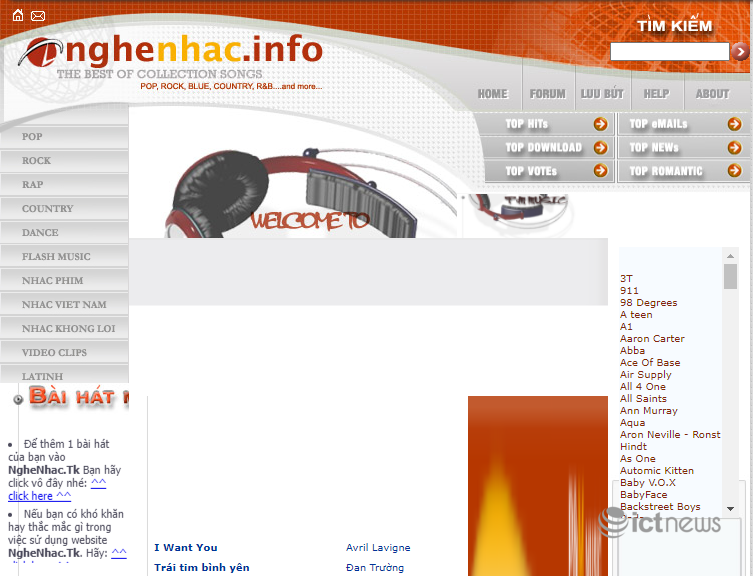 Emerging in the previous period, there were also non-copyright free music websites, one of which was Nghenhac.info, born in 2003. With easy-to-remember domain name, lightweight interface, fast music download, easy to use. Using, the website at that time attracted a large number of visitors compared to many other music websites. That period of blooming flowers, however, soon ended when Vietnam joined the Berne Convention on intellectual property and "pirated" music websites were gradually wiped out, in which Nghenhac.info was no exception.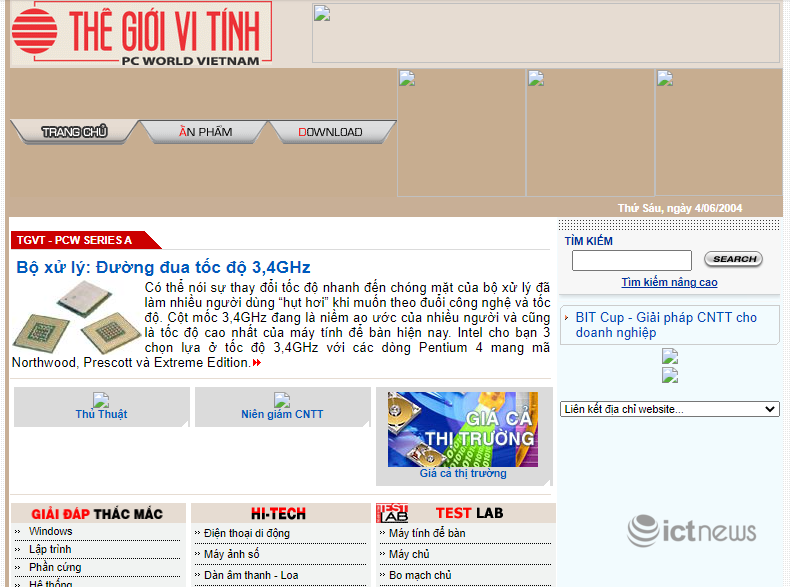 PC World Vietnam is a famous IT magazine that was born in 1992, a Vietnamese edition of an international magazine of the same name. By 2003, the electronic edition of this magazine was launched at pcworld.com.vn. The decline of paper worldwide caused PC Magazine to stop publishing in 2009, and in 2013 it was the turn of the PC World Vietnam edition to stop publishing. The electronic version pcworld.com.vn still remains active until it is completely closed in early 2020.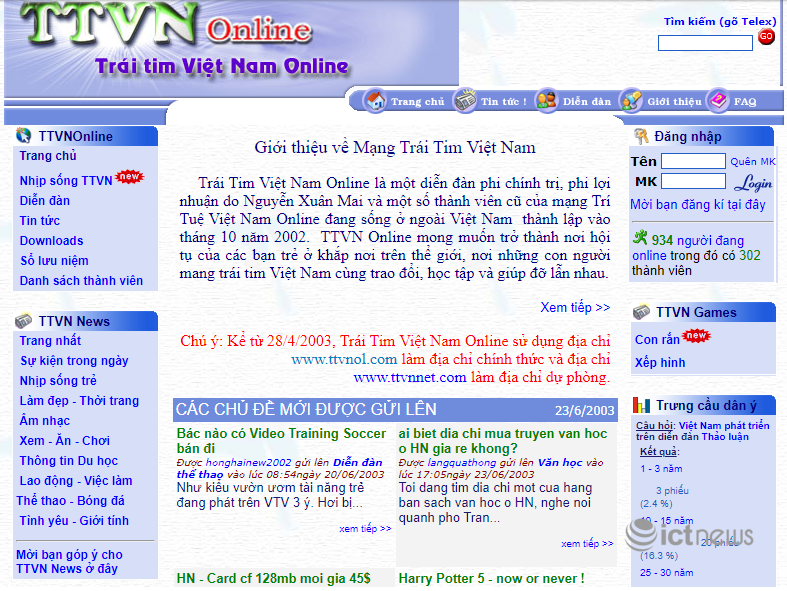 TTVNOL.com (Vietnam Online Heart or Vietnamese Intelligence) is the oldest forum with the largest number of members in Vietnam. This forum was born by former FPT General Director Mr. Truong Dinh Anh (then Director of FOX) and was built by VCCorp Chairman Vuong Vu Thang (then a student). At the most active period, this forum discussed all matters of life, bringing together all members at home and abroad. But after many incidents leading to closing and reopening and losing data, TTVNOL.com gradually absent members and so far only a few hundred veteran members have regular access.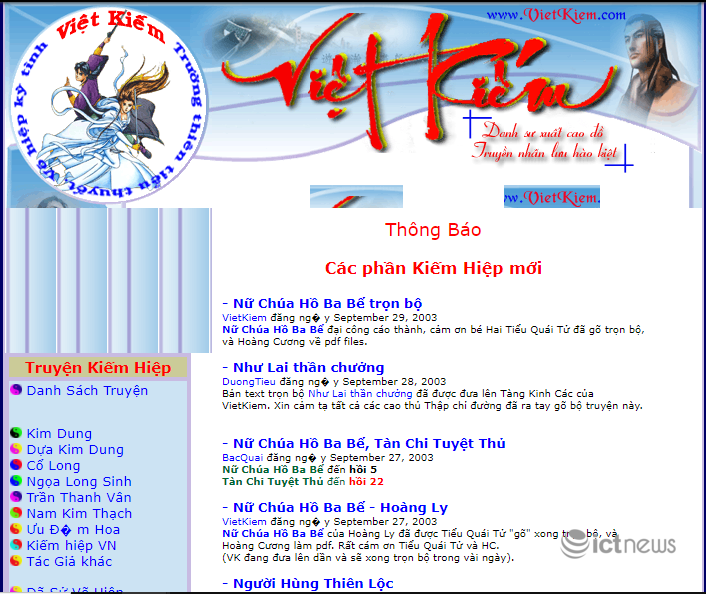 At the same time with luongsonbac.com, there is also website vietkiem.com, where there are enough sword sets of the most beloved major authors of that time such as Kim Dung, Co Long, Ngoa Long Sinh, Uu Dam Hoa … After many times Website upgrading along with the decline of the swordplay movement, vietkiem.com had to stop working since around 2011.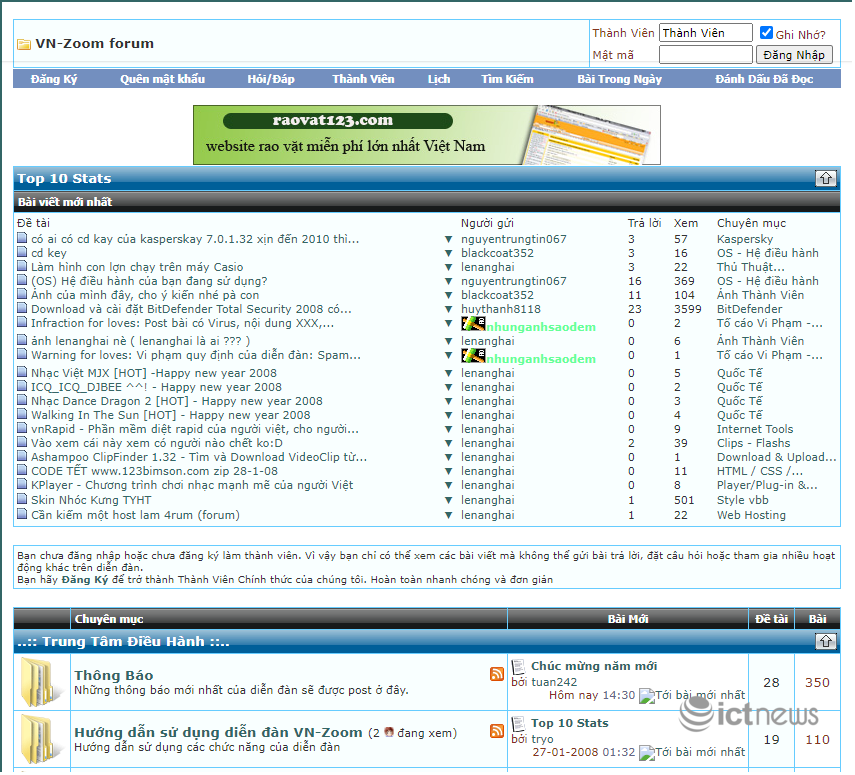 Born later, VN-Zoom.com has become a technology forum attracting a large number of members to share knowledge about computer hardware and software. In the booming era of social networks, VN-Zoom.com remained active and only closed in 2018 due to a dispute between the administration board and the domain owner. As a result, this forum has to switch to a new domain name, leaving nostalgic people nowhere to search for old memories.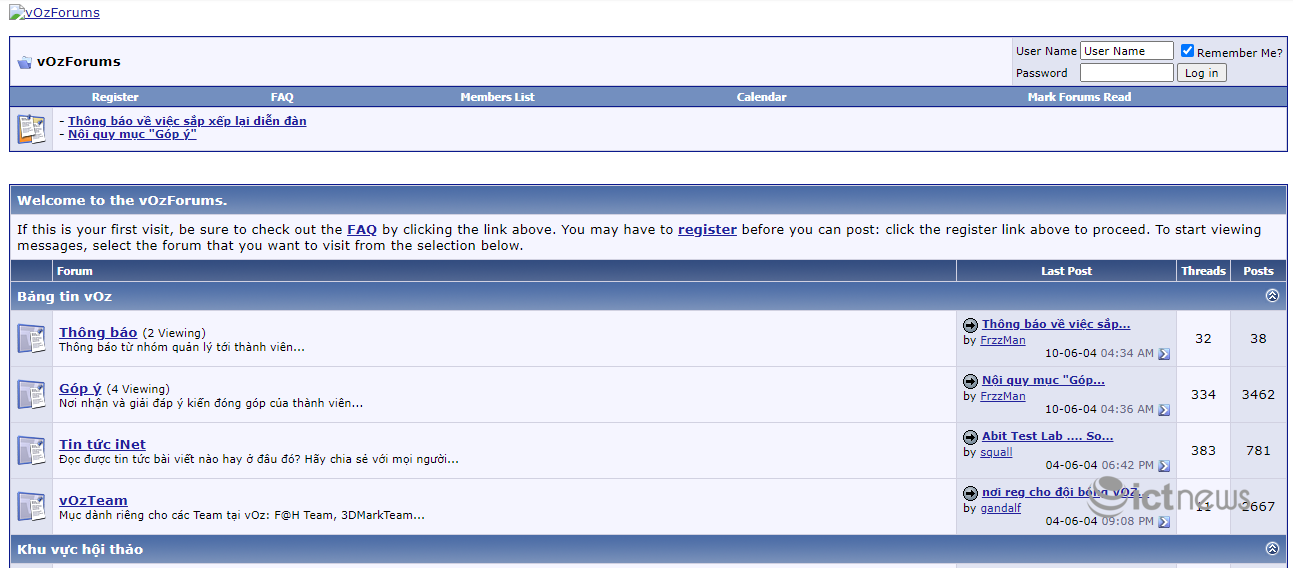 VozForums.com is the first popular technology forum to focus on PC overclocking. The name Voz stands for Vietnam Overclock Zone and has only been used since 2004. Since then, Voz has become a place to discuss a variety of topics and later became famous for its long series with Voz label. The same famous saying that these members use "from Voz with love". Currently, Voz is still the forum with the largest number of members in Vietnam.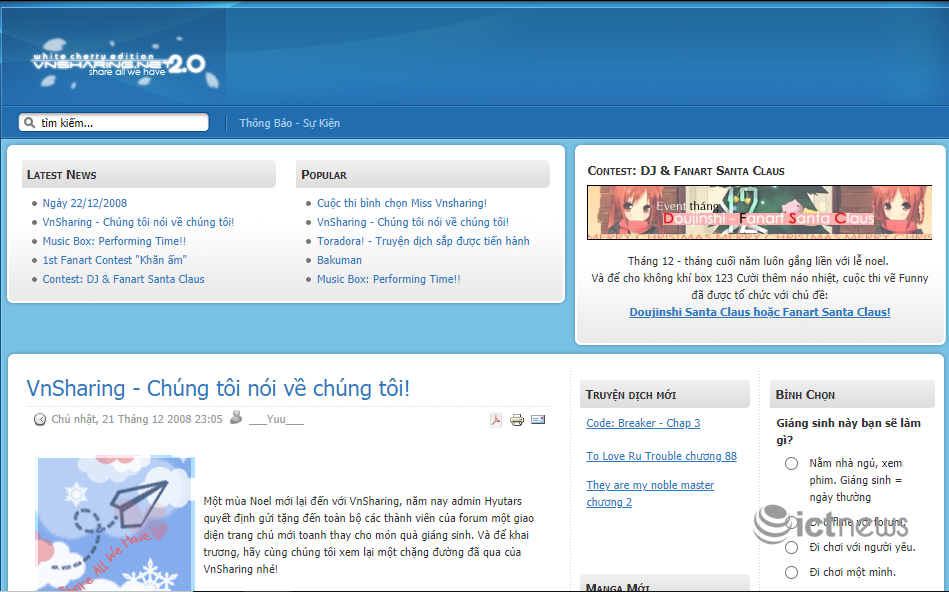 In the era of games, swordplay and listening to music, otaku soon found a place to live in vnsharing.net. This is the largest forum for anime and manga in Vietnam but only stable for a few years before disputes broke out between members of the board. Resulting efforts to maintain the site came to a halt in 2014.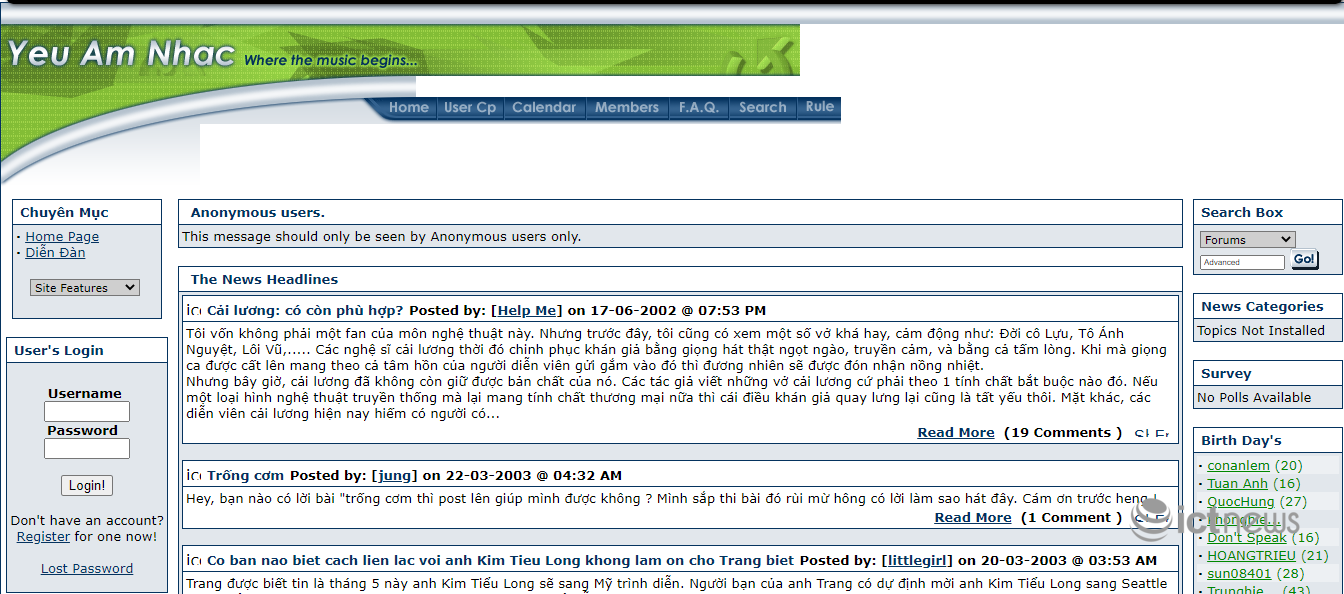 If mentioning music websites, it would be lacking if not to mention yeuamnhac.com, the oldest music forum in Vietnam and known under the familiar name YAN. At its peak, the forum also received investment from the venture capital fund IDG Ventures and was the predecessor of the once-famous YAN TV channel. Nowadays, both the forum and YAN TV channel have stopped working.
Phuong Nguyen

Strange websites on the Internet
Flash will end on December 31st and this could be your last chance to play around with these quirky websites.
.