Facebook confirmed that a configuration change error was the root cause of Facebook and its WhatsApp, Messenger and Instagram applications crashing for nearly 6 hours at night on October 4, leaving its 3.5 billion users inaccessible.
"The engineering team discovered configuration changes on the backbone routers that coordinate network traffic between our data centers that were causing the outages," Facebook said.
Facebook, Instagram, Messenger, and WhatsApp resumed operations on the afternoon of October 4 (ET) after the above incident. At the time, Facebook apologized but did not immediately explain the reason for the interruption.
"For every small and large business, family and individual that depends on our services, I apologize," said Facebook CTO Mike Schroepfer, adding that "it took a while. time for service to return to 100%".
According to multiple anonymous Facebook employees, the above outage could be caused by an internal error related to the way internet traffic is routed to the systems.
Failures of the intercoms and other resources that rely on the system to function have exacerbated the problem, the team added.
Facebook and the WhatsApp, Messenger and Instagram apps crashed for nearly 6 hours on October 4. Photo: Tiky Web
"Facebook basically locked the car and left the keys in the car," said Jonathan Zittrain, an expert at the Berkman Klein Center for Internet and Society at Harvard University (USA) on Twitter.
Meanwhile, Troy Mursch of Bad Packets Company (USA) said that Facebook's outage could be related to the Domain Name System (DNS) – often described as the internet's phone book.
DNS errors are common, can happen because of technical problems, usually problems related to configuration.
"Facebook's outage appears to be caused by DNS. However, this is only a symptom of the problem," – Mr. Mursch confirmed.
The fundamental problem, according to Mr. Mursch and other experts, is that Facebook has withdrawn its core internet routing protocol (BGP). If DNS is the internet's phone book, BGP is the location system. The question is why BGP disappeared in the first place.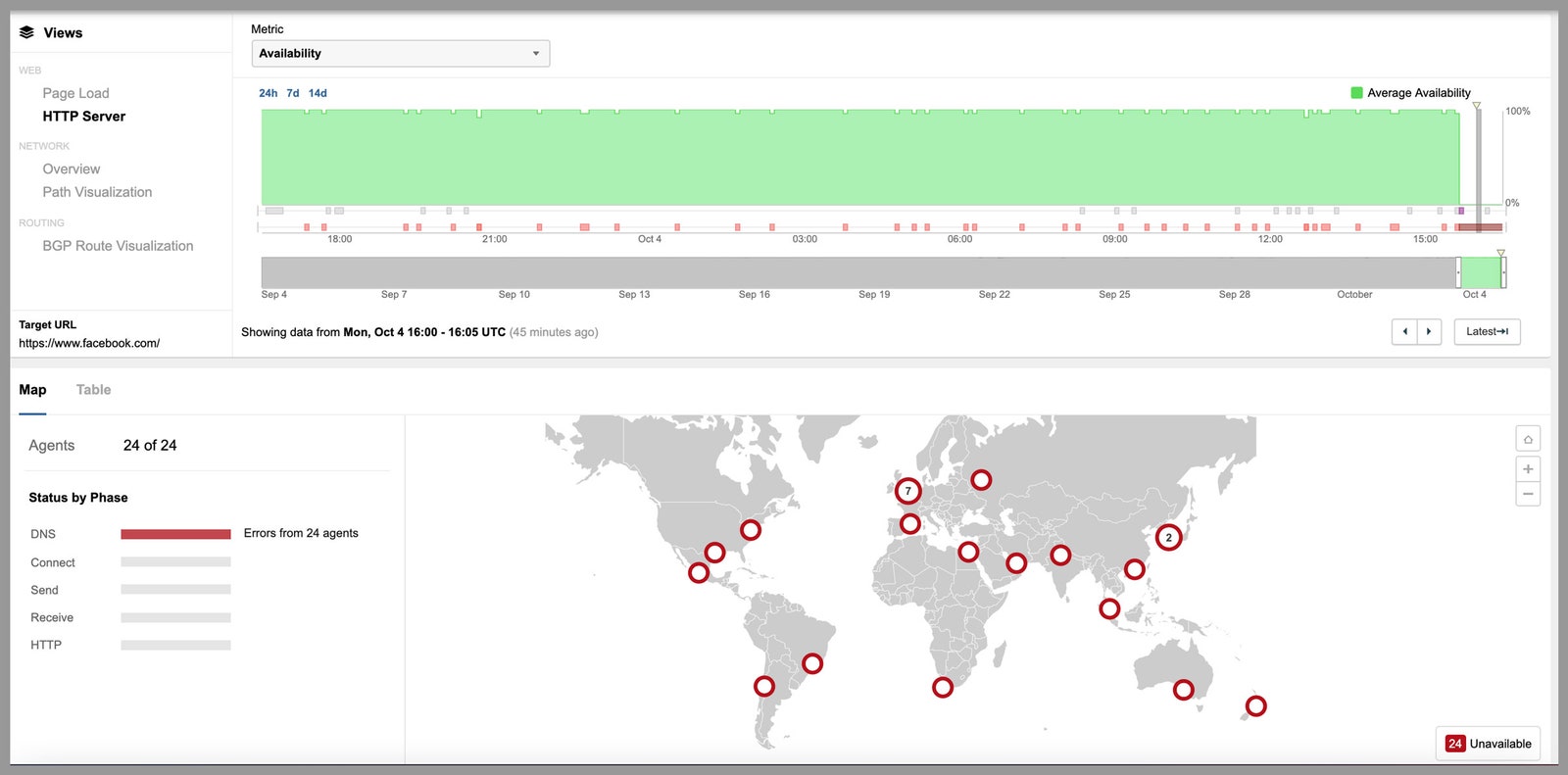 The map shows that the connection to Facebook was interrupted on October 4. Basically the connection is interrupted everywhere, at the same time. Photo: Cisco
Cloudflare's expert John Graham-Cumming said that the most likely answer is a configuration error from within Facebook.
"It looks like Facebook has done something to their routers, the ones that connect Facebook's network to the rest of the internet," Graham-Cumming told Wired.
This is the largest-scale disruption she has ever seen from an internet company the size of Facebook.
"For many people, Facebook is the internet," Madory said, adding that companies often lose internet connectivity when updating network configurations.
Follow EMPLOYEES

Facebook collapse shows the risk of monopoly
Facebook's severe disruption on the evening of October 4 is a reminder of the company's monopoly on media and other services around the world.
.