The latest clash between Apple and Facebook is just the next development in the decade-long battle between the two world tech giants.
During a security conference in Brussels in October 2018, CEO Tim Cook "slapped the face" of major competitors in the technology industry with his speech. "Every day, billions of dollars are traded, countless decisions are made, based on our" like "," dislike "buttons, our friends, family, relationships and conversations. Our wishes, our fears, our hopes, our dreams. These minutiae data, while harmless in themselves, are carefully assembled, collected, traded and purchased.
While it wasn't just Facebook by name, it was clear that Mark Zuckerberg's company was one of these. Facebook built an empire from user data to serve the targeted advertising system. Facebook's revenue last quarter reached $ 20 billion, nearly 99% came from advertising.
The speech was just one of a series of blows that Cook and Zuckerberg delivered over the past decade or so. Tensions between Facebook and Apple begin in the early days of the iPhone and the desire to control the next wave of computing.
For example, in the 2014 Time magazine cover story, Zuckerberg criticized Apple and Cook's stance on privacy. Facebook boss believes that Apple sells products too expensive.
Ten years' warfare represents a fundamental difference in opinion between the two tech giants about how to do business on the Internet. From Facebook's point of view, the Internet is a "wild forest" with many competing platforms offering a free creative service. You may not pay for use, but with data for an advertiser to show what you want to buy right before your eyes as you transition from device and service to device and service. From Apple's point of view, the Internet is just an extension of the computing revolution the company helped launch in the 1980s, and the phone is the most private device. You should know what companies are doing with the information they collect on your phone before you share the data.
Long battle
Last week, Facebook launched a two-day anti-Apple campaign. Social networks buy ads in multiple print newspapers to hit on upcoming changes in the iPhone operating system. Changes will notify users when an app wants to track their personal data such as location, browsing history. This is the behavior that companies like Facebook use to serve ads. It also gives users the option to block tracking before using the app.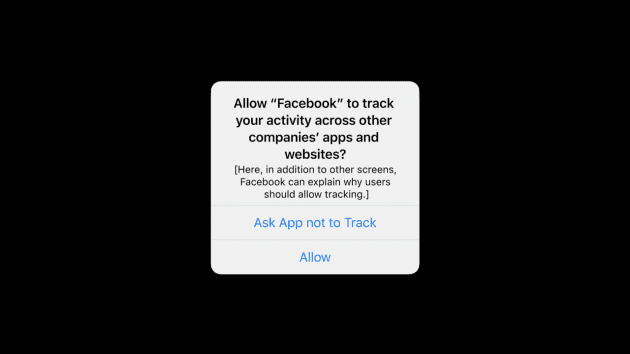 New privacy notice on iOS 14
Facebook argues that Apple's decision is to crush small businesses that are relying on targeted advertising to reach customers online. Facebook also warned – though there is no evidence – that Apple's decision would force app makers to stop offering customers free, ad-supported software. Instead, they have to collect money through the form of a subscription or some other fee. Apple will benefit from a percentage of transactions through the platform.
Facebook paints a "cunning" picture of Apple: A company that has complete control over the platform, making changes to strangle small businesses, forcing them to follow a model of charging the company to collect commissions. Facebook communicates that message in paper advertisements, blogs, Instagram posts, and other websites.
Apple denies Facebook's allegations. The company insists that the messages users see on the app are designed to let them know when and how the app is tracking you, not banning it entirely. App developers like Facebook still have the right to use notifications and another space to explain why you should let them follow. Applications are still free to collect all data about the user as before but must be allowed. According to Apple, it's just one of a handful of privacy-focused features it has added to products over the years.
The roots of the Facebook-Apple war have been around for a long time.
In the early days of the iPhone, people debated the form of the mobile Internet. Is it the same as on the desktop, where people mostly use their mobile browsers to visit websites and everything is built on public standards? Or will users turn to "apps", which give more control to companies that own mobile platforms?
Facebook favors the second stance and promotes applications. However, most firms lose because Apple, who backs the app model is how to perform tasks on the iPhone, and the App Store is the only legal and easy way to find and install apps. Meanwhile, Google "plays" both hands as it both invests in Android and Google Play, develops the Chrome browser and influences web standards.
When the future becomes clear, Facebook tries to produce smartphones so that it does not have to give control to Apple and Google. But the device has never seen light. Next, Facebook developed an interface for Android devices, integrating its own services, but it also failed. Today, the company is laying the groundwork for the next big computing platform so that it no longer has to play by the rules of anyone else. That's why social media are working on things like smart glasses, scheduled to be released in 2021. For the time being, they still have to deal with Apple.
The end for Facebook?
Ironically, Facebook accused Apple of abusing its market power just days after the US Federal Communications Commission (FTC) and a group of federal lawyers sued Facebook for antitrust violations, proposing to disrupt the company. . On top of that, the Facebook debate also exposes its position in the online advertising market. Small businesses don't have to depend on them that much if they have a worthy competitor for companies to buy advertising.
Apple also faces a similar level of tracking, but no formal lawsuits have yet occurred. In October, the House Antitrust Subcommittee released a massive report on the "monopoly power" of the four tech giants, accusing Apple of using control of the App Store to disrupt a potential rival.
Both companies deny claims that violate antitrust laws. It is difficult to know how the war ended. Apple has no intention of compromising, and Facebook doesn't want to lose millions of users by removing apps from the App Store.
Facebook Public Policy and Privacy Director Steve Satterfield this week said the company is still in compliance with Apple's new rules. Facebook will not violate, spark a war similar to Apple and the current Epic Games. According to Satterfield, Facebook's goal is simple, it wants Apple to listen. "They announced the policy in June without meaningful advice … Considering its far-reaching effects, businesses need to plan to prepare."
It's also difficult to sympathize with Facebook's arguments against Apple. For years, it said that users preferred personalized, targeted advertising rather than random advertising. If this is true, there is no reason for users to turn off tracking when Apple displays notifications.
However, in August, Facebook went against what it claimed when it published research showing that disabling tracking leads to a 50% drop in revenue on the ad network. The company also warned investors that revenue this year will decline when Apple starts to enable new features.
According to Facebook, they want to use a privacy checking tool, which helps users restrict data sharing instead of Apple notifications. But Apple is adamant about integrating more privacy controls in the iPhone. After years of criticizing Facebook's business behavior, Apple gradually added more security features.
It's not just Apple that is blaming Facebook. Small business groups, whom Facebook says are trying to protect, have overwhelmed the hashtag #SpeakUpForSmall on Twitter with a series of complaints for not being as noticed by Facebook as large customers on the day Facebook bought ads that defame Apple .
Du Lam (According to CNBC)

Facebook – Apple war escalates: Facebook removed the 'green tick' on the Apple fanpage?
The green check mark on the Apple fanpage has disappeared. Many people believe that this is an act of retaliation by Facebook in its unending war with Apple over privacy.
.