Galaxy Z Series duo is a hot keyword when creating new order records right on the day of sale. Technology fans are also excited to share becoming the owner of this new super product.
Two super products Galaxy Z Series cause fever
More than tens of thousands of newly launched Galaxy Z Fold3 and Galaxy Z Flip3 devices have been delivered to their owners, creating a pleasant surprise as well as satisfying the long-awaited expectations of technology followers.
The image of Vietnamese users is happy to receive the "super product" after many days of waiting
According to Samsung, in order not to miss a single customer, Samsung has seriously implemented delivery to all pre-ordered customers wherever they are, in hospitals or isolated areas, ensuring compliance with 5K according to Samsung. recommended by the Ministry of Health, if it can be delivered, the customer will receive the product.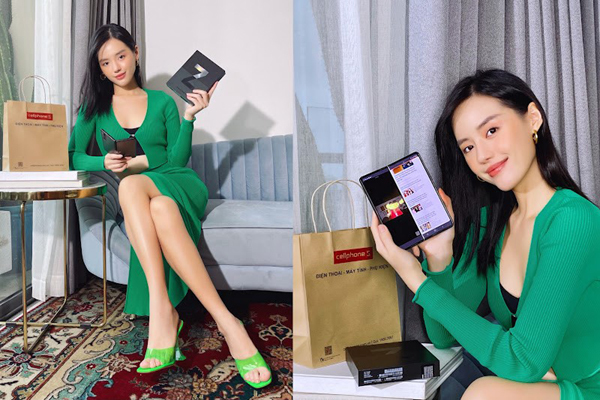 "Trendy girl" Khanh Linh also showed off her "smart" new Z Fold3 "unboxed".
If the Galaxy Z Fold3 is a product that brings the usefulness of a tablet in the form of a smartphone – a whole new form factor; The Galaxy Z Flip3 makes the personal impression more bold by offering many ways to customize the look. The device has up to 7 color options, including four basic colors: lavender purple, milk cream, army green, jet black, and three exclusive colors only sold on its website: silver gray, bright white, nude pink. On each phone model, designers skillfully handle and combine two tones to create a unique blend, highlighting the bright details.
Record sales of folding phones
Around the time of opening pre-orders, many large retail systems in Vietnam had to announce that they would stop accepting deposits for the Galaxy Z Fold3 model because the number of buyers exceeded the supply capacity. According to records from retail systems, users have received the new Galaxy Z Series duo very positively, despite not being able to experience it in person due to the impact of the epidemic and social distancing. This is also quite understandable when Samsung has made many upgrades, not only in terms of technology but also in features, durability and experience for the Galaxy Z Series compared to its predecessor.
According to Samsung, there have been many figures proving the attraction of Galaxy Z Fold3 and Galaxy Z Flip3 since its launch, especially the record on the morning of September 17, 2021. In just a few short hours, tens of thousands of Galaxy Z Series folding smartphones have found new owners in Vietnam.
Galaxy Z Fold3 has "blown away" all doubts and speculations about the possibility of success when it comes to market. The unexpected success of the Z Fold3 comes from Samsung's pioneering technology leadership, focusing research and development resources and continuous improvement, bringing customers top-notch products, unique designs. unique and innovative user experience.
In addition, users can go to dealers to experience the device, register on the waiting list. The next batch will be delivered in October, a Samsung representative said.
Customers who own the Galaxy Note20 series with the last warranty date between August 20 and September 29, will enjoy a special package when upgrading to the Galaxy Z Flip3 5G. Valid until the 31st of October. Specifically, Note20 owners get a discount of 4 million VND; Note20 Ultra owners reduce 6 million VND.
Thu Hang
.