MindX – Vietnam's EdTech (educational technology) startup has just completed a Series A funding round with an investment of 3 million USD.
MindX's Series A funding round was led by venture fund Wavemaker Partners, with the participation of Thien Viet Securities Company and Beacon Fund, a women's investment fund. At the end of this funding round, Vietnam's educational technology startup has received a total of 3 million USD.
MindX is one of the few startups in Southeast Asia that offers a comprehensive computer programming approach to students from grades 1 to 12 with a 5-10 year course. This startup currently has 13 centers and has trained more than 25,000 students through two forms: on-campus offline and online program online.
Not only training programming for children, MindX also provides training programs in computer programming for both students and professionals. Notably, this startup also makes a commitment to help all students secure jobs at technology companies in Vietnam, Singapore, and other countries right after graduation.
A coding training session in a MindX classroom.
Founded in 2015, MindX is the answer to the very problems of the founder generation. The trio of founders Tung Nguyen, Ha Nguyen, and Huy Nguyen of this startup were born in families with no conditions and did not have early access to technology.
After going to university, they lost their direction, even dropped their majors and struggled to find their own career path. Thanks to their self-education in technology, the trio found new study opportunities and got good jobs in the technology field in many European countries and the US before starting their business.
According to Tung Nguyen – CEO of MindX: "When I was 24 years old, I worked in a software company in Germany. My colleague has 12 years more experience than me with outstanding skills because he learned programming since middle school."
This founder also knows that, while studying and working in the US, he discovered that in California, almost everyone has programming skills, even financial or economic experts. Many people here don't have a tech background but are building products and creating tech companies together. That's why Tung Nguyen is concerned with how to bring programming skills to everyone.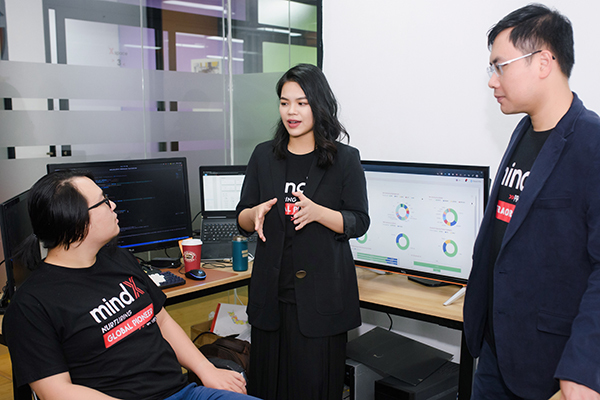 MindX's founding team.
Subjects currently taught by MindX include web application programming, mobile, games, data science, UI/UX design and artificial intelligence…
The curriculum of this educational startup is tailored for each age group. Students can choose short-term courses for entry or choose long-term routes to secure jobs after graduation.
MindX students also have the option of learning first – paying later, without paying tuition fees until they find a job with the desired income. This is considered a bold model of MindX, on the one hand, to help students get rid of financial burdens, and on the other hand, to improve the quality of traditional educational models.
According to the share of this startup, many MindX graduates are currently working at leading technology companies in the region such as Google, Shopee, and Amazon with a salary of 6,000 – 15,000 USD/month.
Some middle and high school students, after studying at MindX, have also won domestic and international technology awards as well as scholarships to study abroad to top schools in the US, UK, and Singapore.
Trong Dat

New graduate IT students receive a salary of 40 million dong, is it possible?
The average income of a newly graduated IT engineer is 10-20 million VND/month. In particular, a few fresh graduates can even enjoy a salary of 30-40 million VND.
.