Instead of "burning money" for startups in exchange for growth, investors choose more sustainable forms of investment such as building investment funds, startup incubators with the goal of filling weaknesses. and lack of startups.
That is the comment from Webminar with the theme "Starting a business during the Covid-19 crisis", an event on the sidelines of the Viet Solutions 2021 contest, to find a way for startups in the context of the pandemic, with the participation of many famous speakers.
The shift from 'burning money' to the new model
Sharing at Webminar, Mr. Tran Quang Hung – Deputy Secretary of Hanoi Youth Union, representative of VinaCapital Ventures cited data showing that half of venture capital investments in Vietnamese startups have been lost in time. via.
As the co-founder of the Up Co-working Space model, Mr. Hung said that the same thing is happening in this co-working space.
"The model of receiving investment and then burning money is no longer suitable. Founders can realize that and find new opportunities," said Tran Quang Hung, representative of VinaCapital Ventures
"I feel that almost half of the startups in Up Co-working Space are looking for other jobs, including quite large startups. That is not necessarily due to the epidemic, but because the model of receiving investment and then "burning money" is no longer suitable. Founders can realize that and find new opportunities," said Mr. Hung.
However, there are also positive signs in the field of digital transformation, with startups performing well. Nguyen Hoang Tung – founder of VVN AI said that Covid-19 caused revenue to decline and VVN AI has changed its direction, from focusing on small customers, towards large and sustainable customers. "With more than 10 years of experience in the field of AI and Computer Vision, we have many platforms available for development instead of having to start researching and building from scratch. Combined with large enterprises, we can come up with new products in line with the new needs of the market," said Mr. Tung.
Among the large enterprises that VVN AI combines, Viettel is a special partner. After winning the first prize at the forerunner contest of Viet Solutions (Viettel Advanced Solution Track 2019) and becoming an important partner of Viettel in deploying customer identification solutions, VVN AI has "taken off" right in the world. Covid-19 pandemic in 2020.
The role of the prominent startup ecosystem in the epidemic
Not every business has the opportunity to partner with a large corporation, which they support for growth during the pandemic with infrastructure and a huge customer base.
In fact, figuring out how to survive the pandemic is already a "difficult problem", preparing the foundation for a post-Covid-19 "boom" has become even more difficult. Also, finding competitions with a good startup support ecosystem like Viet Solutions (model 3 "houses": the State, large corporations, startups) is a great opportunity. With the cooperation of the management agency (Ministry of Information and Communications) and the "leading crane" (Viettel), Vietnamese startups will no longer have to suffer from "one market alone".
From an investor's perspective, Mr. Tran Quang Hung said, Vinacapital Ventures has established a new investment fund to "pour" capital for startups. Funds will only focus on promoting new technologies instead of "burning money" for growth. Besides, they are also ready to make up for the missing points, such as offices, technical support or relationships so that the startup can focus on product development.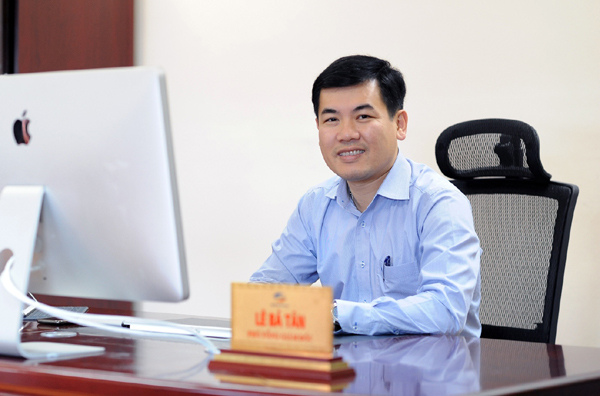 Mr. Le Ba Tan – Deputy General Director of Viettel Networks: "Viettel will try to support to find the best products that can lead the market. That is our desire to create the playing field."
Viettel Networks Deputy General Director – Mr. Le Ba Tan also said that Viettel is investing in two of the most modern IoT research labs in Southeast Asia in Hanoi and Ho Chi Minh City. These research labs will be ready to support free of charge startup ideas that the council appreciates for their application potential, as well as their meaning to society and businesses.
"These labs are equipped with leading edge technologies in the fields of IoT, Big Data, Cloud and AI and they are completely free. Similar to the model of Viet Solutions going, we also have a team to evaluate ideas. Viettel will create unlimited conditions for ideas and potential products," said Mr. Tan, emphasizing the importance of going into reality in building a startup ecosystem in Vietnam. .
Mr. Tan also shared that Viettel is going in the open direction. The construction of these labs is not only to express gratitude to society but also to Viettel itself. When solutions become valuable, Viettel will also have customers. Currently, sharing and coordination between leading enterprises or startups is becoming a trend and Viettel will pioneer in that trend.
"Automation, robotics in Vietnam, said a lot but in reality there is not much. Somewhere there are just small sparks. We want to go into the essence, have a real ecosystem, a higher level of intelligence and be accepted by the market," said Mr.
Mr. Tan also said that for startups that want to be supported, they only need to prove their potential and effectiveness, they will receive completely free support from Viettel in 4 key areas such as AI, IoT, Cloud and Big Data.
"Viettel will make every effort to support to find the best products that can lead the market. That is our desire to create a playground", Mr. Tan emphasized that large and small businesses must accompany each other.
Viet Solutions is a contest organized by the Ministry of Information and Communications in collaboration with Viettel Group, aiming to find creative solutions, help solve social problems, and contribute to the implementation of transformation strategies. number of countries. Along with that, the program also acts as a springboard, helping contested startups perfect their solutions and access support resources, both in finance and technology, to soon come into practice.
This year, the Ministry of Information and Communications and the corporations of Viet Solutions will actively propose problems for startups to find solutions. These problems stem from the needs of state management agencies and businesses in the process of operation, helping good solutions soon have the opportunity to be put into life.
Find out more information or register for the contest at: https://vietsolutions.net.vn/vn
Thu Ha
.