The smart electricity consumption monitoring kit manufactured by Vconnex is contributing to solving the national problem of energy crisis that Prime Minister Pham Minh Chinh mentioned at the Vietnam Digital Technology Business Development Forum.
Mastering technology to solve Vietnam's energy problem
Despite the impacts of the Covid-19 pandemic, Vietnam's digital technology businesses still had outstanding growth over the past year, both in number and in revenue.
Not only that, many domestic digital technology enterprises are also gradually mastering core technologies, thereby helping to enhance the value of Vietnamese technology products to gradually conquer the domestic market and go global. .
However, at the Vietnam Digital Enterprise Development Forum held recently, Prime Minister Pham Minh Chinh emphasized that mastering technology only really makes sense when solving Vietnamese problems.
Accordingly, Prime Minister Pham Minh Chinh affirmed: "Digital transformation must solve the national pain, the first task is to prevent Covid-19 and then the painful problems of energy crisis and exhaustion. resource depletion, climate change, population aging…".
Vconnex smart power consumption monitor is researched and manufactured by Vietnam. Photo: Trong Dat
In the above problems, energy saving and green energy development are the two prerequisite strategies that need to be implemented to solve the national energy problem. If every individual, family, business, and organization is conscious of saving electricity and using green energy, the problem of energy depletion will soon have a satisfactory solution.
In fact, in the past time, many domestic technological solutions and products have appeared, aiming to contribute to solving the energy problem of Vietnam. For example, the appearance of Vconnex Smart Power Consumption Monitor – a product that has just entered the top 10 of the Potential Digital Products category of the Make in Vietnam Digital Technology Product Award 2021.
Fully researched and developed by a team of domestic engineers, Vconnex Smart Power Consumption Monitor is the only Made in Vietnam smart meter on the market equipped with two-way power monitoring. . With this device, users can simultaneously monitor electricity consumption and grid-tied solar power in real time.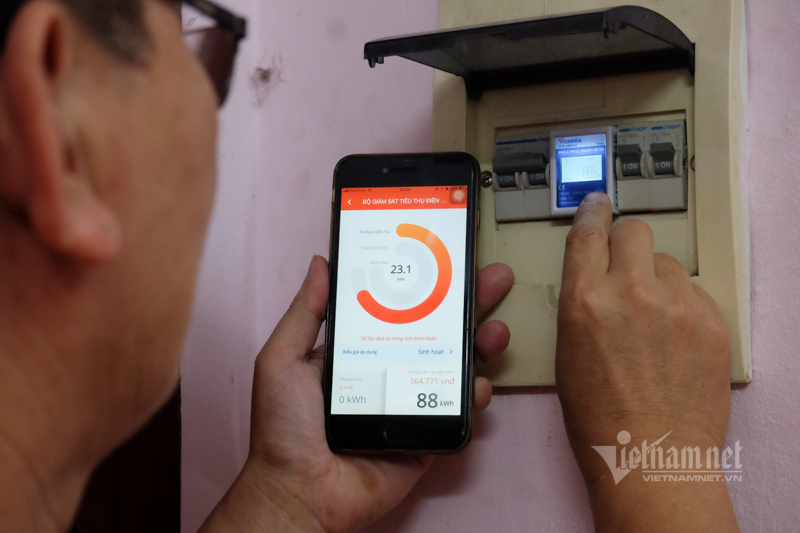 In addition to monitoring electricity consumption, the Vconnex Smart Power Consumption Monitor is also capable of monitoring the amount of solar electricity connected to the grid. Photo: Trong Dat
In particular, thanks to the application of IoT (Things of Things) technology, users can set a consumption threshold according to the norm and receive alerts via smartphone when consumption exceeds the threshold, thereby adjusting their consumption behavior according to the norm. more thrifty. The statistics and reports by hour, day, month and year also help users plan reasonable electricity use.
Sharing with VietNamNet, a representative of Vconnex said that this smart power consumption monitoring device was manufactured with the mission to effectively support users in saving electricity and using solar energy.
In the case of consumers using foreign products, information about the country's electricity consumption data will be exposed abroad. Therefore, the appearance of internal power consumption monitors like Vconnex also contributes to solving the problem of Vietnamese people owning Vietnamese data resources.
Opportunities of Vietnamese enterprises in the smart electrical equipment market
One of the important criteria of the Make in Vietnam award is applicability and practical value for users and businesses. This means that the recognized technology product must be highly commercial and pervasive in the market.
Launched in July 2021, up to now, Vconnex has sold more than 1,000 devices through both traditional sales methods and e-commerce. In particular, this device is a bridge for traditional electricians to open their hearts and easily access the field of smart electricity. This is a factor that is expected to become the main force in spreading Vietnamese technology products to consumers.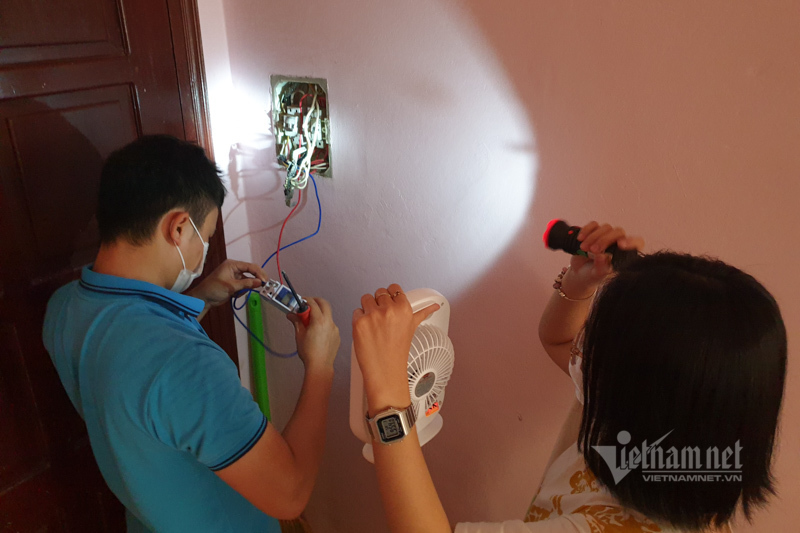 The Vconnex smart power consumption monitor has a fairly simple installation, which can be done easily by traditional electricians. Photo: Trong Dat
According to Mr. Nguyen Duc Quy – CEO of Vconnex: "The Make in Vietnam Award is a great motivation for us to perfect our products, go beyond the research lab, and bring real value to users and sellers. products and businesses."
"Not just an ordinary power meter, Vconnex Smart Power Consumption Monitor is a product that applies many IoT technologies such as cloud computing, edge computing, fog computing, over the air and in the future will be big data, AI when the number of users is large enough," Quy said.
According to Statista's statistics, the market revenue of energy management equipment in the smarthome segment in Vietnam is currently about 9 million USD. With an average annual growth rate of about 18% in the period 2021-2026, the revenue of this market will reach 20 million USD in 2026.
It is expected that about 2.7 million Vietnamese households will use smart energy management devices in the next 5 years. The penetration rate of this type of device into Vietnamese households is currently 3.9% this year and is forecast to increase to 11.2% in 2026. This is an opportunity for the Ministry of Equipment to monitor Vconnex power monitoring can expand its reach.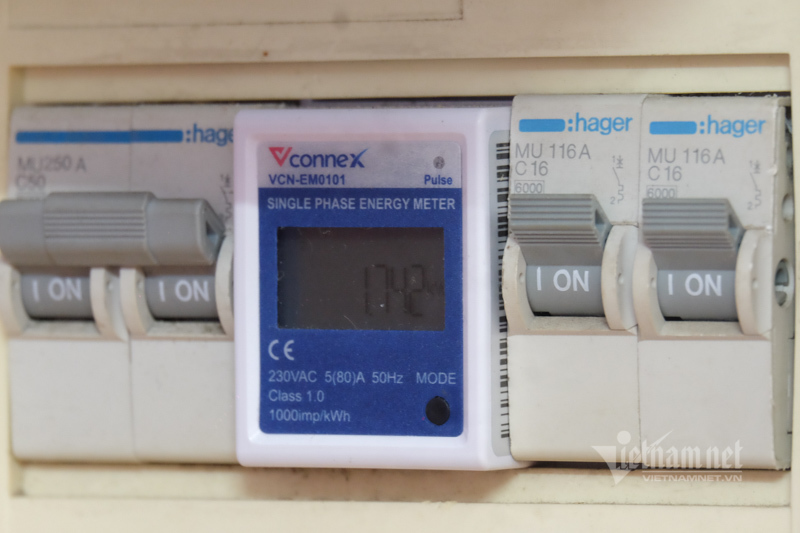 The Vconnex smart power consumption monitor is about the same size as a double aptomat cluster. Photo: Trong Dat
According to the manufacturer of this set of devices, most products in the current smart home market segment operate quite complicatedly, requiring a synchronous system, along with a significant cost.
Vconnex's smart home products, including Power Consumption Monitor, will go in the direction of selling single devices instead of selling solutions. Configuring these smart devices is very simple, requiring only a traditional electrician instead of the support of a technical staff. Users can also choose to install specific smart devices depending on their needs.
With 100% of core technology in hand and a component localization rate of up to 90%, Vconnex is aiming to increase the scale of production and sales to lower product costs. That is the way this Vietnamese technology enterprise intends to do so that Vietnamese consumers can access more of its products.
Trong Dat

Vietnamese people still do not really believe in Vietnamese technology products
That is the concern of Mr. Ha Trung Kien – founder of social network Gapo at the National Forum on developing digital technology businesses. Gapo is currently the second Vietnamese social network in terms of scale with more than 6 million users.
.