Many businesses are facing the challenge of balancing security and IT resources with the need to work remotely due to the epidemic. CMC Telecom, Google's Premier Partner provides GCP Virtual Desktop solution to help businesses solve this problem.
When working from home, employees often use personal devices such as laptops, tablets, phones… this has many potential concerns about data security. The risk can come from incidents such as device theft, antivirus infection, data being hacked by hackers, or unprotected internet connection…
Understanding this difficulty, CMC Telecom experts quickly provided GCP Virtual Desktop solution to help customers secure personal devices and protect business (DN) data when working remotely.
Comprehensive service for desktop virtualization and cloud-based applications
According to CMC Telecom, GCP Virtual Desktop is a solution for virtualization of computer infrastructure deployed on Google's cloud platform, which can help businesses solve problems such as: Provide more secure access to organization's data and resources; decentralized access to ensure compliance with industry information security regulations, especially the financial and healthcare sectors; assist in meeting the specific needs and specialized tasks of employees; supporting the needs of multinational enterprises or having many small branches,…
GCP Virtual Desktop is Google's cloud-based workstation virtualization service
CMC Telecom provides a GCP Virtual Desktop solution with high security and great scalability, integrated with Google Cloud, providing a balance between user experience and tools to support security and administration.
Mr. Dang Tung Son, Marketing Director of CMC Telecom said: "Excellent access speed is also a strength of GCP Virtual Desktop. In particular, CMC only needs 1 day to deploy the system and the number of workstations on the Cloud can completely increase or decrease immediately. This makes customers very happy and appreciate the flexibility of the service as remote work is gradually becoming the new normal."
Why should you choose GCP Virtual Desktop of CMC Telecom?
CMC Telecom not only owns an infrastructure network connected to 6 international undersea cables, but becoming a global Premier Partner of Google also gives CMC Telecom the right to provide GCP (Google Cloud Platform) services to the market. international. That is why the working speed in CMC VDI system, especially GCP Virtual Desktop, is so outstanding that users do not feel like they are controlling a virtual machine.
In addition, CMC Telecom is also a Multi Cloud infrastructure provider, the only service in Vietnam that connects directly with the world's leading Clouds: AWS, Google, Microsoft. At the same time, CMC Telecom owns 3 neutral data centers of international standards in Hanoi and Ho Chi Minh City with PCI DSS security certificates. That helps businesses with the highest requirements for security and better management access speed to workstations, allowing to reduce risks and incidents and set up management and monitoring rules.
A representative of CMC Telecom shared: "As a leading enterprise in Cloud services in Vietnam, currently, CMC Telecom is continuing to increase infrastructure to provide workstation virtualization services to serve businesses, especially especially during the current period of the epidemic, which is still complicated."
CMC Telecom accompanies businesses to overcome the epidemic season
In order to support businesses in digital transformation quickly and safely during the epidemic season, from August 1 to August 31, 2021, CMC Telecom offers 1 month of free trial and 1 month of CMC Cloud service and 30 discount. % for customers using CMC Cloud for the first time.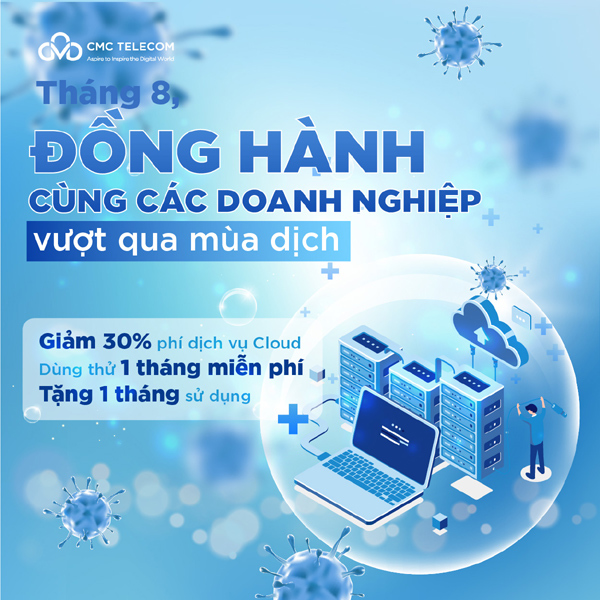 The August promotion is applied to 3 products: Elastic Compute, Elastic GPU and CMC Storage S3
August promotion is applied to 3 products:
Elastic Compute: Elastic Compute allows on-demand initialization of a variety of virtual server resources including CPU, RAM, Storage capacity and Networks system without having to invest in hardware equipment at the Data Center.
Elastic GPU: Capable of processing up to hundreds of teraflops to help customers handle complex math problems in various fields such as VR/AR/3D systems… Elastic GPU provides specialized needs for processing and application customers. use new technology. Currently, CMC Telecom is the only company in Vietnam that provides Elastic GPU.
CMC Storage S3: With this service, customers can store by object built and retrieved in large volume and anywhere such as: corporate applications, websites and mobile applications from IoT sensors. ..
Businesses that need support can visit https://event.cmctelecom.vn/vdi to receive instant incentives from CMC Telecom.
Thuy Ngan
.