Nearly two years ago, health experts blamed social media platforms for their contribution to the outbreak of measles by allowing false information about vaccines to spread.
Facebook pledged to act hard with false information about vaccines, such as downgrading on News Feed, not suggesting related groups. However, not long after, Instagram continued to display the posts from the account and the hashtag anti vaccine when searching for the keyword "vaccine". Despite many efforts, Facebook still failed to block it on the platform.
Now, as the Covid-19 vaccine is preparing to roll out globally, tech firms also face their biggest test on the fake news front. Francesco Rocca, President of the International Federation of Red Cross and Red Crescent, said that in order to defeat the Covid-19 pandemic, we must defeat the "pandemic of doubt".
Some social networks have added policies regarding vaccine fake news Covid-19; others still consider the best approach. However, planning is always the easy part, implementation is what the foundations lack.
Covid-19 and therapeutic vaccines have been the targets of many conspiracy theories. Some people make false claims about the effectiveness of the masks, others give unfounded information that the microchip will be implanted in the person injecting the vaccine.
Earlier this month, Facebook quashed a private group specializing in anti-vaccine content. However, many such groups still exist. According to a quick survey by CNN, at least more than 10 Facebook groups have spoken out against vaccines in numbers ranging from a few hundred to several tens of thousands. At least one focus group is opposed to the Covid-19 vaccine.
Brooke McKeever, a communications professor at the University of South Carolina who studies vaccine fake news and social media, predicts that anti-vaccine content will increase and be a major problem. According to him, many people are concerned about the rate of vaccine development, and the vaccine has never been used, so people can be scared and uncertain. Therefore, they tend to have false beliefs about vaccines.
That skepticism will lead to real-world consequences: that people do not get vaccines, Covid-19 continues to spread. Though vaccines are particularly safe with rare dangerous side effects, health experts say, Covid-19 anti-vaccine articles still reach a large audience.
A report from the Anti-hate speech Center (CCDH) in July indicated anti-vaccine networks had up to 58 million followers, mainly in the US, UK, Canada and Australia. The report also criticized social media for taking minimal action to prevent false content.
Let's take a look at some of the policies of social networks against fake news Covid-19 up to now:
Facebook and Instagram
A Facebook spokesperson said they allow discussion of the vaccine trials and research related to Covid-19, but will clear claims that Covid-19 vaccine is safe and effective, until authorities Global health authorities confirm availability of such vaccines. Facebook also declined ads encouraging people not to get vaccinations.
Facebook's Covid-19 regulation clearly states that the company will endeavor to remove content that is potentially harmful to the real world, including false information.
Twitter
A Twitter spokesperson said the company was still pondering policies and products right before the vaccine was approved for use. Since 2018, Twitter has added reminders, leading users to the official health source when searching for vaccines.
The social network also issued a detailed policy on false and misleading content about Covid-19. Twitter emphasized, is focusing on eliminating false information about Covid-19 such as spreading fake news, about the effectiveness of the mask.
YouTube
In October, YouTube updated its policy, which included the removal of videos containing fake news about the Covid-19 vaccine. For example, the platform will delete videos that say vaccines are fatal or infertile. A YouTube spokesperson said he would continue to monitor the situation and update the policy if needed.
TikTok
TikTok said it would remove false content related to Covid-19 and the vaccine, including anti-vaccine content. The company does this proactively and through user reporting. TikTok also partnered with truth-validation organizations like Politifact, Lead Stories, SciVerify, and AFP to gauge content accuracy.
On videos related to the pandemic – misleading or not, TikTok has added the label "Find out the truth about Covid-19" to lead users to the information center from official sources like WHO.
Du Lam (According to CNN)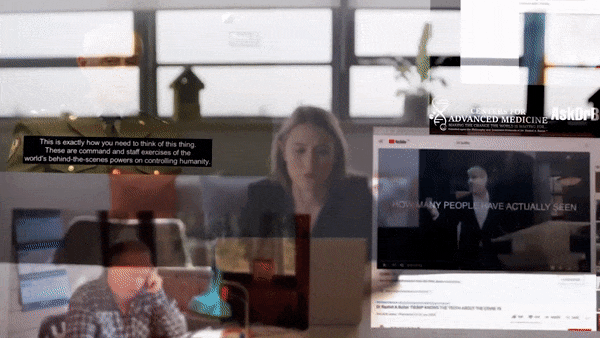 Reaped "tons of money" from advertising, YouTube helpless to raging fake news?
Facebook, Twitter all have their own policies to combat fake news and false news. And what did YouTube do in the fight against fake news?
.