According to Deputy Minister of Information and Communications Nguyen Huy Dung, in the context of Vietnam accelerating national digital transformation, smart city development is digital transformation in that urban area. Smart cities cannot be separated from local digital transformation.
The basic driving force for socio-economic development
On November 2, the Vietnam Software and IT Services Association (VINASA) and the Asia-Pacific Computing Industry Organization (ASOCIO) officially opened the Vietnam Smart City Summit – ASOCIO 2021, attended by Deputy Minister of Information and Communications Nguyen Huy Dung, Deputy Minister of Science and Technology Tran Van Tung.
The conference has become an annual event since 2017 to encourage and accompany the Government and ministries, branches and localities in the sustainable smart city development in Vietnam.
Taking place over 5 days, this year's conference was held entirely online.
Mr. David Wong, Chairman of ASOCIO said, now more than half of the world's population is living in cities. By 2050, 7 out of 10 people will live in urban areas. The area of ​​cities in the world is only about 2%. However, large cities account for more than 70% of global carbon emissions and 60 to 80% of energy consumption.
"The rapid urbanization has created more challenges, such as social inequality, traffic congestion, water pollution or health problems. The smart city theme of the conference is very relevant in the context of global developments in the post-Covid era. How can cities become even more resilient to other possible pandemics in the future?"Mr. David Wong shared.
In his opening remarks, Deputy Minister Nguyen Huy Dung said that with the explosion of the industrial revolution 4.0 along with the process of urbanization and urban development, urban development, smart cities have become inevitable trend, the basic driving force for socio-economic development of countries and regions, helping cities solve problems arising in the process of urbanization.
At the same time, it also allows cities to achieve the following goals: Improving the quality of life of the people; Lean urban management; Effective environmental protection; Improve competitiveness; Provide quick and convenient public services; Ensuring security, social order and safety, preventing and fighting crime.
From the perspective of VINASA, Mr. Nguyen Van Khoa, Chairman of the Association, said that building smart cities is an urgent need of urban areas. The Covid-19 pandemic that broke out in the past 2 years has been promoting more strongly the process of building and developing smart cities with many problems of data collection, management, solutions to prevent and control the epidemic. planning, operation and management for provinces and cities and especially for the current period of recovery and development.
"Along with digital transformation, smart cities are becoming one of the standards for development, becoming one of the new ways of cities in the era of intelligence, helping cities to optimize resources, sustainable development, bringing safety and convenience to people and economic development", Mr. Khoa assessed.
Smart city development cannot be separated from digital transformation
Referring to the story of smart city development in Vietnam, Deputy Minister Nguyen Huy Dung said that in Vietnam, the Prime Minister issued Decision 950 approving the Vietnamese sustainable smart city development project. South for the period 2018 – 2025 and orientation to 2030.
Resolution 52 of the Politburo on a number of guidelines and policies to actively participate in the fourth industrial revolution also sets a goal by 2025 to have at least 3 smart cities in 3 key economic regions. The North, the South and the Central region will form a chain of smart cities in these economic regions by 2030, step by step connecting to the smart city network in the region and the world.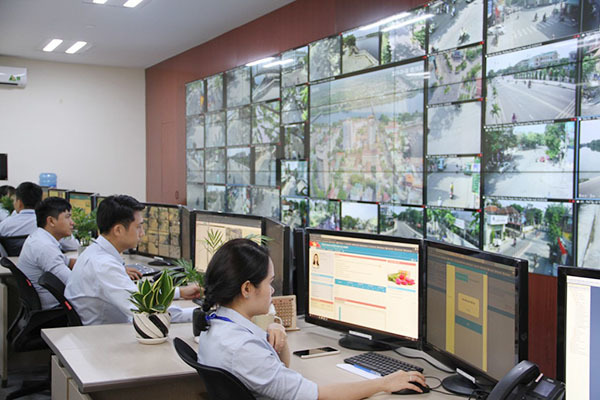 Currently, Vietnam has nearly 40 localities embarking on the construction and approval of smart urban development projects and plans.
In recent years, the issue of smart city development in Vietnam has received the attention of many localities across the country. Some localities have implemented and achieved initial results. "However, we believe that this is still a new problem not only for Vietnam but also for previous countries, requiring us to constantly learn, exchange and draw practical experience both domestically. and international in the implementation process", the Deputy Minister expressed his opinion.
Evidence for his statement, the Deputy Minister analyzed: The Covid-19 pandemic is a typical example, cities that were once considered the smartest but were also helpless, unable to protect lives and public health against the spread of disease. The pandemic has given us valuable lessons for us to seriously rethink the limitations, existence and future implementation orientation.
With the role of state management of national digital transformation in general, including ICT content for smart city development, in recent times, the Ministry of Information and Communications has made efforts and actively coordinated with other ministries and sectors. relevant, localities to promote the deployment of sustainable smart cities in Vietnam.
The Ministry of Information and Communications also soon issued a number of guiding documents to create a legal framework in the field of ICT for smart city development, including the ICT Reference Framework, the Smart City Development KPI Index and the contents of apply IT to provide smart urban services and utilities.
"In the context that Vietnam is accelerating the national digital transformation process, we believe that developing a smart city is also implementing digital transformation within that city or city. Smart city development cannot be separated but must be closely linked with the local digital transformation process.", the Deputy Minister emphasized.
Taking place entirely online on a digital platform from November 2 to November 11, Smart City Vietnam ASOCIO 2021 includes 14 seminars focusing on 5 topics: Digital Government; Smart real estate; Smart industrial park: Digital platform and solutions for smart city; Startup with smart city. Besides seminars, there are also online exhibition booths, connecting trade between domestic and international businesses with provinces, cities, businesses and organizations applying IT.
Van Anh

Singapore, Taiwan share with Vietnamese cities experience in smart city development
Within the framework of the upcoming Vietnam Smart Cities Summit – ASOCIO 2021, which will take place online in early November, leaders and businesses of Singapore and Taiwan (China) will have a separate workshop to share practical experiences. implementation economy.
.