For Sharp, the refrigerator is a place to protect the health of the whole family. Therefore, this Japanese brand has integrated the plasmacluster Ion sterilization technology – the core technology of the trusted air purifier – into the new refrigerator product line.
Sharp 4-door refrigerator won product design award at iF Design Award 2021
Refrigerator actively kills bacteria
Sharp refrigerators are trusted by Vietnamese users by applying technology from Japan – from the traditional 2-door refrigerators that have always accompanied Vietnamese families, to the modern 4-door French-style cabinet with high capacity. Large storage capacity and streamlined storage compartment.
In order to continue to provide the most optimal cold storage solution, the brand continues to integrate the active sterilization technology Plasmacluster Ion. Since 2001, the Plasmacluster Ion solution has been trusted by consumers with more than 90 million products sold globally. Although health has always been the brand's top concern for 20 years, the problem of health protection has become increasingly urgent in the face of problems such as epidemics, fine dust or rampant dirty food. .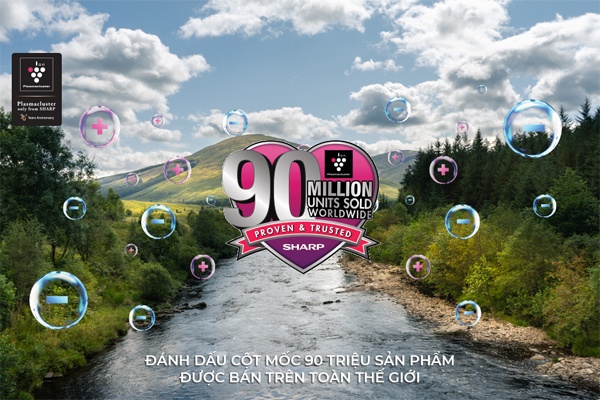 The Plasmacluster Ion solution is trusted by consumers with 90 million products sold globally
Plasmaclsuter Ion and safe food storage
Plasmacluster Ion works by using plasma to create and disperse clusters of positive and negative ions into the air, similar to those found in nature in waterfalls or forests. These ions will actively attach to bacteria and use chemical mechanisms to inhibit and destroy them. That way, the ion removes harmful mold spores, bacteria, and viruses that have followed from the source of production or were born during storage.
The mechanism of Plasmacluster Ion helps Sharp refrigerators have the ability to keep food fresh longer than conventional refrigerators, minimizing health hazards from dirty food as well as being able to deodorize, prevent cross odors from different types of food.
Plasmacluster Ion technology has been patented in Japan and won the Invention Award at the 2008 Invention Awards Ceremony organized by the Japan Institute of Inventions & Innovation.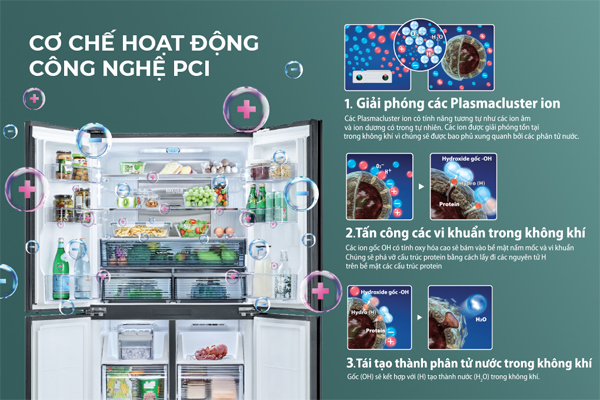 Plasmacluster Ion technology actively kills bacteria to support user health
Many modern cooling modes in luxurious design
In addition to the basic refrigeration function, today's refrigerators are expected to have many modes and reasonable designs, and also become furniture for modern kitchen spaces. The 4-door Sterilization refrigerator from Sharp is such a product.
The refrigerator has a shiny mirror design and a touch control panel right on the cabinet door, becoming an impressive highlight for the house. Comes with a series of modern refrigeration features, meeting many different cold storage needs: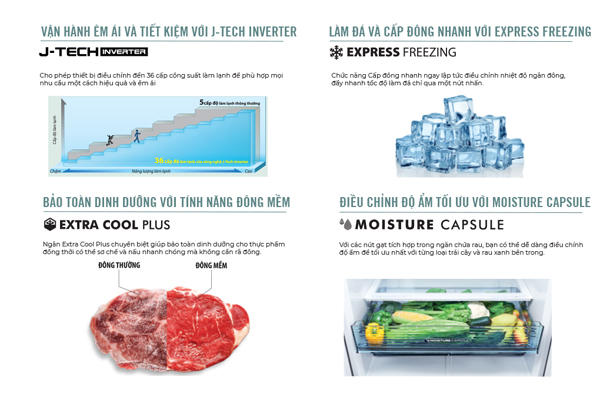 Excerpt from Sharp Catalog 2021
The 4-door refrigerators from Sharp have a large capacity, large cabinet compartment and no middle partition, helping to make full use of space and store many large-sized foods. Besides, not only the 4-door line, but also the traditional 2-door cabinet line, Sharp also integrates disinfection technology with many different capacities, meeting all the needs of Vietnamese families.
In addition to the refrigerator, the Plasmacluster Ion technology is also integrated by Sharp in the air purifier. In Japan & Southeast Asia, this is the #1 selling air purifier brand for many years to this day (according to Euromonitor). In Vietnam, Sharp is honored to be voted the best air purifier brand at Zing Best Choice and TechAwards in 2020.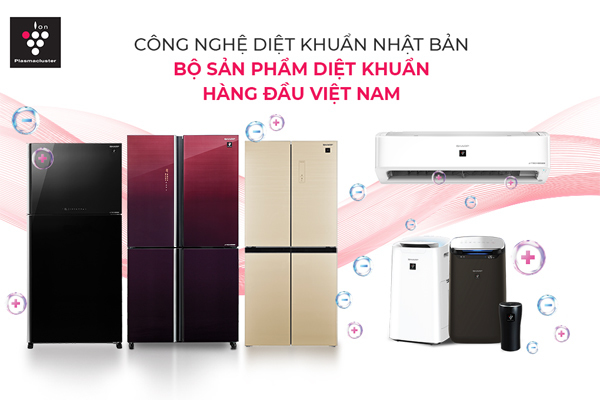 Sharp – a set of products that integrate the leading germicidal technology in Vietnam
With the spirit of protecting users' health as the focus, Plasmacluster Ion products from Sharp Japan are the ideal choice for health-conscious families in the new era.
Sharp refrigerators integrate Plasmacluster Ion sterilization technology: http://bit.ly/Ref_Plasmaclusterion_VNnet
96.5% of avian influenza virus H5N1 was killed in a solution environment more complex than the air environment, experiments conducted at the National Institute of Hygiene and Epidemiology, tested by Hanoi University of Science and Technology (October 2008). .
Doan Phong
bactericidal technology