360 degree customer portrait (360 degree customer) created by SAP CDP customer data platform allows businesses to have a detailed view of the touch points that customers interact with them, to personalize the experience, gain attract customers to use the service.
Experience personalization is a way to inspire customer loyalty to a product or service of your business (DN). This also attracts old customers to return to use the company's products. 360-degree customer portraits will personalize the experience to create a competitive advantage for businesses while many competitors are trying to upgrade products and services to provide customers with products and services. the best.
SAP CDP customer data platform creates 360-degree customer portraits
A 360-degree customer portrait, also known as a customer view, is a comprehensive, accurate and complete profile of a customer with all the information from them that businesses can collect and exploit from: Demographics, social interests, shopping history, search habits… This comprehensive portrait allows businesses to get a detailed view of all the touchpoints customers interact with them, be it through the purchasing process, marketing channels, customer service or social media interactions.
Benefits that 360-degree customer portraits bring to businesses
According to Gartner, less than 10% of businesses today are capable of concluding a complete customer profile. And many of them can effectively exploit 360-degree customer portraits properly and fully to bring benefits to businesses.
The results of the last interaction will affect the approach of businesses to customers. Predicting customer behavior speculatively carries risks to both campaign effectiveness and investment costs.
Customer relationship is not only about selling goods, but also about giving customers a friendly experience and the best care. To do that, customer data needs to be collected comprehensively in all fields, from many channels, through many stages, and analyzed and evaluated in a timely and accurate manner.
SAP CDP constructs and builds a perfect picture of the customer to help businesses analyze and predict the customer's next activities such as predicting future wants and needs more accurately from the portrait. 360 degree client. With this profile, businesses can predict the behavior and reactions of customers when they plan to launch a new product or organize an event through analyzing customer behavior and reactions in the future. past. Businesses will easily detect the positive reactions that can be promoted as well as the limitations that need to be improved in order to allocate costs reasonably, promptly seize sales opportunities, discover the motivation to buy. and inspire customer loyalty to businesses.
More and more customers love and stay loyal to brands because they are provided with personalized experiences. Obviously when businesses own a comprehensive picture of customers, they have better understanding of customers and their product strategies and ways of approaching customers will be better, revenue efficiency accordingly. than.
Being well aware of the effectiveness that this platform brings, recently, International Bank (VIB) officially launched the project of CDP customer data platform with solutions from SAP Technology Group and the development team. Project implementation from NGS Communication and Equipment Joint Stock Company.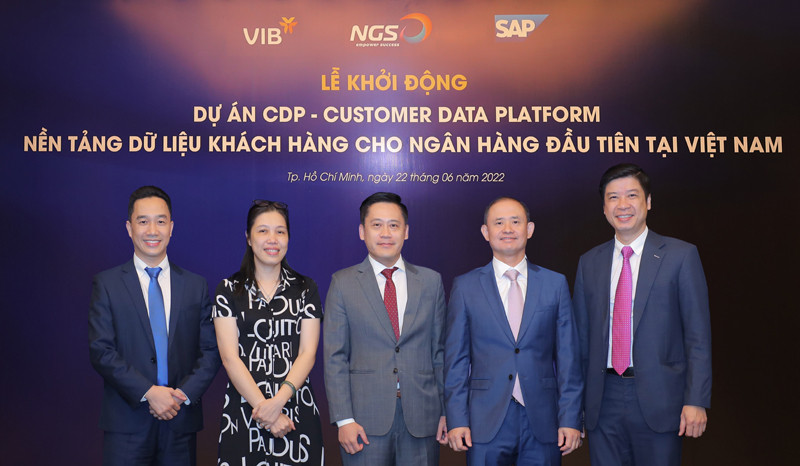 The project will apply new solutions, deploying on new technologies (cloud computing, applying Machine Learning – Machine Learning and Artificial Intelligence models) to the specific field of banking. With the implementation of SAP CDP, VIB will develop a centralized customer database system of VIB for all products and services, all sales channels. In parallel, it is applying new technologies in analyzing, predicting behavior, and identifying customer segments. The solution also contributes to optimizing the customer journey, providing relevant product and content recommendations, and enhancing customer interaction with VIB's services.
Website: https://www.sap.com/products/customer-data-platform.html
To Uyen
.