Samsung's new Micro LED TV is priced at up to 3.44 billion, with a size of 110 inches.
Samsung has introduced in Vietnam the latest TV product lines for the year 2021. Products include Micro QLED, Lifestyle and Crystal UHD.
TV Micro QLED
The new Micro LED technology uses micro-micrometer LEDs to eliminate the backlight and color filters used in conventional displays.
Samsung's Micro LED TV costs from VND 2.99 billion.
Micro LED is self-illuminating, producing vivid color and brightness through 24 million individually controlled LEDs. Slim bezel design with 99% screen-to-body ratio.
TV integrated Arena Sound technology, sound quality 5.1. Multi View feature divides the screen into 4 parts to both play games, watch sports and watch entertainment channels at the same time.
TV is sold in Vietnam according to orders, with dimensions of 99 inches (price of 2,999 billion VND) and 110 inches (price of 3,444 billion VND).
TV Neo QLED
The Neo QLED 8K and 4K series use the new Quantum Mini LED lighting technology. Quantum Mini LED owns only 1/40 size compared to conventional LED bulbs.
The Neo Quantum processor upscales image quality to 4K and 8K resolutions. The TV also has an ultra-thin bezel.
Samsung Lifestyle lifestyle TV
Samsung's Lifestyle line this time features The Premiere – the first triple laser projector on the market. The Premiere allows displays up to 130 inches in size and supports 4K resolutions.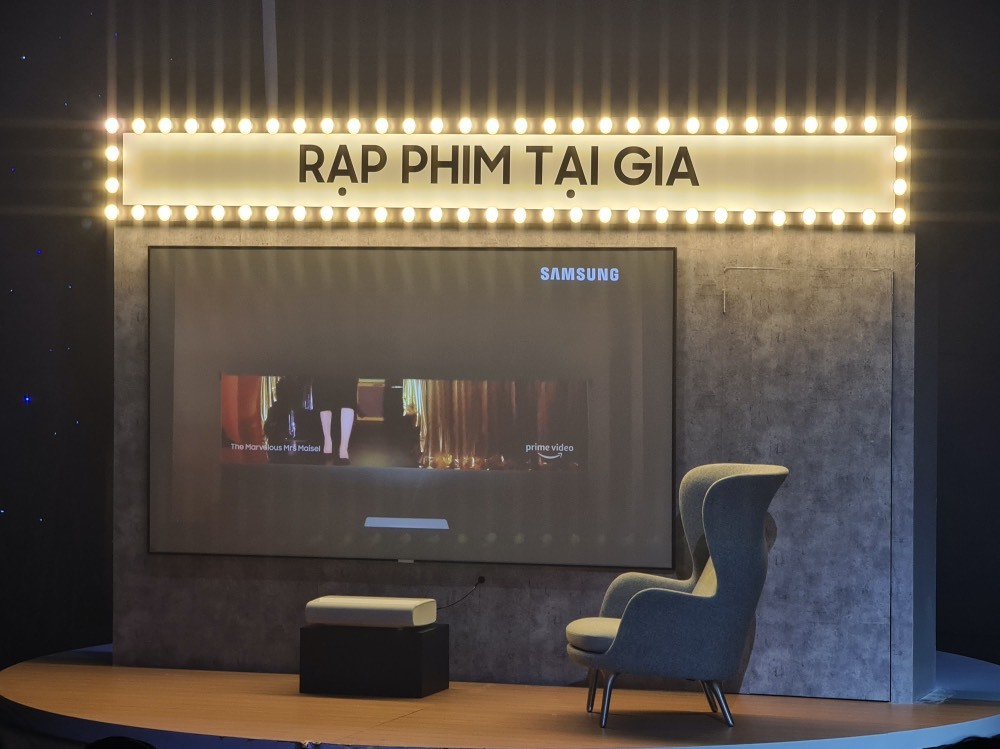 Samsung The Premier projector.
In addition, The Frame generation 2021 has a thinner frame by nearly half compared to the previous series, making the TV nearly identical to the picture frame.
In addition to The Premiere and The Frame, Samsung's new Lifestyle TV portfolio includes The Serif, The Sero and The Terrace.
In addition, there is the Crystal UHD TV line that inherits the ultra-thin design and the edge-to-edge display of Samsung's premium QLED TVs at a lower price than the above models.
Some TVs will receive 12 months of free use of VieON application, including 8K content, and three content stores Galaxy Play, FPT Play, Pops Kids.
Lighthouse

Samsung Electronics launched the Neo QLED, MICRO LED and Lifestyle TV 2021 series, affirming its commitment to a sustainable future for its users.
Samsung is aiming to celebrate its 15th anniversary with the vision of a leading TV brand globally with the slogan "Screens Everywhere, Screens for All" ("Screens everywhere, screens for everyone" ).
.