With unique innovations with high-speed 5G access, multitasking camera, "terrible" battery … Galaxy A72 will bring young users exciting experiences on a creative journey in the digital age.
Impressive 5G technology for mid-range products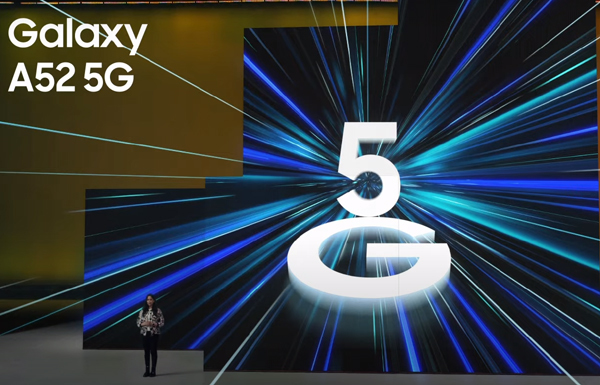 Galaxy A52 5G is equipped with 5G connectivity pioneering mid-range smartphones
The imprint of young people in the digital age is shown in the data connection speed from mobile devices. A Samsung representative said that young people spend more than 5 hours a day on social networking platforms.
From the generation of GPRS to social network Ola, to 3G – the era of digital applications and content, to most recently 4G – the era of creativity, affirming the personal mark … of young people through each generation. always know how to take advantage of the data connection speed to assert himself, express "own quality" on social networks.
Understanding that need, Galaxy A72 – "super product" of the Galaxy A generation 2021 was developed with high-speed 5G access. 5G connectivity is a data technology that will enhance the speed of digital content experience, enhance the quality of creative content anywhere. Streaming videos, playing games or posting 2K / 4K quality videos are easy with the new Galaxy A 5G series. Along with that, viewers also do not have to worry about being interrupted by the quality of the transmission line.
Superior camera cluster accompanying creative content
Capture every crisp, vivid frame with ease thanks to the Quad 64MP Camera
The Galaxy A generations are always smartphones for young people who like to assert themselves through unique frames. Previously, the Galaxy J7 Pro pioneered the movement of photography in the dark; Galaxy A7 inspired travel photos, explored with super wide angles; Galaxy A51, A71 "spark" for macro photography. Now, the Galaxy A72 generation continues to be upgraded to the superior capabilities of the camera cluster with a lens sensor up to 64MP and equipped with OIS optical stabilization technology. As a result, young people can create breakout frames, breaking limits when shooting in low light or on the go.
The flagship camera cluster on the Galaxy A72 also brings zoom power from the flagship line with 3X optical zoom and Space Zoom (space zoom) 30X. This results in sharp and stable long-range images that diversify the shooting angles, without destroying the outstanding quality of the frame.
Durable even when used in the rain
In addition, the new generation Galaxy A 2021 is IP67 water and dust resistant, allowing Galaxy A72 to operate in environments with high humidity or adverse weather. This tenacity will enhance the youth's photographic experience as the travel season approaches. The unique videos on the forest, under the sea with daring sun, wind and water effects will be more impressive with the Galaxy A72.
Durable performance
"Super product" Galaxy A72 improved multitasking performance better with Snapdragon processor 720G – the best graphics processor in the mid-range segment. As a result, all tasks related to images are processed quickly and produce high quality.
With 8GB of RAM, 256GB ROM, Galaxy A72 can store thousands of high-quality photo and video data, giving users the freedom to create content according to new trends.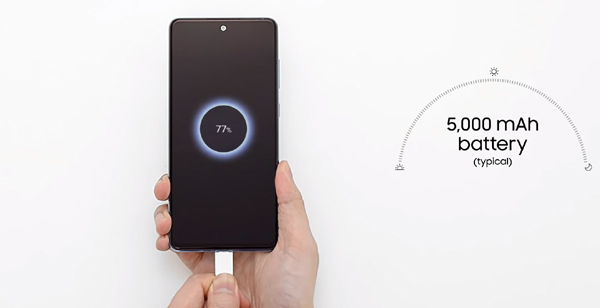 Long-lasting battery for 2 days of use with 5,000 mAh
In addition, the durable 5,000mAh battery capacity allows Galaxy A72 to accompany young people on all roads. The included 25W fast charging feature is also convenient for young users to quickly immerse themselves in the fun, without worrying about battery problems on an unlimited creative journey.
Impressive appearance with 90Hz screen
Another special highlight on the Galaxy A72 is the Infinity-O Super AMOLED FHD + full-screen display with a refresh rate of 90Hz. This screen feels luxurious and seamless thanks to the sturdy metal bezel design, the glass back is stylish in color, suitable for all dynamic styles of young people.
Equipped with a screen with a high refresh rate – a "plus" point of Samsung flagship smartphones, bringing convenience to users when enjoying entertainment. The 90Hz screen on the Galaxy A72 not only enhances the experience of watching movies, programs with high-speed frames smoother, but also contributes to reducing eye strain, eye pain when watching for a long time. Users will enjoy the feeling of great surfing, touch, and easy "control the game" with "hot hit" online games.
Representative of Samsung Vietnam commented: "With breakthrough technology inherited from flagship series, Galaxy A72 is an omnipotent assistant of young people in the age of content creation, at the same time, promoting the development of usability. use of GenZ technology in the 5G era ".
Super products Galaxy A52 and A72 will be available in Vietnam on March 18, 2021, with many colors catching new trends including: personality black, dynamic white, creative blue, trendy purple.
Suggested retail prices for the 128GB Galaxy A52 and Galaxy A52 256GB versions are: VND 9,299,000 and VND 10,290,000, respectively.
256GB Galaxy A72 version has a suggested retail price of: 11,490,000 VND.
Galaxy A52 5G 128GB version will be launched in Vietnam during April 2021.
Thu Hang
ads tracking
.