The day has come when the lifeless washing machine can change itself and harmonize with the owner's usage habits! Samsung AI Ecobubble artificial intelligence washing machine and dryer line will make everything as simple as you want!
Confused with the complicated button panel of a traditional washing machine? There's Samsung AI Ecobubble!
Perhaps any of us have been confused by the series of complicated menus on the washing machine. An independent study from IBM shows that users almost "give up" with dozens of different washing modes, they do not know which mode to choose to suit themselves and their families. As a result, 99.9% of users only use exactly 3 washing modes out of dozens of available modes. This is also the reason for Samsung to develop the AI ​​Control Smart Panel, an application of artificial intelligence to automatically suggest modes that match the user's actual usage habits.
In terms of appearance, the control panel with dense mode names in the old generation of washing machines is simplified into an easy-to-read, easy-to-understand Vietnamese LED control panel.
In terms of features, the machine will automatically remember usage habits to suggest a reasonable washing mode. Take a simple example: If every Monday morning, the user often practices yoga and chooses to wash sportswear, then every Monday, the machine will automatically put that mode up to the priority mark to recommend without delay. needs the user to choose. With the application of artificial intelligence, the more washing, the smarter the washing machine will be and better understand the needs of each family in each moment, thereby suggesting more and more accurate. This is Samsung's big difference with AI-powered recommendation mechanisms that are always changing and based on data from the last 25 washes.
On the other hand, there is a problem that washing machines often have too many washing modes, different setting mechanisms, but there are no instructions on the right amount of washing and rinsing water, so that clothes are clean and durable. And that is also the difference of Samsung, when artificial intelligence really shines and properly serves the needs of users. With a load of laundry with many different types of clothes and stains, the AI ​​Ecobubble washing machine will automatically analyze the dirt to allocate the exact amount of washing water needed to keep clothes clean.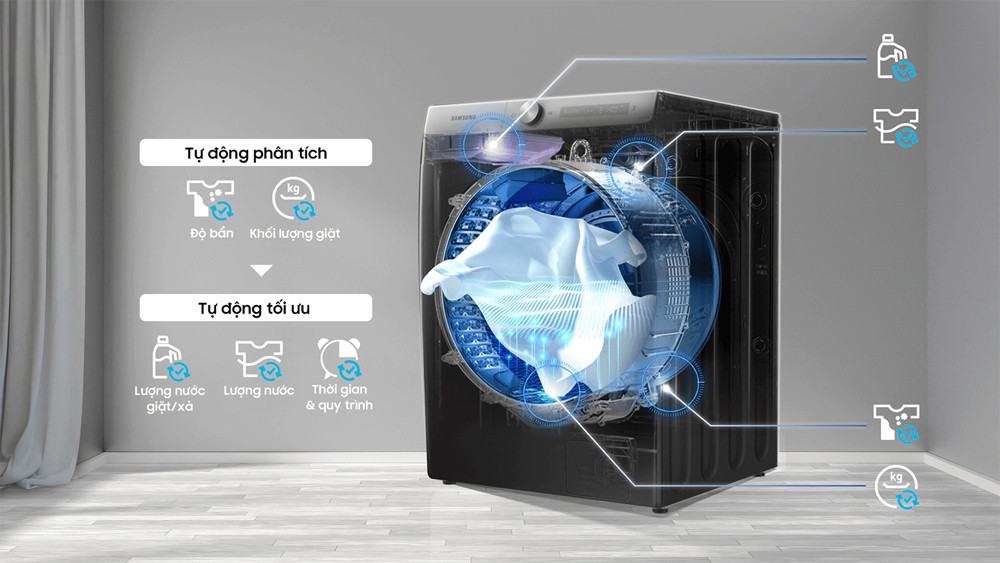 The working mechanism of AI Wash sensor washing technology is similar to that of the washing machine. If hand washing is considered a cleaner method of washing because the user can actively observe and check the stains, increase or decrease the rinse water and change the washing cycles and time until the clothes are completely clean. All in all, AI Ecobubble also has a similar operation. Thanks to 4 smart sensors, the machine will recognize how dirty the clothes are so that it can automatically distribute washing water and adjust the washing time appropriately. The most convenient point is the smart laundry compartment AI Dispenser with a large capacity that only needs to be poured once, used for 1 month, which is super convenient.
Automatic washing machine – dryer linkage: user relax
More and more people are turning to using a dryer instead of drying clothes in the traditional way because it helps clothes dry faster, more fragrant, and reduces user effort. But even though they share the same washer and dryer set of the same manufacturer, these two devices still operate independently of each other, users have to repeat the entire operation from washing machine to dryer. To simplify the cycle, Samsung has introduced the smart feature Auto Cycle Link, which automatically links the washer and dryer so that the dryer automatically recommends a drying mode based on the previous wash, which reduces further minimize user actions.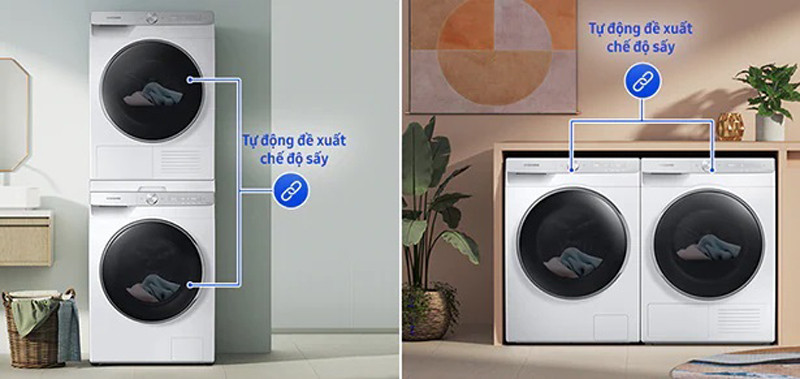 Modern, yet durable, fast and economical
With such a wide range of modern technologies, customers will certainly be concerned about the longevity of washers and dryers, when they have to operate continuously for a long time.
The manufacturer says that the Ecobubble machine helps to create super-fine bubbles, combined with QuickDrive super-fast cleaning technology to reduce the actual washing time by half compared to normal. Moreover, VRT Plus super-quiet washing technology uses a new, highly stable machine frame, combined with vibration and noise detection sensors, to optimize the operating efficiency of the mechanical copper to better resist vibration and noise. 30%. The Digital Inverter motor operates reliably with a lifespan of up to 23 years, according to VDE certification.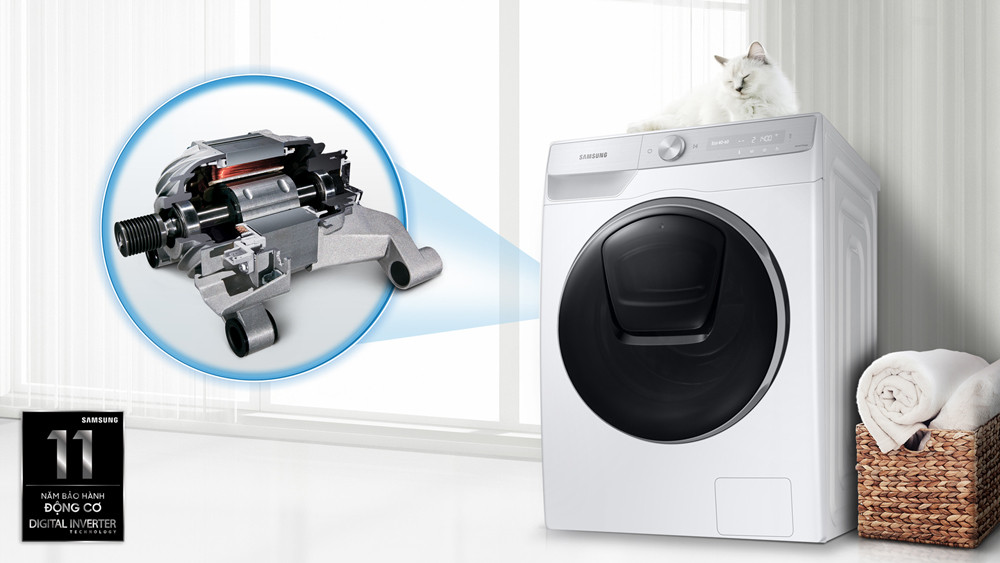 "Samsung has been awarded the prestigious JD Power award for front- and top-loading washing machines for performance, stability, and design style. But perhaps our biggest reward is the joy and convenience of consumers when they no longer have to "struggle" with the washing machine, making them more friendly, serving the right way. more meaningful for customers", said Samsung representative.
"Purchase" right away to the AI ​​Ecobubble washing machine for a leisurely laundry, enjoy life with promotions from Samsung. From now until July 31, 2022, when buying a washing machine on the company's official website and enter the code [SACHHOANHAO] At the payment step will be further reduced to 1,700,000 VND.
Thu Hang
.