Some services of printing vaccination QR codes on plastic cards have begun to be offered in HCMC.
In recent days, on groups in Ho Chi Minh City, many people provide services to print QR codes with vaccination information on cards for people in need. This is to help people not have to bring out their phones when they need to submit information to the authorities.
Vaccination information is printed on paper and laminated. (Photo: TPH)
Prices may vary depending on the print material. In a Facebook group of Celadon City Tan Phu apartment building, a person advertised a service to print QR codes on plastic cards for 40,000 VND/card, excluding the strap and plastic bag for the card.
According to the seller, the size of the plastic card when printed will be equivalent to a bank card. The card is made of water-resistant and durable PVC material.
Meanwhile, in the Zalo chat group of 8X Dam Sen apartment building (Tan Phu), a person also offers a service to print a QR code of injection certificates for residents but only prints on colored paper. The cost of printing on paper and plastic bags, straps is priced at 70-80 thousand VND/set depending on the type.
"This card is worn on the body, very convenient when you need to provide information, without having to take out your phone. It is most convenient for women who often keep their phones in their wallets or car trunks," said the seller, named H. in the apartment.
Only on the morning of Sunday, October 3, he had "closed the application" for about 40 dozen cards for the residential area of ​​less than 1,000 people.
Yesterday, actress Ho Bich Tram also posted on her personal Facebook page that she printed her vaccination certificate on paper, then laminated it.
According to the actress, printing the injection certificate on the card helps her avoid the inconvenience of having to take out her phone many times and prevent theft.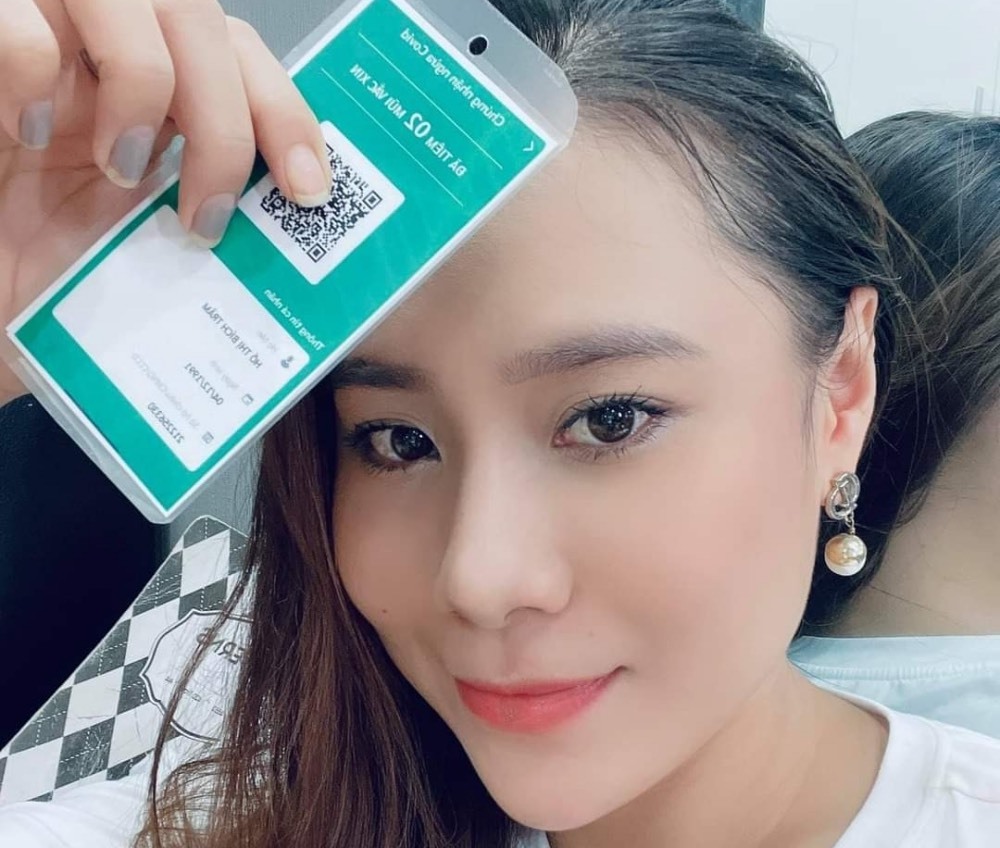 Actor Ho Bich Tram shows off a card printed with a vaccination QR code on October 2. (Photo: FBNV)
According to people doing card printing services, most people use QR codes on the Electronic Health Book application to print.
Some people spread rumors about a fake situation when the functional force checks the QR code on people's phones, then snatches the phone. But this unofficial information has not been confirmed by the authorities.
During the period when Ho Chi Minh City implemented a strict distance from August 23 to the end of September, people had to have a travel pass and had to present a QR code at quarantine checkpoints. This QR code is taken from the VNEID application issued by the Ministry of Public Security.
Since October 1, the movement control checkpoints inside Ho Chi Minh City have been completely removed, people do not need to present road documents or QR codes. However, according to the local government, the functional force will randomly check people on the road. At that time, people must submit personal information on VNEID, HCM Health applications or electronic health books while waiting for the PC-Covid application to be officially used. Non-smartphone users can show proof of vaccination or F0 recovery.
The QR code printed on the card is still unknown whether it will be accepted by the authorities, but when providing the image of the code to a third party (for printing), people need to consider it because personal information includes date of birth, Full name, ID number, vaccination status must have been revealed.
Lighthouse

Instructions for creating location QR codes on PC-Covid
The solution to manage information of people entering and leaving places by scanning QR codes plays an important role in the process of gradually reopening after the pandemic. The new PC-Covid application will support the generation of location QR codes.
.