Using robots has become the focus of attention in many countries around the world as a new growth engine in the Fourth Industrial Revolution in general and in the fight against the Covid-19 pandemic. private.
The global outbreak of the Covid-19 pandemic has made people look at and consider future technological developments, especially the application of robots in daily life to limit contact between people. together.
An LG-made four-wheeled robot that can navigate rough terrain, suitable for use in both indoor and outdoor environments.
Although robotic technology has been of particular interest to many countries and businesses even before the pandemic occurred. But the prolonged pandemic is seen as a "strong catalyst" to bring robotics to life faster.
Previously, more than 50% of robots were used in the manufacturing sector, but since the Covid-19 pandemic, their presence is increasing in the service sectors, such as with delivery companies, restaurants, hotels, banks and even take on the role of drivers or lifeguards.
Park Il-woo, Director of the Korea Robot Industry Development Institute (KIRIA), said: "After the outbreak of the Covid-19 pandemic, domestic enterprises have increasingly developed a variety of service robots to reduce Minimize direct person-to-person contact. They are taking advantage of the contactless trend and improving service quality with more robots."
So far, the robotics industry in Korea can be divided into two areas: industry and service use, in which industrial robots account for the largest proportion.
Service robots perform useful tasks that help humans not only in industrial environments, but also help with household chores, guiding customers at stores, assisting customers with depositing money at banks. and arrange the goods on the shelves. Besides, the robot also helps medical professionals during surgery and participates in the fire fighting process.
Among companies trying to develop robotics businesses in Korea, LG Group is leading the way and has quickly introduced a range of different robots. Since taking the helm of LG Group in 2018, Chairman Koo Kwang-mo has made the robotics business one of the group's money-making projects along with artificial intelligence (AI) technology. and automotive electronics.
On July 13, LG announced a new 4-wheel delivery robot that can work both indoors and outdoors.
"The new robot will bring a big change to the logistics industry as various types of tasks in the transportation of goods will be simplified when the robot is commercialized," said an LG official.
Besides LG, South Korea's Hanwha E&C Construction Group recently teamed up with food delivery app operator Woowa Brothers to create robots that can handle deliveries at an apartment complex that the conglomerate owns. This was built in Seoul.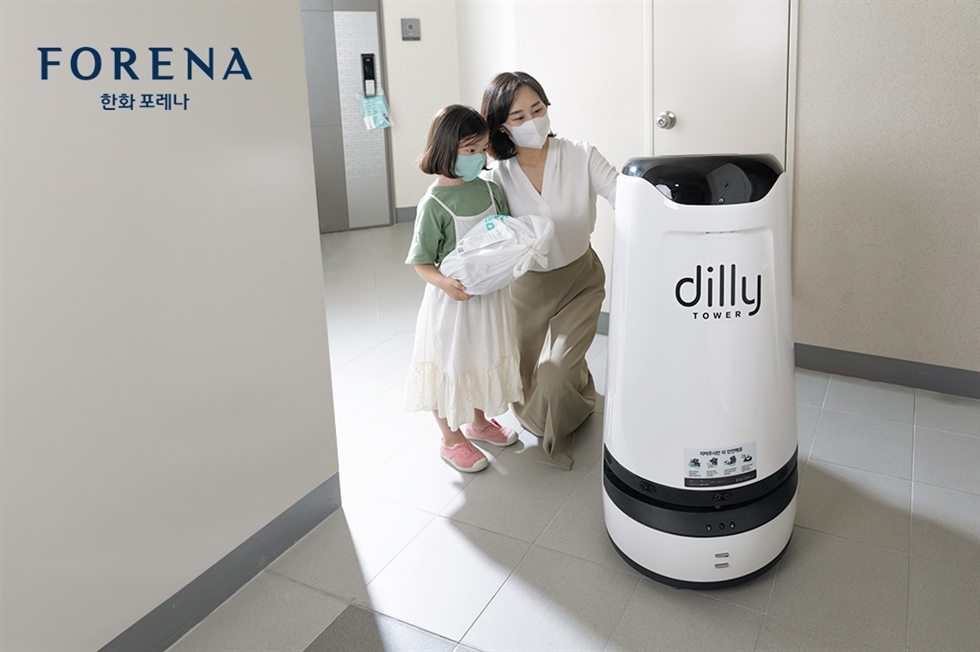 A robot, built by Hanwha E&C, delivers food to residents of Forena Apartments in Seoul, July 12.
Meanwhile, Hyundai Motor Group also wowed the auto industry in December when it announced that Chairman Chung Euisun would acquire a controlling stake in US-based robotics company Boston Dynamics for a price. $880 million.
Hyundai Motor Group said the decision was made to strengthen its future mobility business as the US company's technology will be used to develop autonomous driving features. and safe. To achieve these goals, the auto group will invest 60.1 trillion won by 2025.
Earlier this year, Hyundai Motor Group introduced a customer service robot, DAL-e, at their car showroom south of Seoul. Equipped with the company's latest technologies, including AI, facial recognition and automated communication systems, the robot acts as a receptionist guiding visitors around the showroom.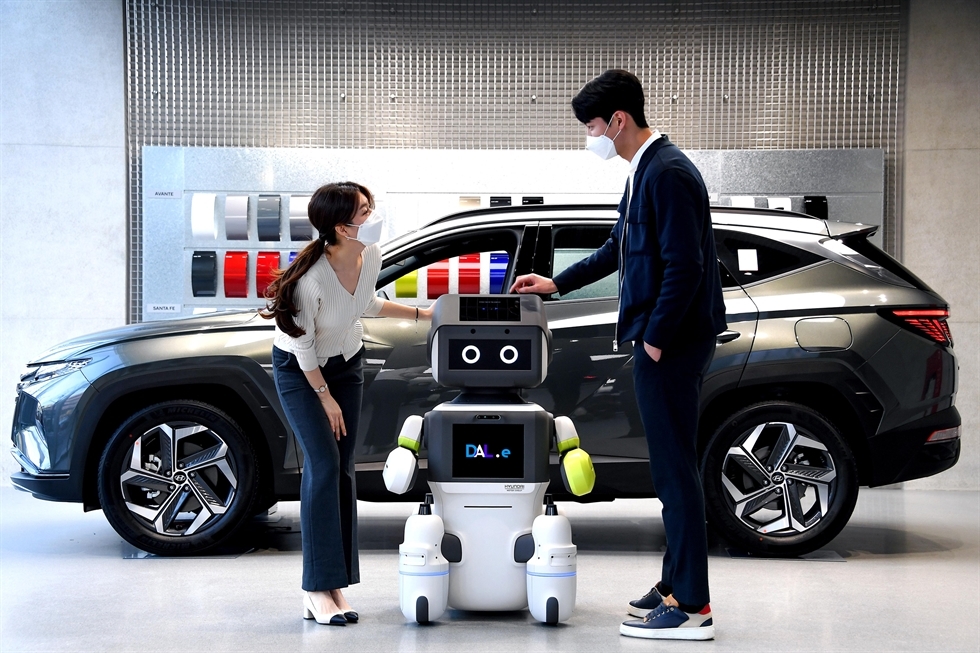 Hyundai Motor employees pose with the automaker's DAL-e customer service robot at a dealership in Seoul, January 25.
Similarly, Korea's largest telecommunications company, KT Telecom, has also identified robots as the new growth engine. Last year, KT Telecom invested 50 billion won in Hyundai Robotics, a division of Hyundai Heavy Industry Group that has the largest share of the industrial robot market in Korea.
After the investment, KT Telecom has launched the service "Industrial robot in 5G smart factory", which combines 5G network, cloud computing technology and smart factory automation system. For personal service robots, KT is also expected to launch a "pet" robot.
Lee Sang-ho, head of KT Telecom's AI robotics business, said that the robotics industry has developed as a support tool for companies to expand their businesses, such as manufacturing substances. semiconductors, vehicles, displays and ships. In the service sector, robots are making it easier for companies to communicate with customers. In manufacturing, robots will increasingly be able to handle dangerous, dirty jobs.
Talking about the future of the robotics industry, Mr. Lee Sang-ho said, the industry will develop into a supporting field that helps companies nurture their top business areas.
According to data released in March by KIRIA, the revenue from Korea's robotics industry amounted to 5.300 billion won ($4.6 billion) in 2019, of which industrial robots accounted for 52.5%, followed by robotics parts and software accounting for 34.8%, service robots for the enterprise market with 6.4% and personal service robots with 6.3%.
Meanwhile, global market analysis firm Strategy Analytics forecasts the value of the global service robot market to reach $122 billion by 2024, up from $31 billion in 2019.
Phan Van Hoa (according to Koreatimes)

India uses robots in the fight against Covid-19
In India, the country with the second highest number of Covid-19 cases in the world, a handful of hospitals have started using robots to connect patients with their loved ones and assist healthcare workers at all levels. anti-epidemic head.
.