The Galaxy S21 FE features an impressive duet camera, powerful Exynos 2100 processor, stylish premium design, super-smooth Dynamic AMOLED 2X 120Hz display, and an accessible price point.
After many rumors, Samsung has finally officially launched the Galaxy S21 FE, a shortened version of the popular Galaxy S21, inheriting the technology from the S21 as well as continuing the success of the predecessor Galaxy S20 FE. The two letters FE in the name of the Galaxy S21 FE mean Fan Edition, a smartphone built on Sam Fan's wishes for a smartphone for fandoms.
Smartpuone Galaxy S21 FE has just been launched.
Galaxy S21 FE is specially invested by Samsung in the camera set with unique video and photo shooting features, and flagship configuration in a youthful and modern design. Add to that the very accessible price of the Galaxy S21 FE that makes this phone a top choice for Gen Z.
High quality camera set, support Dual Recording video
Born for Gen Z, the Galaxy S21 FE is equipped with an impressive set of 3 rear cameras by Samsung including an ultra-wide-angle camera, a 12MP wide-angle camera and an 8MP telephoto lens with 3x zoom capability. More specifically, the front camera of the Galaxy S21 FE also has a huge 32MP image sensor that makes selfies sharper. Galaxy S21 FE will easily meet the needs of Gen Z through photography, trending to the top, "virtual living" on social networks of Gen Z.
In addition, the Galaxy S21 FE also has OIS optical image stabilization technology, which supports sharper photos, and also helps stabilize the frame when recording videos very well. Besides, there is a unique dual recording video feature when it is possible to record from both the front and rear cameras at the same time. Dual Recording is built by Samsung to promote the creativity of young people when the trend of making videos on TikTok, vlogs on social networking platforms is growing strongly.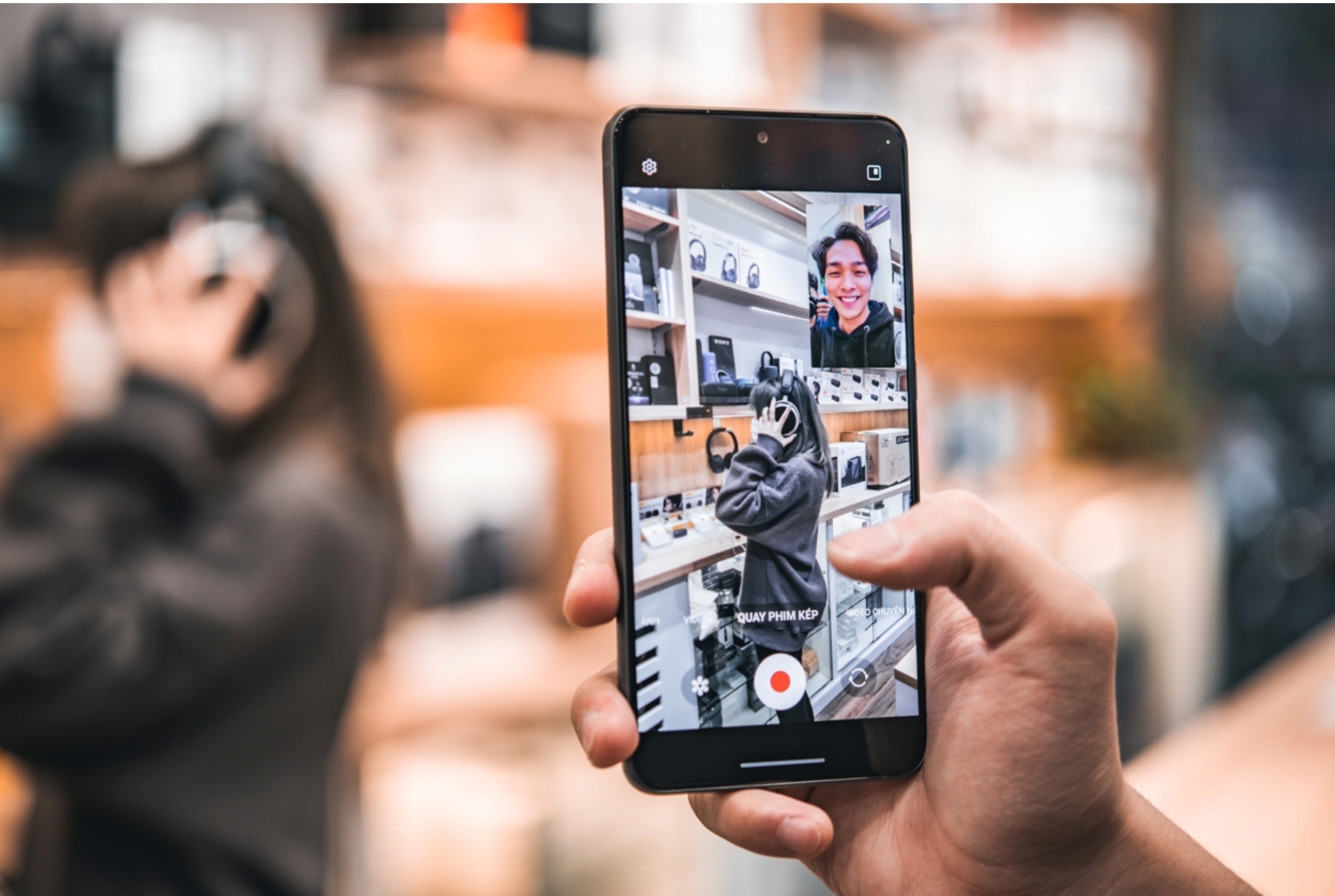 With this quality camera set, Gen Zs can freely show off their cool outfits through shimmering Instagram photos, becoming hot Tiktokers with amazing videos. Especially when dual video recording will help Tiktokers a lot when they can capture all emotions from both sides of the lens. Or even if you are excited to be a Youtuber, the Vlogger Mode feature will also be a great help when you can easily switch between shooting angles and lenses right on the screen while recording at the same time. from 2 cameras. Every story through the lens of Galaxy S21 FE thanks to dual video recording is told in a more special, more vivid way.
Not only possessing good and unique features, the images taken and recorded from the Galaxy S21 FE are also of very good quality, in terms of color, sharpness, light and dark balance, HDR. Every category of Galaxy S21 FE is responsive to produce colorful frames. Compared to competitors in the same range, the camera set on the Galaxy S21 FE has better hardware quality thanks to its telephoto lens, the far zoomed images from the Galaxy S21 FE achieve high sharpness through the advantage of 3X optical zoom.
So that users can unleash their creativity without worrying about unfortunate accidents, the Galaxy S21 FE is equipped with IP68 water resistance. You can take the Galaxy S21 FE with you when you go swimming to capture creative footage.
High-class, youthful, modern design
The Galaxy S21 FE's appearance inherits the design language from its brother Galaxy S21, with its Infinity-O screen overflowing. Instead of being made from glass like the S21, Samsung uses the back from a high-grade plastic to create a premium feel but can still help optimize the price and weight of the device.
The S21 Series is designed by Samsung with a very special camera cluster that is seamless with the chassis, which has always been a bright spot in the design of the S21 Series, which is highly appreciated by users and technology enthusiasts alike for its difference and aesthetics. its high aesthetic. The same goes for the Galaxy S21 FE, which looks almost identical to the S21, except for the seamless color scheme while the S21 has two tones.
For users to freely express their personality, Galaxy S21 FE is also available in 4 different color versions including Graphite Black, Flora White, Olive Green and Pastel Purple. Any color version Galaxy S21 FE also gives a high-end, modern impression, but especially the Pastel Purple color on the Galaxy S21 FE is very "pretty", it will definitely be a top choice for personality girls.
Dynamic AMOLED 2X 120Hz screen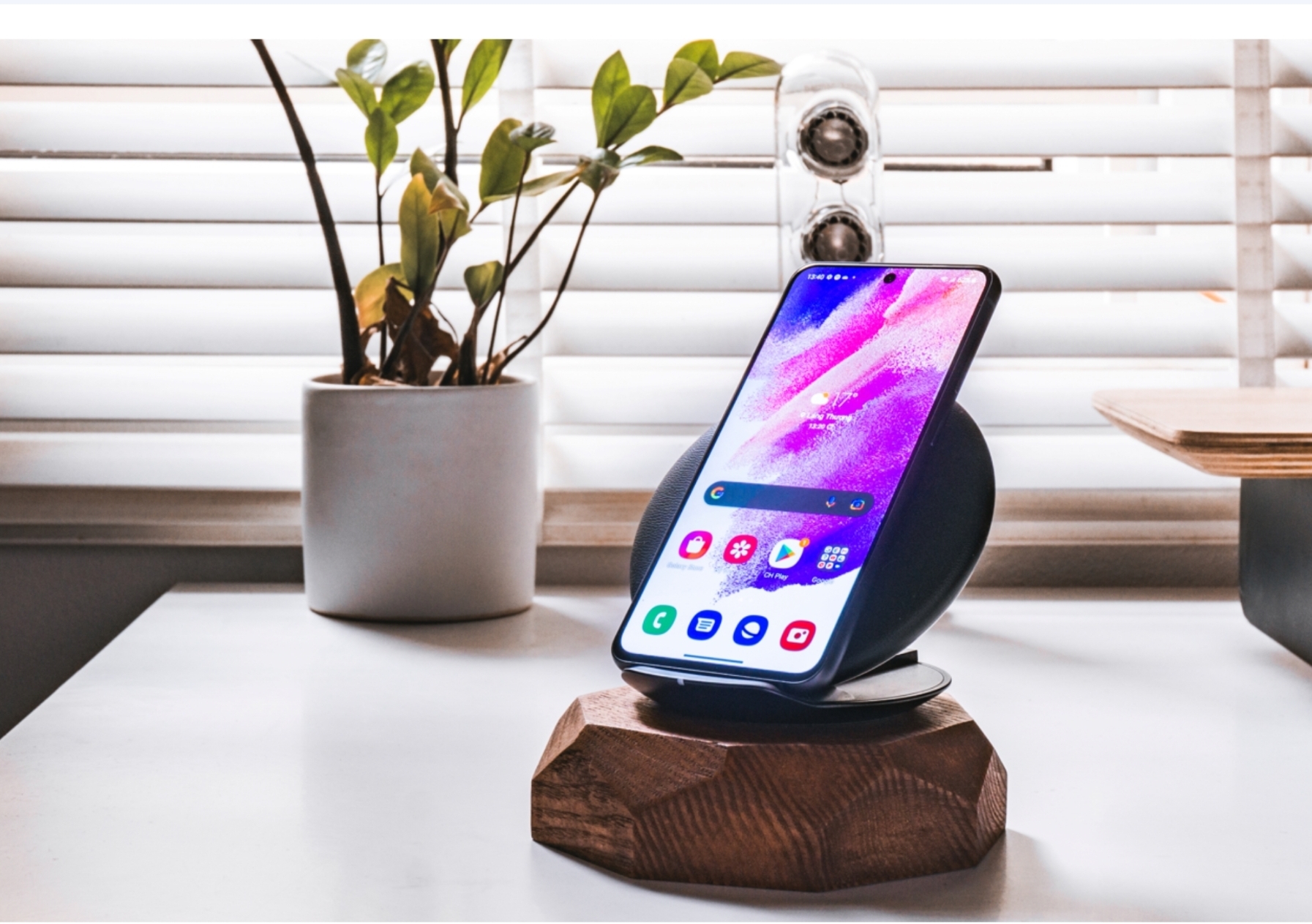 Review of the newly launched Samsung Galaxy S21 FE
Samsung equips an AMOLED screen with a 120Hz refresh rate for the Galaxy S21 FE, which is a feature that usually only appears on the most advanced models today.
This screen gives a very eye-catching experience, even from common tasks such as surfing social networks, transition effects when opening and closing applications, to games that support 120fps. Combined with the vibrant, vivid colors from the 6.4-inch FHD+ AMOLED display, the visual experience on the Galaxy S21 FE is very different. This is possibly one of the most impressive features for anyone looking to upgrade from a smartphone with a 60Hz display. At the moment, Galaxy S21 FE only has 2 options of fixed scanning frequency at 120Hz or 60Hz, no choice to change the scan frequency flexibly.
Powerful flagship performance
Like other S21 models, in Vietnam market, Galaxy S21 FE is equipped with an extremely powerful Exynos 2100 octa-core processor with the highest clock speed of 2.9Ghz. This chip is manufactured on the advanced 5nm EUV process with ARM architecture. Delivering super-fast 5G connectivity.
Practical experience, of course with the configuration of a flagship, every operation on the Galaxy S21 FE is very smooth, easily handling all these tasks smoothly, heavy games also give stable performance, or photo editing tasks, video export are also handled very quickly on the Galaxy S21 FE. With 6GB or 8Gb RAM depending on the version, and thanks to the smart RAM manager from Samsung, the Galaxy S21 FE offers smooth multitasking, passes all kinds of tests and rarely needs to reload applications. .
Battery and fast charging
The Galaxy S21 has an already impressive battery life with nearly 10 hours on-screen in the tests. But the battery life on the Galaxy S21 FE is even better when it comes to a slightly better battery life with 11 hours on-screen thanks to a large 4500 mAh battery. This is a battery life that will ensure you can use the device all day or even 2 days without needing to charge.
Regarding charging, Galaxy S21 FE does not come with a charger in the box, so you will need to buy a charger for the device separately. The fast charging technology of 25W when plugged in and 15W wirelessly on the Galaxy S21 FE will also be the optimal choice for you when the battery runs out with the ability to fully charge 50% of the battery in just 30 minutes.
The reverse wireless charging feature for other devices is also a very unique feature on these new Samsung smartphones. You can use the Galaxy S21 FE to charge your friends' watches, headphones, or phones when needed.
Attractive selling price
Galaxy S21 FE has a very attractive price, only 15.99 million VND for 128Gb/6Gb RAM version, 16.99 million VND and 18.99 million VND for 2 versions 128Gb/8Gb RAM and 256Gb/8Gb RAM, respectively. . Rated as one of the best-selling flagships of the year, re-launched on the occasion of year-end shopping close to the Lunar New Year. Surely the Galaxy S21 FE will be a very hot name in the near future when it has both flagship features and a very affordable price.
Nguyen Minh(synthetic)
.