Galaxy Watch4 is becoming a bright choice thanks to its unique design, Wear OS customized on convenient One UI interface, BIA body composition sensor, useful bezel and ability to connect TV to practice.
At the Unpacked 2021 event on August 11, Samsung launched two of its latest smartwatch models, the Galaxy Watch4 and Galaxy Watch4 Classic. This new smartwatch line is heavily upgraded in terms of hardware as well as software with many health care and monitoring technologies.
Health notebook on the wrist thanks to the BioActive sensor
Equipping with measurement sensors to support health monitoring is a trend on current wearable devices. Besides conventional sensors, this is the first time Samsung has equipped a BioActive bioelectrical impedance sensor (BIA) on a smartwatch. The BIA sensor will use a small electrical current applied to the body to measure important health indicators such as fat, muscle mass, bone mass, basal metabolic rate, water percentage. This feature is similar to specialized meters commonly found in the gym, helping users based on these indicators to adjust the healthiest and most balanced body. If you have excess fat, you should increase calorie-burning exercises, if you lack muscle, practice to increase muscle or provide more protein and water for the body when needed. Galaxy Watch4 also has 95 different exercises built-in, double the previous Galaxy Watch generations to help maintain balance of body and mind.
Galaxy Watch4 also has a sensor to monitor sleep quality, measure blood pressure, and oxygen index (SpO2), which helps measure blood oxygen saturation. This function is extremely necessary during the current Covid epidemic season. Combined with the BIA sensor, Galaxy Watch4 becomes a relatively comprehensive health monitoring manual, based on which we can make appropriate nutrition, exercise and rest plans.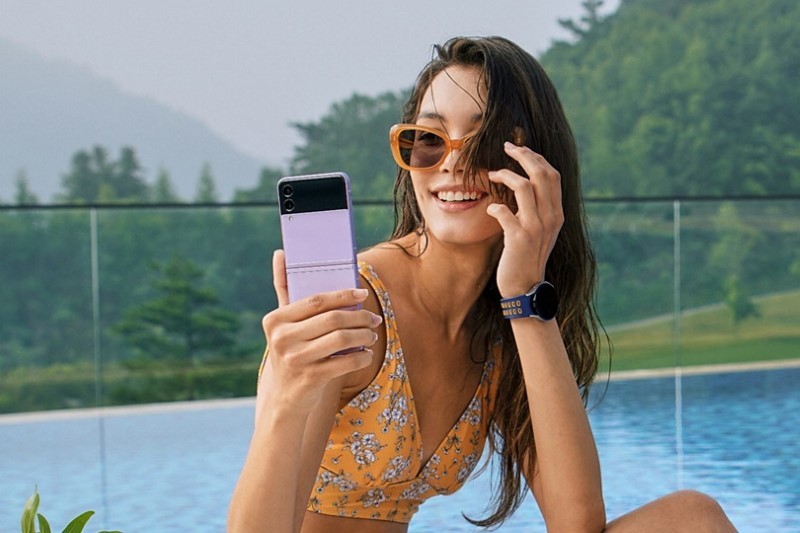 Review Galaxy Watch4: A convenient health monitoring handbook right at the wrist
Customizable Wear OS, One UI deeply integrated into the Galaxy ecosystem
On the market today, there are many smartwatches running Wear OS, but the Galaxy Watch4 experience helps to clearly feel the difference and optimization of Wear OS compared to other smartwatch models. This is possible because Samsung has partnered with Google to improve Wear OS to align with Samsung's Galaxy ecosystem. For example, you can easily control noise cancellation settings on Galaxy Buds2 or launch smartphone apps right on the watch, move or rotate your wrist to answer/reject calls…
Moreover, with the One UI interface, unlike other Wear OS smartwatches, the Galaxy Watch4's interface is more intuitive and easy to use, and the application paths and features are streamlined. Using the new Exynos W920 processor, the response speed of the device is quite fast. Smartwatch has a relatively small operation space, so optimizing the interface of Galaxy Watch4 helps to access applications and features significantly saving time.
Another cool feature, is that the Galaxy Watch4 can connect to big screens like Samsung TVs. After connecting the TV screen, it will display the calories and heart rate parameters, making it easier for users to track when exercising indoors, instead of having to track on the watch, which is sometimes inconvenient when exercising. high. This particular feature is the result of deep customization of Wear OS by Samsung.
Modern fashion design with Galaxy Watch4 and classic with Galaxy Watch4Classic
The design of the Galaxy Watch4 has many similarities with the Galaxy Watch Active2 with a flat screen glass, aluminum frame and four watch ears that hug the body gently, bearing a futuristic design sound. Minimalist design, so this version does not have a rotating physical bezel. Galaxy Watch4 launched in 4 colors: black, silver, green and rose gold with a variety of strap options, making it easy to choose a combo that suits your own fashion sense.
Meanwhile, the Galaxy Watch4 Classic is a more advanced version, for those who love smartwatches with a traditional classic look with 2 colors black and silver. The Galaxy Watch4 Classic stands out thanks to its premium stainless steel case and metal bezel surrounding the display, giving the Galaxy Watch4Classic a classic yet powerful look.
On a traditional watch, the bezel can be used to tell the time, count down, measure the speed, compass, use the GMT function … to support swimming and professional training activities. As for the Galaxy Watch4 Classic, which is inspired by the traditional watch bezel, the physical bezel on the Galaxy Watch4 Classic can rotate and work similarly, providing an experience that is both retro and modern. Meanwhile, the Galaxy Watch4 uses a touch bezel, supporting simple and convenient touch operations.
Nguyen Minh(synthetic)
.