The isolation bracelets are being researched, tested and will soon be deployed to serve the work and prevention of the Covid-19 epidemic.
As VietNamNet reported, at the end of May, the Ministry of Information and Communications proposed to apply a dedicated bracelet to support the monitoring of people in concentrated and post-isolation isolation.
This is a bracelet device developed by a Vietnamese enterprise. This device uses GPS technology to record the location and location of the quarantined person. In case the wearer of the device goes out of the isolation area, the bracelet will automatically issue an alert.
Recently, the first images of Vietnam's quarantine management bracelet model have been officially revealed.
Electronic bracelet model for people isolated because of Covid-19.
This electronic bracelet device, called G-TRACK, is researched and developed by high-tech company Ginnovations, a member of technology company G-Group. Confirm with Pv. VietNamNet, a representative of G Group, said that G-TRACK is currently in the process of completing the final step before officially announcing.
According to the Department of Informatization (Ministry of Information and Communications), bracelet tracking quarantined people is one of the technological solutions deployed by Vietnamese enterprises. This solution can open up a new management direction for low-risk quarantined people, who will be fitted with a bracelet to monitor their self-isolation at home.
This approach will help reduce the risk of cross-contamination in the isolation area, and at the same time reduce the social burden, especially the epidemic prevention and control team. This solution is currently being deployed in Korea, Hong Kong and some other countries around the world.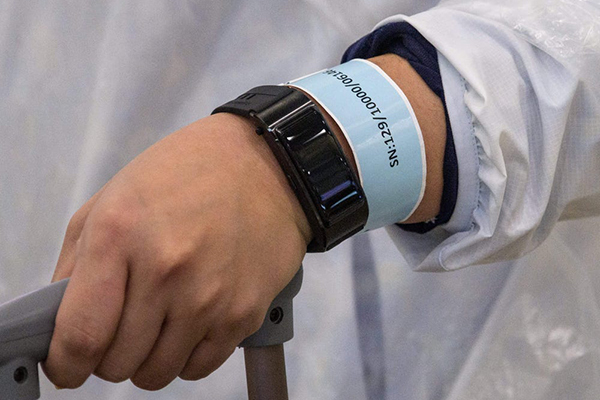 Not only Vietnam, many other countries have also developed similar devices to monitor quarantined people. In the picture is a sample of the Covid-19 quarantine monitoring ring currently being deployed in Hong Kong.
Currently, the "Make in Vietnam" quarantine bracelets are about to enter the testing phase and will soon be put into use to provide maximum support for epidemic prevention and control.
It is expected that the time to research and customize the product to suit the requirements and mass production in large quantities is about 4 weeks, after the technical plan and policy is approved. The bracelet device to monitor the quarantined person will cost about 800,000 VND. The battery capacity of each of these devices ensures a maximum support of about 30 days of use.
The quarantine bracelet is the latest technology solution in Vietnam's epidemic prevention and control. Previously, our country has deployed a series of technological solutions including application to trace suspected infected people (Bluezone), application of electronic health declaration (NCOVI), application of medical declaration on entry (Vietnam Health Declaration). ), a real-time map system of Covid-19 developments and recently a method of scanning QR codes when going to public places to save "epidemiological landmarks".
Trong Dat
Making a camera to identify people wearing masks, Vietnamese startup is valued at 4 million USD
This is a project to produce cameras for home, anti-theft, access control, timekeeping with integrated artificial intelligence.
.