On February 27, 2021, Oppo has just released the Reno5 5G smartphone on the market. With a mid-range price, the product promises to become a worthy choice, when 5G networks are gradually gaining popularity in modern life.
Oppo Reno 5 5G coming soon in Vietnam
Thoughtful planning, methodical investment
During 16 years of building and developing smartphone products, Oppo has nearly 8 years operating in Vietnam, so it can be said that Oppo understands the needs of Vietnamese customers.
The phones released to the market have stable quality, reasonable price strategy, customization features, suitable with user's tastes, especially attentive after-sales mode. To achieve such achievements, Oppo has always listened to and improved its products and technology so that smartphones gradually become an effective companion instead of just a mobile device.
According to Oppo representative, in May 2018, when information about 5G network was not searched by many Vietnamese people, Oppo tested a 5G video call using 3D structured liight technology. on customized R11s. Three months later, Oppo successfully connected 5G signal and data on a phone, becoming the pioneer company to complete a 5G Internet access test on smartphones in October 2018.
In May 2019, Oppo Reno 5G – the first commercial 5G smartphone launched in Europe, and 4 months later, Vietnam became one of the pioneering countries to deploy 5G by major carriers with experimental products. The latest 5G at the time.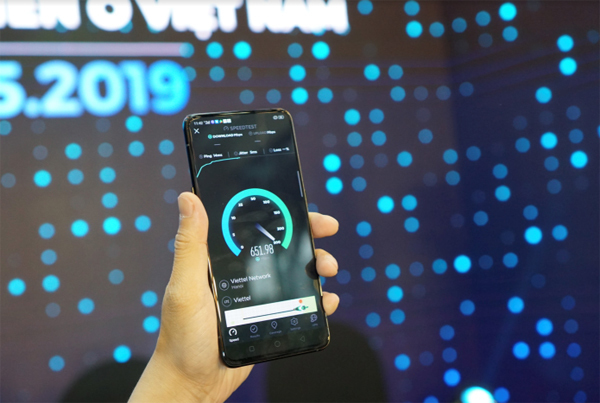 Reno 5 5G successfully performed a 5G call in Vietnam in the trial of Viettel Group of Telecom Industry and its partner, Ericsson Corporation.
It can be said that Oppo is one of the smartphone manufacturers making a significant contribution to speeding up the 5G trade globally in general and in Vietnam in particular. Its phone models are always researched and cooperated closely with local carriers to achieve a high level of compatibility.
High-end product line Oppo Find X2 & Find X2 Pro is a pioneer 5G ready smartphone in Vietnam in 2020. With the desire to update new technology to everyone, at the end of February 2021, Oppo launched 5G smartphone in the mid-range segment – Reno5 5G.
Oppo representative said that using Snapdragon 765G 5G chip from Qualcomm, Reno5 5G brings high performance and new mobile broadband connection thanks to 5G X52 modem, download / upload speed is respectively up to 3.7Gbps and 1.6Gbps. At the same time, this smartphone ensures compatibility with 5G broadcast bands of all three major carriers in Vietnam.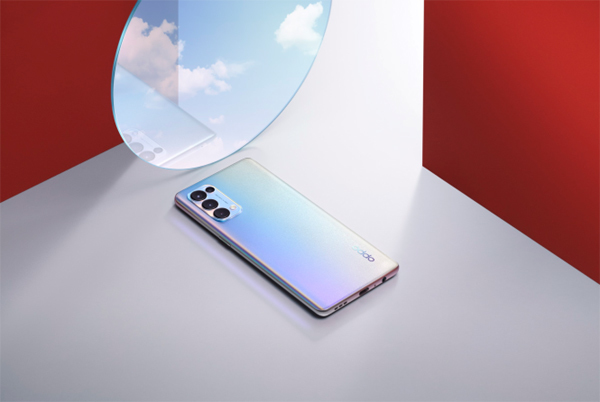 Despite its slim, stylish appearance, the Reno 5 5G has strong 5G performance
Impressive design, powerful performance
Not only a pioneer in 5G connectivity, Oppo Reno5 5G is also a symbol for customers who are always at the forefront of the trend thanks to a particularly impressive design.
Diamond Spectrum Silver Edition with the Diamond Spectrum process, combined with Reno Glow effect, provides a matte finish with sparkling detail, creating thousands of colors with the slightest movement. user's hand. The new smartphone is 35% more sparkling, and is also resistant to dirt. The device weighs 180g, thin 7.9mm, 3D curved back feels convenient and comfortable to hold.
The Oppo representative also emphasized that, thanks to the Qualcomm Snapdragon 765G 5G processor and 8GB RAM, the device delivers smooth multitasking performance on ColorOS 11.1, while allowing comfortable storage with 128GB space. Snapdragon 765G offers 20% increase in overall performance while being more energy efficient, extending uptime.
Gamers also benefit from the competitive edge thanks to the Adreno 620 graphics core and Snapdragon Elite Gaming technology that deliver stable game performance and realistic visuals. The device is equipped with a 6.4-inch AMOLED screen, Full HD + 1080 x 2400 resolution, smooth 90Hz refresh rate, in addition to SGS certification, as well as Netflix HD and Amazon Prime Video HD, for a better entertainment experience.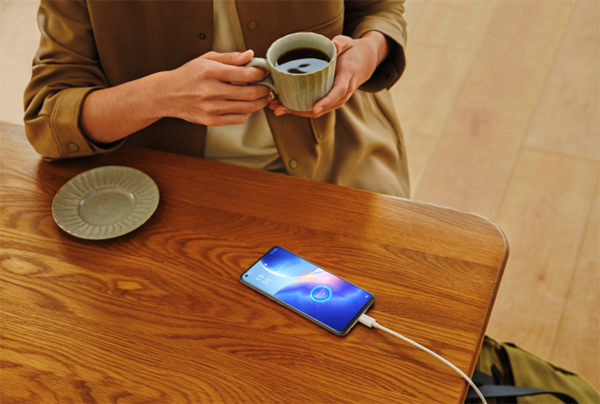 SuperVOOC 2.0 super fast charging allows Reno 5 5G to fully charge a 4,300mAh battery in just 35 minutes
Connect throughout and continuously with dual batteries and SuperVOOC 2.0 charging
5G network will "consume" more energy than 4G to provide broadband, low latency, so to ensure continuous operation all day long, Oppo equipped with 4,300mAh dual battery (each 2,150 mAh in series) and SuperVOOC 2.0 charging for the Reno5 5G.
Oppo's fastest charging technology currently – 65W – allows fully charged battery in just 35 minutes, with 4 hours of video playback after 5 minutes of standby or 60% of battery in 15 minutes. With 5 layers of inspection and protection on each charging component, SuperVOOC 2.0 provides stable operation for users.
The launch of Oppo Reno5 5G right after the New Year's Eve as a boost to the mid-range phone market in Vietnam, contributing to updating and popularizing new connections to more people, as the operating motto that the company always Pursuit: Technology for people – Kindness for the world.
With its impressive design style, strong performance from task processing to fast charging, the Reno5 5G will be the focus to consider when Vietnamese users need to equip a new smartphone in early 2021.
Oppo's latest Oppo Reno5 5G will launch on 27/2/2021 with an attractive price. Products equipped with powerful 5G processor Snapdragon 765G to welcome the 5G trend. In addition, Oppo's SuperVOOC 2.0 super-fast charging allows the Reno5 5G to fully charge its 4,300mAh battery in just 35 minutes.
The smartphone is also equipped with a quality camera with many attractive video and photography features. See more information at: https://fptshop.com.vn/dien-thoai/oppo-reno5?ho-tro-mang=5g
Pearl league
.