President Truong Gia Binh: "I bet on Web 3, DeFi, Metaverse"
This is the sharing of Mr. Truong Gia Binh – Chairman of FPT Corporation at the seminar on DeFi (decentralized finance) from the perspective of technology experts.
According to the Chairman of FPT Corporation, if in the 2000s, people did not trust Google and Facebook, now reality has proved the correctness of the "Internet of peole" trend.
"Next I bet on Web 3, DeFi, Metaverse, Blockchain," Mr. Binh said.
Mr. Binh said that people in the future will live in 2 worlds, including the real world and another, the metaverse. In the new world, we will have a separate economy with real and virtual at the same time.
In the future, a business will be based both in the real world and in the virtual world. That company will have 2 account systems, one is a fiat account and the other is a crypto account.
As proof of this, the Chairman of FPT Corporation said that the first manifestation of the metaverse economy was that Nguyen Thanh Trung created the economy in Axie Infinity.
With a metaverse economy, people will need a new type of banking and financial instrument. That is DeFi (Decentralize Finance) or decentralized finance operating on the Blockchain network.
Unlike CeFi (Centralized Finance), only the central bank of a country can issue money, in the metaverse world, anyone can issue money to serve that economy.
With many years of experience in IT business, Mr. Binh believes that the biggest customer of an IT company is the banking and finance industry. Therefore, DeFi is the most important point to run the metaverse economy.
FPT will join the Blockchain game
Also in this seminar, in response to questions from the attendees, Mr. Binh did not hide his intention to join the Blockchain game.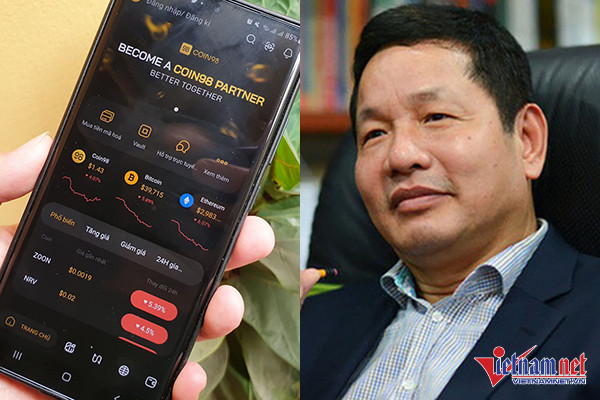 Coin98 is a DeFi (decentralized finance) ecosystem with many products serving different needs from transaction, storage to management, lending, saving assets… This is a Vietnamese startup with The founding team and core members are all Vietnamese.
Notably, C98 – the governance token of Coin98 used to have a total market capitalization of more than 1 billion USD. The startup's C98 token is also about to be listed on Coinbase, a cryptocurrency exchange based in San Francisco (California, USA). The above information has recently been confirmed once again when Coinbase started allowing the deposit and withdrawal of C98.
Assessing this startup, according to FPT Chairman Truong Gia Binh, Coin98 is a new type of bank of the future. This startup is working on the transaction infrastructure of cryptocurrency. The role of Coin98 is therefore very important.
The founder of FPT said that the most important thing that Coin98 needs to do right now is to promote the economy in its product infrastructure. Only when there is a miniaturized economy will owning cryptocurrencies cease to be speculative as they have become the means of payment in that economic model.
Trong Dat
.